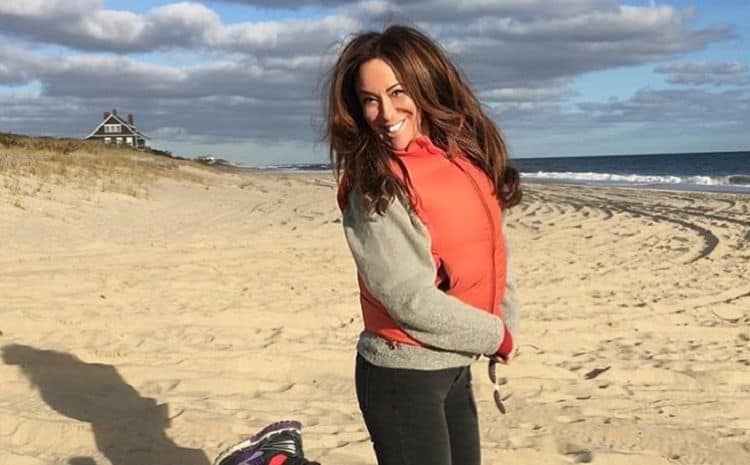 Barbara Kavovit was introduced to the public when she starred in "Real Housewives of New York" as a friend to Luann de Lesseps. However, she has not always relied on the paycheck from reality television; she is an entrepreneur. In 2004, her company, Barbara K! Enterprises sold over $5 million worth of tools, and by 2005, she was expecting to make sales of $15 million. She has spread her wings to other areas, including being an author. The mother of one has avoided the scandals that plague reality stars and has even kept her love life private. Still, there is a lot more you can learn about her through these few facts.
1. She had A.D.D. in high school
Barbara confessed to CityRealty that she suffered a terrible case of A.D.D. while in high school. Luckily, she found a way to cope with it by writing since her thoughts are ever going around her head like a movie. Consequently, of all the things she tried her hand in, the only thing that she scored A's in was creative writing. Her love for creative writing, therefore, led to the reality star becoming an author, and she even wrote for the New York Post.
2. Her book is based on real-life experiences
When Barbara wrote "Heels of Steel," she was telling the story of her life and depicted her interactions with different people, although she changed the names. For instance, Kevin was more like her ex-husband, while Bridget was a character based on Barbara. If ever the book was adapted into a movie, she would prefer that Bridget was played by someone who grew up in a borough to better relate to the character. The person would also be someone with Italian, Spanish, or Puerto Rican roots; hence her top choice of actresses would be Jennifer Lopez or Lady Gaga.
3. Why she ended her friendship with Luann
The belief that a friendship that lasts longer than seven years will last for a lifetime has been proven to be a myth by Barbara and Luann. The two remained friends for over 14 years, but Barbara decided Luann was not the friend she deserved hence walked away. Luann criticized Barbara's singing, and Barbara realized that no matter what she did for Luann, Luann would never be grateful because she is narcissistic.
4. How she ventured in the construction industry
A business that will stand the test of time is one that is filling a gap in the market; thus, when Barbara graduated from college and heard people complain of contractors who were not doing their jobs as expected, she knew she had found her gap. Therefore she made business cards that listed all the home improvements she could help with and went to shopping centers to hand out the cards. However, since she had no skills in the industry, she connected the client with the contractor needed.
5. Men did not take her work in construction seriously at first
As Barbara told Marie Claire, some men did not see her as a professional but only as a potential date. As such, even when they called her to go and help with some renovation, the next day, they would ask if she was available for dinner. Unfortunately, that became a trend that ended up wasting her time since instead of giving her construction work, they would lead her on without any intention of hiring her. While that happened in her twenties, even as late as last year, one man she was on a date with felt that Barbara was not progressive because she is a woman in the construction industry.
6. She played down her femininity during her early years in construction
The fact that men were already trying to treat her like a sexual object made Barbara believe that she needed to blend in, thus changed her dress code. She started wearing pinstripe suits to hide her curves, but later she wanted to embrace her femininity. As a result, Barbara now wears fitting blouses or t-shirts, jeans, boots, and a jacket. That does not mean she reveals any cleavage because, as a CEO, she needs to command respect, thus buttons up her shirts.
7. She was thrilled to work at the former Harvey Weinstein Co. headquarters
Given Barbara's experience with men, she was excited to demolish the 15,000 square feet of the property after she was contracted to work on it by Olshan Properties. Harvey was convicted of rape in the third degree and criminal sex act in the first degree. According to Entertainment Weekly, the reality star said she felt for the women who had been subjected to the sexual molestation and was doing the demolition thinking of them.
8. Her father instilled in her a healthy dose of self-confidence
Women will insist that whatever a man can do, a woman can do much better, but not everyone gets to prove it. Barbara has, and she gives credit to her father; while other girls were busy baking cupcakes, Barbara at the age of 9 got some solid skills in construction. Her father taught her how to use a hammer, and they built bunk beds. To this day, the hammer remains metaphorical, representing confidence and self-sufficiency.
9. She filed for bankruptcy
In 2006, Barbara and her father took out a loan with Deutsche Bank amounting to $2.4 million. Unfortunately, her father died in 2013, leaving her to repay the loan alone, but it became too much for her, thus missed a payment in April 2015. Barbara filed for bankruptcy protection, but it was discharged, leaving the bank to go after her for the $2,482,167.44 she still owed them. To recover their money, the bank wanted to sell Barbara's home in a public auction, but Barbara defended herself, saying they should have settled their debt from her father's estate.
10. How she came up with the idea to start Barbara K! Enterprises
Barbara was watching an episode of "Sex and The City" in which Samantha moved into a new apartment and could not put up her curtains because she did not know how. So she decided to create a tool kit specifically for women since those at Home Depot were not appealing to the female customers; they were too bulky and ugly. The businesswoman told Inc. that women are attracted to fashionable things; hence she wanted the tool kit to look so good that it did not have to be stored away in a cabinet.