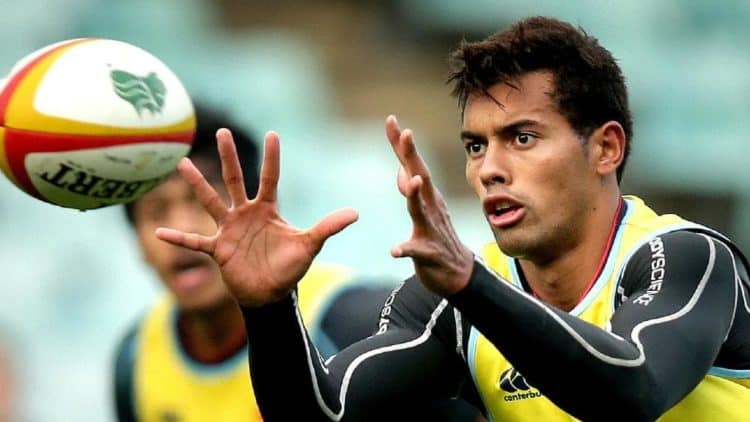 Some people are barely heard of until they start dating another more famous person. Ben Volavola may be a celebrity in his own right, but now that he is dating a popular actress, people have begun noticing him more. Besides being a rugby player, learn more from Rugby Pass as Ben reveals more about himself.
1. His name means "to write"
"What's in a name" is a question that most people ask when trying to come up with the right name to give to their children. Experts claim that a name can impact your child positively or negatively, especially on their personality. Ben's parents thought it best to name him "Volavola," which is Fiji meaning "to write." The fact that he took his education seriously could symbolize that indeed the name influenced Ben's life.
2. His family background
Ben comes from a small family that comprises his mother Emma, father Dinesh Shankar, and brother Milan. His grandparents are quite famous; Ratu Peni Volavola was once a Suva Mayor while Vasiti Mea Naqova is a former netball representative in Suva. Both of his parents are Fijians, but since his father has Indian heritage, Ben considers himself a half-blood. Although Ben was born in Sydney, Australia, he went to Fiji as a one-year-old. Ben stayed with his mother in Fiji until he was nine years old when they moved to Sydney.
3. He was not always a pro
Looking at Ben play would have you thinking that he was born in the field holding a rugby ball. However, he has had to do lots of practice to be as good as he is today. Although he knew that he wanted to play professional rugby, he still was lacking the skills. Therefore at first when Waratahs recruited him, he remained with them for three years even winning Super Rugby in 2014. Various other clubs hired Ben, but Bordeaux thought he was not good enough and dismissed him before the contract ended.
4. He is dating Shailene Woodley
There is not much about Ben's love life perhaps because he likes to keep his private away from the press. However, his relationship with Shailene, although they had tried keeping it low-key, was flaunted in Instagram by Shailene. They allegedly met when she was filming "Adrift," and Shailene now considers Ben her lighthouse. Shailene had previously confessed that she hates dating but loves sex as reported on Refinery29. However, now she has found someone who lets her be herself and supports her in all she does.
5. He has turned his girlfriend into a sports fan
When you genuinely love a person, everything about them becomes beautiful, and you want to spend every waking minute with them. Shailene was never a sports fan hence never watched Sports television. However, after falling head over heels with Ben Volavola, she cannot miss her boyfriend play. She, therefore, goes to the arena to show her support, and Shailene has even learned the rules of rugby.
6. His education
Most celebrities had troubled childhoods, and even when they went to school, they usually dropped out to pursue their careers. Ben is cut from a different cloth, not only finishing primary and high school education but going ahead to receive vocational training. Ben went to Veiuto Primary School while in Fiji. He then went to Endeavour High School in Sydney from 2005 to 2008. Immediately after high school, Ben attended Newington College for a year running from 2009 to 2010. In 2012, Ben graduated from the Australian School of Fitness with his Certificate III and IV. Ben might have wanted to venture into business since he also attended the Australian Vocational Training Academy for his diploma in Business.
7. He has always admired Dan Carter
Some call them role models and heroes, while others refer to them as idols. Whatever you call the person who inspires you, what matters is that you are ambitious and believe you can be as good as them, if not better. For Ben, the person who inspired him was Dan Carter. Even as a child, Ben would practice playing rugby by copying Dan's shots at goals. To date, Ben still uses the technique. Therefore when he heard that Dan Carter was returning to Racing 92, Ben could not hide his excitement of getting the opportunity to learn from the best. Although with Dan playing Ben may not get to play as much, he does not mind.
8. He might become a father soon
The purpose of any union, according to the Holy Bible, is procreation and Ben may be fulfilling his part in filling the earth. Shailene never thought of herself as a mother due to her vagabond spirit. However, after playing mum in "Big Little Lies," she has changed her mind. She realized that with age, one understands the importance of family, and with her declaring her need for babies right now, Ben should prepare himself for fatherhood.
9. His net worth
One step in the right direction can have a significant impact on your life. Take the example of Tyler and Cameron Winklevoss; after Mark Zuckerberg paid them $20 million in settlement a lawsuit, they spent $11 million on bitcoins. People mocked them since bitcoins prices declined, but now the prices are four times more than what they paid. Ben is also lucky to have made the right career move since according to Married Divorce, his Super Rugby salary was $180,000. He is now worth around $19 million.
10. His rugby career
Ben began playing rugby in school where he was so good at it that he decided to turn it into a career. Before attaining the age of 20, Ben represented Australia in Italy during the Junior World Championship in 2011. He currently is signed with Racing 92 based in Paris; having joined the team as Pat Lambie's back up who had suffered an injury. Ben can play either as full-back or fly-half.