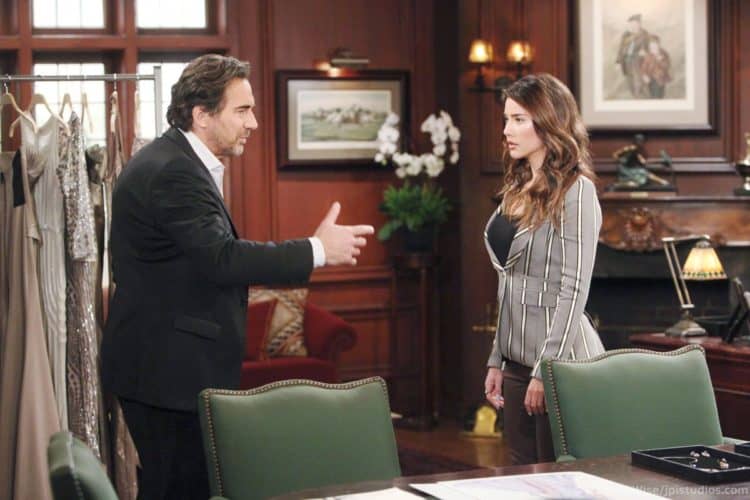 Bold and the Beautiful fans know that there are so many things that are not going well for anyone around here right now. For one, we know that there is a big situation with the people who are part of the lives of Thomas and Douglas, and they are not happy. He's not missing, of course, but his family doesn't know what happened to him. They know that he is missing and that Hope cannot find him — but they do not know that he showed back up and that he is alive and well and has been spending time with Hope and his son trying to teach her a lesson — and they are worried. Steffy is worried for her brother. Ridge is worried for his son, and they are all worried for Douglas. And, then there is the fact that Brooke and Ridge are going into a new week without much in their way of happiness.
They had a very emotionally charged moment last week that leaves us wondering if they will ever get it together and make it work. She's not been there for him, they disagree on too much, and there is nothing that will work out for them now that he's spending so much time with Shauna — who has gone out of her own way to make sur that Ridge knows she is there for him through all the things in life even if he cannot count on his own wife to be there for him. It's been very interesting, kind of confusing to all of them, and we don't think that it will make much of a difference. There is so much going into this week that might change and make things awkward at the dinner table, and we are all here for it.
What's Happening on Bold and the Beautiful
Hope's never been happier to see Thomas. #BoldandBeautiful pic.twitter.com/FwgcOvApMZ

— Bold & The Beautiful (@BandB_CBS) November 22, 2019
This is true.
What's Next on Bold and the Beautiful
https://twitter.com/BandB_CBS/status/1196080554212495361?ref_src=twsrc%5Etfw
This week is going to start off with a bit of a bang now that things are changing around so much. We will see that Thomas and Hope have to deal with their own issues and what happened. He's not done testing her yet, but we are shocked he was so willing to let his son know that she is his new mother. We think he has a bit more going on in his mind that might work for his own greater plan, but we aren't so sure that things will not take a bigger turn for him as the weeks go on. She's not sure what to think other than to feel relief that she did not accidentally kill this man, but she's worried. She knows she should be worried, too, because he is not in his right frame of mind. What will he do to her, and how will he go about ruining her life even more than he already has?
Meanwhile, Brooke and Ridge will never be the same, and we will see that manifest more this week than ever before. This is the week we predict that he allows himself to fall more for Shauna, that his wife backs off a bit, and that they decided to go forward with their separate lives rather than their marriage. We think this is the turning point, and we are going to go out on a limb and predict that Quinn will want her friend Shauna to be there for dinner on Thanksgiving, and that means she will be happy to spend some time with Ridge. It will lead somewhere.
Stay tuned for more The Bold and the Beautiful and be sure to check out TVOvermind daily for the latest The Bold and the Beautiful spoilers, news, and updates.