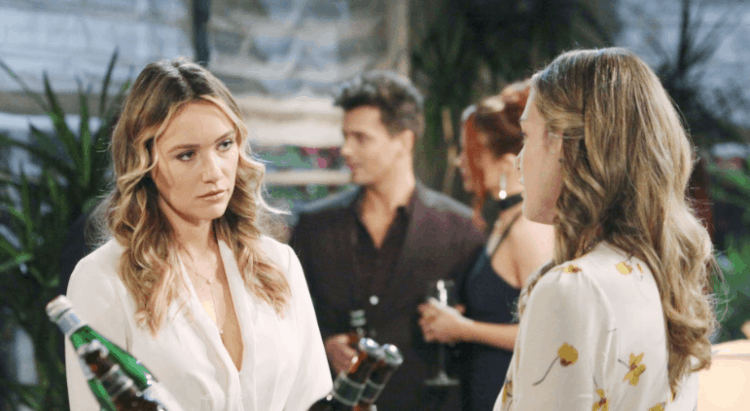 The Bold and the Beautiful fans were all surprised when Zoe made the decision to introduce Hope to Flo. She knows what Flo did to this young woman, and she is horrified for her. But, she's not all that horrified that she herself is going to turn in her father or Flo. She wants Flo to do it. We've said it before, and we will say it again. She needs to get her life together and tell them herself because she is currently no better than anyone else in this situation. We are just horrified that this is happening, but Flo already heard Hope talking to Katie about what is going on in her life, and we hear that she will encourage the young woman to just have another baby. It seems as if this is something that is not going to work well for her, either. That's not her business, but she is going to do what she can to save herself.
But, what happens when that all goes wrong? Hope has informed her husband she feels that he should spend more time with his ex and their daughter, and the new baby that his ex adopted, so that those girls can have their own family and their own father and their own situation. There is nothing she wants more than for Liam to be a father, and she feels that she is holding him back from that with her own situation. He doesn't feel the same way that she feels, but even his own brother is giving him the same advice to listen to his wife and make that his situation. We don't know if it's good news or if it's a smart idea, but we do know that there is a lot that they should consider in the near future.
What's Happening on the Bold and the Beautiful
Zoe is trying to protect her dad. Would you keep your family safe or reveal the truth? #BoldandBeautiful pic.twitter.com/RxgP7RnnLG

— Bold & The Beautiful (@BandB_CBS) March 5, 2019
We think she should tell, but we totally get that she wants to protect her dad first and foremost. We would, too.
What's Next on the Bold and the Beautiful
Betrayal, lies, and threats all lead to the breaking point this week on #BoldandBeautiful! Make sure you tune in. pic.twitter.com/ijdKmWadKC

— Bold & The Beautiful (@BandB_CBS) March 3, 2019
It turns out that we've been hearing a rumor that might just be true. We've been hearing that there is a very good chance that Flo and Wyatt might already know one another, and it seems this might be the truth. They might have a little bit of a history around here, and we might find out a bit more about that now that they are about to run into one another. There is nothing that they can do that won't make things better for them, but it seems that they can figure this out on their own. Will it be a romantic past connection? What would make a better wrench to throw into the happiness that he and Sally feel other than someone coming back into their lives that was gone for so long? We aren't sure, but it seems to work for us.
And then there is the fact that we know Liam is not happy. He can feel that there might just be something off about his wife after she meets Flo, but he cannot put his finger on what that is. What kind of change will be all about her and what will it mean for their marriage? Will she want to spend more time with him and keep their marriage going strong, or will she come home more intent on letting him go and moving on from their marriage? We are not yet sure what might happen, but we do know that there is a big change coming for all of them. And it might just be good.
Stay tuned for more The Bold and the Beautiful and be sure to check out TVOvermind daily for the latest The Bold and the Beautiful spoilers, news, and updates.