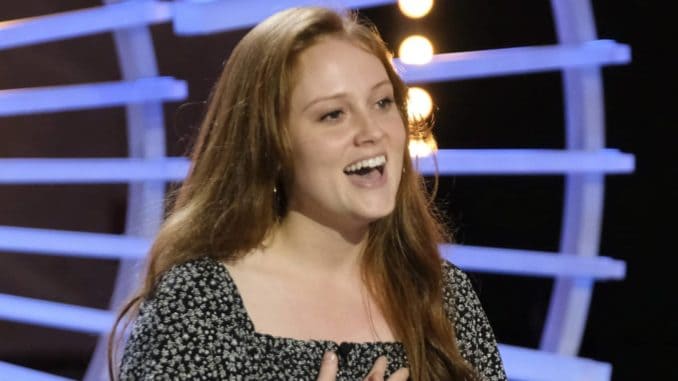 For nearly 20 years, American Idol has served as a platform for aspiring singers all over the country. Thanks to the show, singers can get a shot at making their musical dreams come true. 25-year-old Cassandra Coleman is one of the latest people to try her luck at becoming the next American Idol. During her audition, she sang a cover of "The Way It Was" by The Killers. The judges were impressed by the power in her voice and they were all convinced that she should move forward to the Hollywood round. Now with her Golden Ticket in hand, Cassandra is ready to continue her journey and she's hoping to make it all the way. Keep reading for 10 things you didn't know about Cassandra Coleman.
1. She's Been Singing For Her Whole Life
Cassandra started singing at a very early age. She told a News 2, "Music is my passion and has been part of my life since I was a child. I don't remember a time when I wasn't singing or harmonizing with family or at church, always has seemed like a far off dream".
2. She Works At A Coffee Shop
At the moment, Cassandra works as a barista at a coffee shop which is a job that seems to be a prerequisite for a successful career as an entertainer. While she enjoys her job, she doesn't plan on staying there forever. Hopefully being on the show gives her the exposure she needs to be able to do music on a more full-time basis.
3. She Has A YouTube Channel
Getting your name out there is one of the hardest — but most important — parts of being an up and coming artist. These days, social media is the best way for people to get attention and Cassandra is doing her best to establish a strong online foot print. She has a YouTube channel where she posts videos of herself performing. So far, her channel has more than 141,000 views.
4. She Has A Strong Support System
Anyone who has ever watched a full season of American Idol knows that the journey isn't an easy one for contestants. While there are a lot of high moments, there are also a lot of lows and the singers often have to lean on their loved ones for support. Cassandra is very lucky to have a strong support system and her family is ready to show her love all season.
5. She Was 'Terrified' Before Her Audition
Almost all performers will tell you that feelings of nervousness just come with the territory. Before walking into the audition room, Cassandra admitted to the cameras that she was feeling very scared. Despite early nerves, it didn't take her long to overcome them and by the time she started singing she had regained all of her confidence.
6. She's A Song Writer
Cassandra's voice is what has gotten everyone's attention so far, but she's also a talented songwriter who loves sharing her thoughts and feelings through lyrics. At the moment it doesn't appear that she's released any music, but maybe we'll get the chance to hear one of her originals during the competition.
7. She's Grateful For Her Experience On American Idol 
Being able to compete on American Idol is something that Cassandra certainly isn't taking for granted. While talking to News 2 she said, "The fact I'm getting this opportunity, a small town girl who has no experience really with stages or performing is suddenly getting the opportunity to learn how to do that and be a performer. I'm just thankful, to me this is a blessing to get this opportunity."
8. She Almost Gave Up On Singing
Even though Cassandra loves singing and has always wanted to see where it could take her, there was a time where she almost quit. After a bad performance when she was 17, she found herself full of doubt. The people around her encouraged her to keep moving forward to chase her dream, and she's thankful that she took their advice.
9. She's All About Positivity
Cassandra's journey hasn't always been easy, but she's never let that stop her. Cassandra is all about staying optimistic and this is something that will be beneficial as the season goes on. When you're on a show like American Idol, it's important not to get in your own head and start thinking negatively.
10. Her Faith Is Important To Her
We don't have much information about Cassandra's specific religious beliefs, but the fact that she has a Bible verse in her Instagram bio lets us know that her faith is a big thing in her life. The verse, Romans 1:16, reads: "For I am not ashamed of the gospel, because it is the power of God that brings salvation to everyone who believes: first to the Jew, then to the Gentile."