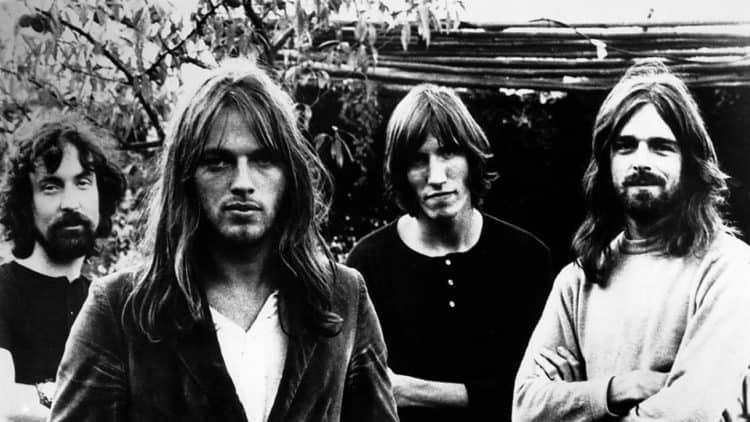 With the success of the film "Bohemian Rhapsody" about Queen, "Rocketman" about Elton John, and the Netflix hit "The Dirt" about Mötley Crüe, it's time to think about a biopic of one of the greatest bands of all time, Pink Floyd. Pink Floyd rose to fame in the late 1960's and 1970's as one of the leading progressive rock bands. The band's success was coupled with drama and tragedy. A film about this legendary band would be a must see. One of the reasons that other biopics have enjoyed success is a great director and excellent casting. This isn't always easy to do. Another factor that makes a good biopic of musicians is when the tone of the film matches the tone of the band and their music. Fans of the band want to experience what it was like when the band formed, reached success and probably experienced some drama and tension. A great director and casting makes all the difference. Here are some great ideas for casting a biopic of Pink Floyd:
Pink Floyd
During the 1960's a group of British college students met and by 1965 formed Pink Floyd. Roger "Syd" Barrett, Roger Waters and David Gilmour were all guitarists. They would meet drummer, Nick Mason through Waters' connection with him studying architecture. Soon they would keyboardist Richard Wright and form Pink Floyd. The band's inspiration was mostly formed by Barrett. Pink Floyd is named for famous blues musicians Pink Anderson and Floyd Council. From the beginning the band was interested in progressive rock with a psychedelic tone. Their music and performances featured philosophical lyrics, extended compositions and musical experimentation.
Pink Floyd began playing in London's underground music scene and were soon discovered by record producer and founder of UFO, Joe Boyd who booked the band at larger venues. The venues were great to showcase their elaborate tracks and performances featuring props, taped recordings, special effects and a quadrophonic sound system. The band's debut album, "The Piper at the Gates of Dawn", had two instantly successful singles. David Gilmour joined the band in 1967 as a guitarist and vocalist. Barrett, the creative genius behind Pink Floyd, unfortunately suffered from mental illness and drug use. The band decided he should leave in 1968.
Following Syd Barrett's departure from Pink Floyd, Roger Waters took over as the lead lyricist, and the band emerged as one of the leading progressive rock bands of the time. They released "The Dark Side of the Moon" in 1973, "Wish You Were Here" two years later. Their hugely successful "The Wall" was released in 1979. The band would experience creative tensions. Richard Wright left in 1979. Roger Waters would leave the group in 1985. Nick Mason and David Gilmour continued on with Wright later rejoining the band. Pink Floyd continued to produce albums and tour through 1994. In 2005, Waters, Mason, Gilmour and Wright reunited to perform at Live 8, an event for global awareness. Barrett would die in 2006 and Wright in 2008. Pink Floyd was inducted into the American Rock and Roll Hall of Fame in 1996 and the United Kingdom Rock and Roll Hall of Fame in 2005.
Who should direct?
Dexter Fletcher directed "Eddie the Eagle", "Bohemian Rhapsody" and "Rocketman". Who knows more about directing biopics Fletcher? The British director has shown he can create the perfect balance that creating the feel of a film with the feel of its subject matter. He has made great casting decisions in his past films. He is able to keep the plot simple, following the musicians from their early lives through their rise to fame amid drama and personal demons. Fletcher would be a great director of a Pink Floyd biopic because he would capture the timeline and the drama that unfolds through the bands emergence into fame. Most important, Fletcher would be able to capture the mood of the film to match the mood of Pink Floyd's existential progressive rock style.
Syd Barrett
Eddie Redmayne has shown his skills transforming into different characters. He won the Academy Award for his portrayal of Stephen Hawking in "The Theory of Everything" and transformed into a woman in "The Danish Girl". It doesn't hurt that Redmayne already resembles a young Syd Barrett. Redmayne has shown great acting skills and works hard to transform himself physically and mentally into his characters. He would be perfect portraying the troubled yet brilliant musician Syd Barrett in a biopic of Pink Floyd.
Roger Waters
Adam Driver certainly looks the part of Rogers Waters. He's also an excellent actor who could portray the rock legend from a young age through his career with Pink Floyd. Driver won an Emmy Award for his role on HBO's "Girls". He's also had diverse roles including "Star Wars: The Force Awakens", Martin Scorsese's "Silence", and "While We're Young" with Ben Stiller and Naomi Watts.
Nick Mason
Nick Mason, one of Pink Floyd's founders and its drummer never strayed from the band even through its most turbulent times. Australian actor Joel Edgerton could certainly look the part of Pink Floyd's loyal drummer. He's also acted in a variety of films including "Star Wars", "The Great Gatsby" and "Exodus: Gods and Kings", proving he's talented and able to transform himself into any character.
Richard White
Christian Bale has proven he can really commit to becoming his characters. He certainly looks a lot like Pink Floyd's keyboardist Richard White. Bale has acted steadily in film since 1987. Well known for his roles in "American Psycho", "The Machinist" and Christopher Nolan's "Batman Begins", Bale may not be interested in a part that is not the lead, but he'd certainly make the perfect Richard White.
David Gilmour
Jared Leto would be a great casting choice for the guitarist and vocalist, David Guilmour, who joined Pink Floyd in 1967 just as the band's popularity was taking off. Not only does he look like Guilmour at the height of his career, Leto has shown his acting skills and ability to transform into his character. From "American Psycho" to "Dallas Buyers Club", the actor is brilliant at becoming his character.