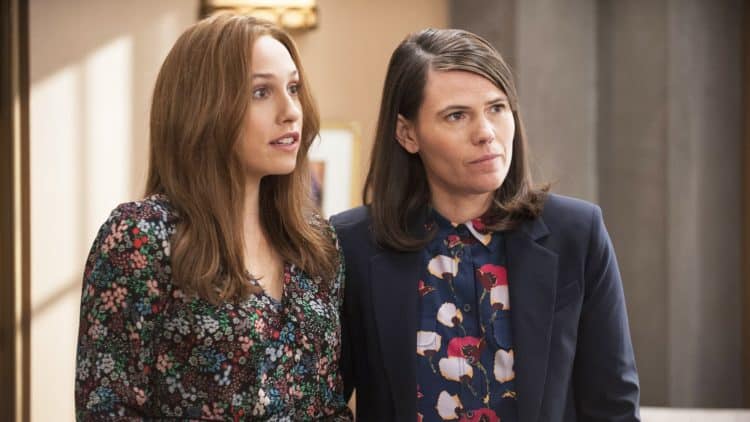 This fascinating, driven and compassionate woman known as Clea DuVall, currently works in Hollywood as a writer, actor director and producer. She's been in the business over 20 years, continuing in the footsteps of her father, Stephen, counting acting as her main source of income. She keeps her private life, well private. As such is the case, we've taken it upon ourselves to find out 10 items regarding Clea, items that you might not have known before. In fact, once you read our list and become a bit more aware of this amazing woman, we're sure you'll find yourself quite impressed by her creativity and talent.
1. Birthday Facts
This kind, complex and dynamic actress was born in Los Angeles California on September 25, 1977, which makes her a Libra. Her birth stone is the Sapphire, mystical birth stone is the Agate, gemstone is the Chrysolite, and the number one song on that day, was the theme to Star Wars. Clea's full birth name is actually Clea Helen D'etienne DuVall. Her parents are Rosemary Hatch and Stephen DuVall, who is also an actor. Growing up, she attended Los Angeles County High School of the Arts, which prepared her to try her hand in the entertainment industry. Famous people who share her birthday include actor Michael Douglas, actress Heather Locklear, and Superman actor, Christopher Reeve.
2. Clea Often Refused Roles Early in Her Career
You might not think it to look at her now, but there was a time, way back when, that Clea actually refused to take certain roles. The reason being, that she was uncertain as how the world would accept her sexuality, and how that would further impact her career path. She might be an outspoken activist for the LGBTQ community today, but that wasn't always the case. There was a time she kept her private life under wraps, in the closet, locked tight and in the dark. For you see, being in the spotlight, she quickly began to learn that people really wanted to get to know you personally, and that frightened her just a bit stating, "There were a lot of roles that I didn't pick for a while, because I was scared". So, any role that crossed that boundary, between the public and personal, might not get chosen. In fact, she didn't enlighten her fans about her sexuality until around 2016.
3. She was on Her Own Early in Life
By the time Clea reached young age of 12, her parents, Stephen and Rosemary, thought it best for all concerned, to part ways. However, when her mother found a new love, it didn't sit well with Clea, so she left home in search of a new life. As such, she had to make a pretty tough decision, one that most of us are fortunate to not have considered at her age: To finish school or eat. As Clea herself stated, she chose the latter, "My senior year I was basically supporting myself, so it was like, Do you want to eat and pay the rent, or do you want to go to school? I wanted to eat and pay the rent".
4. How Performing on Veep Helped Clea Find Herself
Since the start of her career, the roles offered to Clea were more dramatic than anything else. Yet, she yearned for more control, to break out and try to exercise her talents. In point of fact, knowing her now, can you believe that she was told that she would not be suitable for comedic roles? Well, that's true. As a result, she began to believe it herself. Thankfully, she auditioned for, and won a role on the successful HBO series, "The Veep", where she was able to amp up her acting chops, and step out of the comfort zone–the comfort zone others in the industry boxed her into. Since then, Clea's had roles in Broad City, and will be working on an animated show, called Therapy Dog. (https://www.gq.com/story/clea-duvall-veep-interview) .
5. Clea is Named After a Character in a Book
Clea, pronounced CLAY-ah or KLEE-ah is sometimes considered a variation of the name, Cleo as in Cleopatra. There are other well-known 'Cleas' in in the world, such as the famous Forensic Anthropologist Clea Koff, actress Clea Lewis, and the lover of Marvel's Doctor Strange. That being said, did you know that our very own Clea DuVall was actually named after a character in a book? It seems her parents chose to name her "Clea", after a character in a book of the same name, by author Lawrence Durrell's. Clea, is the fourth book in his Alexandria Quartet series. The first three books of the series convey the story, but are told from different view points. In this series, Clea is a character who is consistent, ready to assist others, compassionate, open-minded and kind.
6. Clea's Dream Comes True!
As Clea put it, her dream came true the day she learned she'd be directing her second film, "Happiest Season". This film places stars Kristen Stewart and Mackenzie Davis in a plot which centers around two gay lovers going home for the holidays. It all sounds well and good, until we learn that one of them still hasn't let her socially conservative parents in on the relationship. Consider it similar to a modern-day telling of Guess Who's Coming to Dinner with Sidney Poitier. For Clea, being able to direct a romantic comedy about two lesbians in love, confronting such a conflict, is something that she considers a "dream come true."
7. Believe it or Not, Acting Wasn't Clea's First Choice
It's hard to believe, but acting wasn't exactly Clea's first career choice. From a small child on, Clea always wanted to write. However, as often happens, life sometimes opens a few other doors for us to enter. Luckily for us, Clea's entry into the entertainment world, allowed her to accomplish her first career goal, which was to become a writer. During an interview with the Sundance Institute, she discusses her original dream to become a writer and how it all came to be when she wrote the screenplay for her directorial debut, "The Intervention".
8. The 1983 Movie, "The Big Chill" Inspired Clea's Directorial Debut
During an interview for the Build Series, we learn that one of the inspirations for Clea's screenwriting and directorial debut, The Intervention, was the 1983 film directed by Lawrence Kasdan, known as The Big Chill. Even though she was much to young to truly understand what was going on in the movie, the core meaning of the film made a huge impression on the young girl, and one she labels as a childhood favorite. "The Big Chill was a really big movie for me as a kid. I didn't totally understand what was going on, but I really liked how it made me feel. I felt very included."  It was this feeling of inclusion which prompted Clea to be mindful of how she wished her audience to feel.
9. She Wrote Her First Film for her Friend
Clea's first directorial debut, The Intervention not only stars Clea, but also credits her as a writer, producer and director. For a first time director, that's a lot of hats to wear. However, the results were stellar, as the film was a critical success, and resounded positively with movie goers everywhere. But, did you know that she began the script in 2012? Quite true, and she wrote the film as a vehicle for her best friend, Melanie Lynskey to star in. That says a lot about Clea, right there. Perhaps, when her parents named her after the kind, affectionate and generous character Clea in the Durrell novels, they were on to something.
10. Is Clea DuVall Single?
It seems that no matter how successful and accomplished one is, it often comes down to this: "Why are they dating?", and Clea is no exception. As previously stated, Clea is gay, but chose to keep her private life in the closet for personal reasons, until 2016. As with most celebrities, none of us really know what goes on, but from what we can glean from the press. From what we know, Clea's first relationship was with Camila Guiterrez. Other relationships are listed as James DeBello in 1999, Carla Gallo, Summer Phoenix and actress Ellen Page in 2011. At the time of this writing, Clea is not in any relationship that we know of.