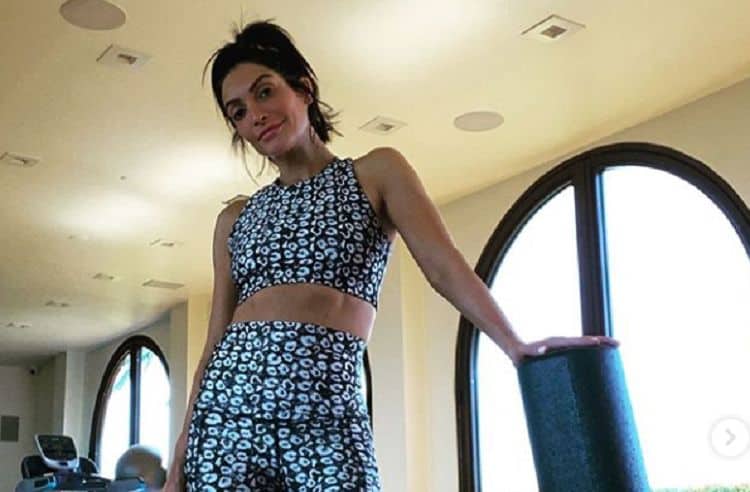 There are those that try to be famous and at the same time don't have the same kind of luck as others, and Courtney Laine Mazza is one of those since she's been kind of clinging to the fame of her husband at this time. Her husband is none other than former teen heartthrob Mario Lopez from Saved By the Bell, and while his fame is still moderate at this point he's still a recognizable face pretty much wherever he goes. She's listed on her bio as an actress but it's still evident that a lot of what she's done has either been far under the radar or, when attached to Mario, something that might get her a bit of attention but not enough on her own merit. That's not to say that she's not an important person but quite honestly it does mean that she's in the spotlight largely because of something other than her own merit.
Here are a few things that you might not have known about Courtney.
10. She's in her late 30s now.
She's still a fairly young woman but the longer one gets into their 30s it comes to be realized that they're getting older and that the clock isn't running backward. Thankfully she keeps herself in good shape and is a very active person.
9. Courtney is an educated woman.
She did attend and graduate from college and thus is an educated and capable woman who can stand on her own two feet. As to being famous it doesn't seem that her college experience has really helped, but there could easily be something else in her life that we're not fully aware of.
8. A lot of her current fame comes from being connected to Mario Lopez.
This is pretty evident but while it's obvious it's not entirely regrettable since a lot of people that are famous are known to put their loved ones in the spotlight from time to time. And with Courtney trying to establish herself in the acting community it definitely makes a lot of sense that she'd use this as much as she can.
7. She hasn't really shared a lot about her childhood.
Sometimes it's not exactly pertinent to really know that much about a person, or it could be that they simply don't want people to know that much about them given that it could be a personal matter or something they deem as not that interesting.
6. Her net worth is kind of uncertain at this point.
This isn't something you see all that often but it does happen from time to time since a net worth is something that people tend to carry around with them as part of their character. But Courtney doesn't seem to have a net worth that anyone can report upon.
5. Thankfully she hasn't been embroiled in any big controversies.
This is something that you can't help but be pleased to see since way too often celebrities tend to be in the news for one thing or another and are making fools of themselves left and right. Courtney has thankfully been able to steer clear of any major controversies in her life that might damage her or her husband's reputation.
4. Courtney has a pretty decent following on social media.
She does have a very impressive following on social media which is surprising and could possibly have more to do with who her husband is. But the point is that a lot of people seem to want to know what's going on in her life and are willing to follow her.
3. She's been struggling in her career for a while.
It's hard to say this about anyone but quite honestly this seems to be the case with Courtney's career since while she has been able to do a few things here and there she hasn't really broken into any big picture or show that could create a huge opportunity for her in terms of acting.
2. Courtney is a very family-oriented person.
This is more than evident from her many pictures and the manner in which she interacts with her family. This is something that many people like to see since it gives them some measure of hope given that she's married to a celebrity and the ideas about celebrities range from being complimentary to suspicious about everything. The Lopez family seems to be pretty well-adjusted and very loving though.
1. Their third child is considered to be something of a miracle.
According to Ericah Jones from CBN News it does sound as though she and Mario weren't expecting to be able to have another child, which for many women is something that is heartbreaking since it means that they can't experience the joy of being pregnant again. Thankfully though they did conceive another child and are very excited to be a family of five.
Even if she's famous thanks to her husband it seems to agree with her.