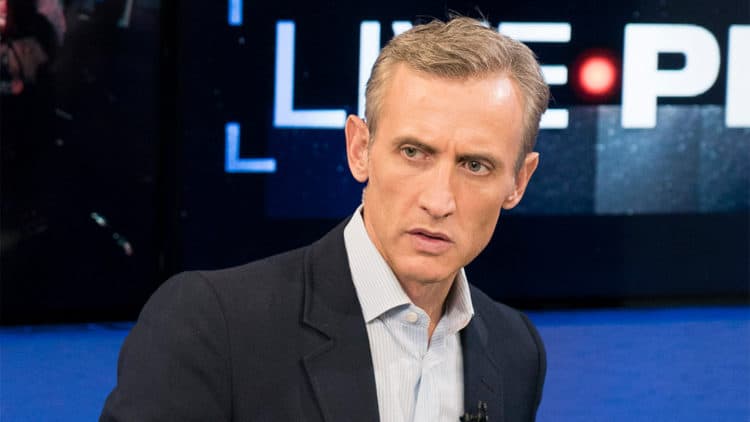 The OJ Simpson trial gave birth to many celebrities, among whom are the Kardashians. One other person who benefited from the publicity is Dan Abrams, who was a reporter for Court TV back then. He has since made his way to leading media channels, and his job as "Live PD" host has increased his fame. He is an enterprising person who has tried his hand in writing books and operating restaurants, among many other ventures. Get to know more about the journalist through these few facts.
1. He was a testicular cancer patient
Testicular Cancer has been a plague that is slowly wiping away the population of men around the world. Although it only accounts for only 1% of all cancers found in men, it is still the most prevalent in men aged between 15 and 35. Dan was one of the unfortunate men who fell in that category, although at the time he was 37. He watched a comedy in which one character was diagnosed with testicular cancer, and since he had been suffering from similar symptoms, he went for a checkup. He was found to have testicular cancer, but by 2004, he was completely healed.
2. Why he went public with the cancer diagnosis
People prefer to keep some things confidential, only sharing with close friends and family, and that is what Dan with his diagnosis of cancer. Dan told Live RampUp he would have battled with it silently were it not for Sean Kimerling, a New York-based newscaster who was undergoing testicular cancer treatment in the same hospital as Dan. Sean had told his father that he wanted to educate young men about testicular cancer as his way of giving back. Sean passed away on September 9, 2003, and Dan felt an inexplicable connection to him. He, therefore, not only shared his own story but supported the foundation that Sean's family had set up to fulfill Sean's wishes.
3. He has never been married
For a man who is 53 years old, you would expect him to have been married at least once, but Dan is not in a hurry to put a ring on anyone's finger. That is not to say he has not had his share of romance with different women; in 2009, he dated actress Renee Zellweger, but the relationship did not even last a year. Before Renee, Dan had been with Elle MacPherson from November 2008 to January 2009. It seems like Dan cannot commit because his previous girlfriend was Jamie Murray, and they were together from 2007 to 2008. Dan also dated Elisabeth Rohm from 2003 to 2005, during which time they lived together. Dan came close to marriage with Elisabeth since they were engaged, but they called off the engagement.
4. His restaurants closed
In 2010, Dan and his friend Dave Zinczenko invested in Lion, which quickly became a popular nightspot due to its "clubby" ambiance. In 2014, the two friends who share not just a career in journalism but also an obsession with great food and wine, joined forces once again to open White Street. With Dave's passion for healthy diets, the menu for White Street was farm-to-table, coupled with an extensive wine selection. They even recruited expert chefs like Floyd Cardoz, but unfortunately, the two restaurants have since closed down.
5. His bedtime stories were morality tales
Most children cannot go to bed without listening to the fairy tales that are hidden in the pages of bedtime stories. The Adams household, however, had their own stories that soothed the children to sleep. According to Observer, Floyd Adams, Dan's father, particularly remembers a story he shared with his children about a teacher who bought coal to heat the classroom. When the school refused to reimburse her, she sued them. With Floyd Adams being a First Amendment attorney, he also tried closing arguments on both Dan and Ronnie.
6. He is passionate about health
With the rise of obesity and lifestyle diseases, it has become paramount that people switch to healthy eating. Luckily for Dan, he has been passionate about healthy diets all his life. Therefore when he learned that his son's school was holding a birthday party every other week hence feeding the children with treats, Dan was angry. His love for healthy habits goes beyond meals because his girlfriend revealed that Dan ensures Everett never misses his dentist visits and doctor's appointments.
7. Favorite Moment on the Show
According to A&E, In terms of most memorable would be the moment with Chris Mastrianni [Deputy Sheriff of the Richland County South Caroline Sheriff's Department] and the fight with the guy who had a baby in his hand. That was an unforgettable moment.
8. Lessons on Police Protocol
Adams didn't realize that they touch the back of a car [they pull over] so often before they approach it to leave their prints. [Editor's note: This is primarily a safety precaution to ensure that there is proof the officer approached the vehicle.]
9. He did not recognize his girlfriend as a participant in "The Amazing Race."
In 2009, Dan and Florinka met through a mutual friend as they celebrated John DeLucie's memoir, "The Hunger." Although Florinka remembers meeting Dan a few more times before that introduction, Dan does not recall. Still, when the two met, both of them were not interested in dating since Florinka had just ended a serious relationship. Dan and Florinka had an instant attraction but they continued dating other people. With time, they became serious, and when Florinka fell pregnant, they decided to continue with their relationship without marriage.
10. He aspired to be like Ted Koppel
Although Dan grew up with his father preparing him for a career in law, the journalist knew he wanted to be the next Ted Koppel. Therefore even after completing his law degree from Columbia Law School, he went ahead to pursue what he always wanted: a career in the media.