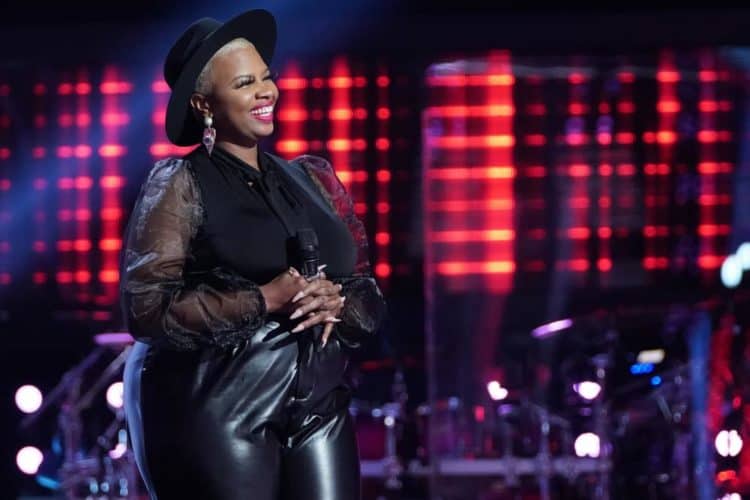 During each season of The Voice there are a few contestants who have everybody in awe from the moment they start singing. Dana Monique has already become one of those people for season 20. The talented singer got the judges excited with her performance of Aretha Franklin's song "Freeway of Love". Not only did the power in her voice come through beautifully, but she also showed a very impressive range. Both John and Nick turned around and were eager to get her on their teams. Dana ultimately chose to go with Nick, and she's excited for the journey ahead. Here are 10 things you didn't know about Dana Monique from The Voice
1. She Got Her Start Singing In Church
Dana Monique has been around music for her entire life. She comes from a musical family where both of her parents were artists and her grandfather was part of a quartet. She began her musical journey by singing in the church and she was only around 12-years-old when she performed her first solo.
2. She's A Proud Mom
Dana's amazing voice isn't the only thing she's proud of. She is also very proud of her two children. Both her son and daughter are following in her creative foot steps. Her son is a rapper who goes by the name of salvation and her daughter is a makeup artist. In fact, Dana's daughter is the one who usually does her makeup for performances.
3. She's A Houston Native
Houston, TX is the birth place of lots of very talented people in the entertainment industry with the most notable of them all being Beyonce. Dana Monique is also from the city and was raised in the third ward. If she keeps going at the pace she's at, she'll become yet another artist that Houston can brag about.
4. She Loves Fashion
Not only does Dana love to sing, she loves to look good while doing it. Based on her Instagram photos, it's clear that she loves fashion and has a great sense of style. She enjoys putting outfits together and her clothing is yet another way for her to express herself.
5. A Lot Of Viewers Are Already Predicting She'll Win
After just one performance, Dana Monique has won the attention of people all across America. Although the competition is fierce, there are many people who feel that Dana has what it takes to make it all the way. We'll have to wait and see how the the rest of the competition goes, but so far things are looking good for her.
6. She's Working On An Album
Dana Monique has been a background singer for many years which means she hasn't had much time to focus on her solo career. Now she's ready to share herself with the world and that is part of the reason why she's chosen to audition for The Voice. Additionally, Dana is also working on releasing her own music. According to Idol Chatter, Dana has been working on an album which was originally supposed to be released in 2020.
7.  She Used To Sing On A Cruise Ship
Dana Monique has been working hard for years to prepare herself for an opportunity like The Voice. One of the things she did along the way was perform on cruise ships. While these may not be the most glamorous gigs, they're a great way to get some experience while also getting to travel.
8. She Has A YouTube Channel
Social media is the first place people look these days when they want to learn more about someone. Dana started a YouTube channel back in 2011, but it looks like she hasn't posted anything since 2018. Hopefully she will start sharing content again and using her channel as a place to post her performance videos.
9. She Is Thankful For All Of The Support She's Gotten
Being on a show like The Voice can be an overwhelming experience, so it's always nice for contestants to know there are people out there who have their backs. Since her performance on The Voice, Dana has been getting a lot of love and support from people who can't wait to hear more of her voice. Dana appreciates everyone who has been shouting her out and giving her compliments.
10. Something Nick Jonas Said Is What Made Her Choose Him
As an R&B artist, many people were surprised that Dana didn't decide to join John Legend's team. During an interview with Houston Life she explained what made her go with Nick Jonas. When Nick said that he has something to prove and he felt that Dana does too, that statement really resonated with her.