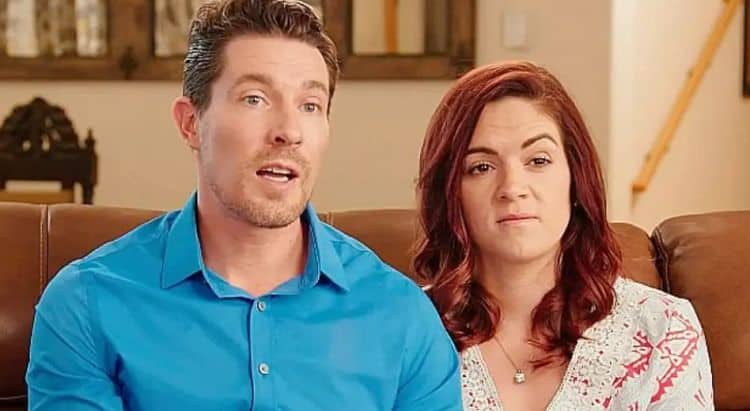 When Dannielle Merrifield said 'I do' to her husband, she never imagined that she would eventually be signing divorce papers so that he could marry someone else and she could become a sister wife. That, however, is exactly what happened. Dannielle and her now ex-husband, Garrick, have been sharing their journey on the TLC series Seeking Sister Wife, and they've gotten a lot of attention from fans. During the season, Dannielle and Garrick traveled to Mexico to meet their potential new wife, Roberta, and the trip brought out a lot of emotions for Dannielle. Although she initially told Garrick she was on board with the plan to expand their family, it quickly became clear that she isn't as ready as she thought. Keep reading for 10 things you didn't know about Dannielle Merrifield.
1. Seeking Sister Wife Is Her Only TV Experience
Being a reality TV star is something that is totally new to Dannielle. As far as we can tell, it doesn't appear that Dannielle has ever been on any other TV show. It also seems very unlikely that she'll pursue other opportunities once her time on Seeking Sister Wife is done.
2. She's Originally From Wisconsin
Dannielle and Garrick currently live in Colorado, but according to her Facebook page, Dannielle is originally from Lake Geneva, Wisconsin. Despite being on a reality show, Dannielle is actually a pretty private person so we weren't able to find much information on her personal life outside of what she's shared on the show.
3. She May Be Single
If you've been watching this season of Seeking Sister Wife, you know that Dannielle and Garrick's relationship is on thin ice. On the surface, it may look like she's going along with everything Garrick wants, but underneath it seems like there's only a matter of time before she decides to walk away. Apparently, that time may have come. While we don't know the official status of Dannielle and Garrick's relationships, some sources have suggested that they've gone their separate ways.
4. She's Not Into Social Media
Since starting her journey on the show, there have probably been lots of people who have searched social media to learn more about Dannielle. Unfortunately, they wouldn't have been able to find much. Although she has a Facebook account, her public posts are limited. She doesn't have verified accounts on Instagram or Twitter.
5. She May Have Worked At The Family Business
Garrick and Dannielle seem to be doing okay for themselves financially, but the show has never explained what either of them does for work. Garrick owns a company called Merrifield Custom Builders and Landscaping, and there's a good chance that Dannielle helps out with the business. Of course, if the rumors are true and they're no longer together, she may have parted ways with the company as well.
6. She Has A DUI
Dannielle may seem sweet and innocent, but she's gotten into her fair share of trouble. According to Starcasm, Dannielle was arrested in 2016 and charged with driving under the influence. She was also charged with misdemeanor child abuse with no injury which implies that there was at least one child in the car with her at the time of her arrest.
7. She Isn't A Mormon
When most people think of plural marriages for religious reasons, the Church of Latter-Day Saints is the first thing that comes to mind. However, Dannielle and Garrick are not Mormons. While they have made it clear that their faith is very important to them, they haven't gone into detail about their specific beliefs.
8. She Likes To Stay Active
Since Seeking Sister Wife is specifically focused on relationships, we don't get to see much of Dannielle's life outside of that. Even though things may not be going well in her relationship, she other bright spots in her life. Some of the photos on her Facebook show that Dannielle loves to get active and she enjoys spending time outdoors.
9. She's A Packers Fan
She may be a Colorado resident now, but that doesn't mean she's turned her back on her home state – especially when it comes to professional sports. Dannielle's Facebook profile shows that she likes a page called Packers Nation which shared content related to the Greenbay Packers.
10. Lots Of Viewers Feel Bad For Her
Every couple on Seeking Sister Wife has their struggles, but Dannielle and Garrick's story has stood out to lots of viewers. Many fans have commented on the dynamic of their relationship and the way Garrick treats Danielle. Some people have even taken to social media to express that they feel that Dannielle is being manipulated and taken advantage of.