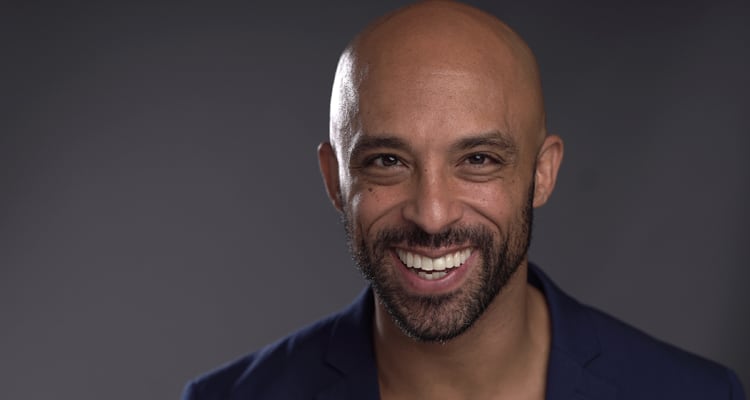 David Bianchi is a classically trained actor who has appeared in films like "Harley Quinn: Birds of Prey," "Priest," and "Filly Brown." He's most known for his recurring role in Season 4 of USA's "Queen of The South" and "Insatiable" for Netflix. And he's also had TV appearances on hit shows like HBO's "Westworld," "MacGyver," "Marvel Agents of Shield," "Animal Kingdom," "Shooter," "The Last Ship," and many more. In addition to acting, David also has over twenty IMDb producer credits and sixteen screenwriter credits and is the founder of Exertion Films. Learn more about David Bianchi below:
David speaks four languages.
Many people don't speak more than one language, but David has been blessed to speak four. He speaks three fluently, very conversational; those are English, Spanish, Portuguese. David is Brazilian and American by nationality. By ethnicity, David is Afro-Brazilian and white Italian. So he's pretty diverse, which for many years worked against him in casting. Now things are getting much better for him. David says, "Being ethnically ambiguous wasn't always a good thing because Hollywood wants to compartmentalize you into a category. They want to think in simple terms. Black, Latino, White, Asian, and life isn't that simple nor is ethnicity."
He loves to cook.
David really is a foodie, truly. He loves every aspect of cooking and believes that someday he will open a restaurant. David is very good at it. He enjoys the art of it and balancing flavors and making dishes truly unique and fluid to the eyes, nose, mouth, and digestive tract. David says, "food is a communal experience that is a large part of who I am. I grew up with so many different influences that it became a part of me to embrace food. When I was young, my father would wake me early every Sunday to cook the family meal. We would make pastes from flour early in the morning and make red sauce from tomatoes and cook all day. To this day, I'm inspired by the art of food, not just the consumption of it. Food to be good needs two things, love and inspiration. If I can't taste the love in it, I don't want it."
David is a poet.
He has been writing poetry ever since he was a kid. As long as he could write, he loves the way things sound when they rhyme. Since then, he has participated in national slam competitions and has been televised multiple times, performing spoken word poetry. David now produces high concept spoken word films, and he is developing a television series around this art he calls "Spinema" (spinning cinema through spoken word). He says, "it's basically producing films that are told entirely in poetry but behave like films. My poetry films have won awards at festivals and have played all over the world. I have produced work with other celebrity actors, including Malcolm-Jamal Warner, Mustafa Shakir, and Joivan Wade, to name a few."
He prays every day.
Prayer is vital to David's lifestyle. He says, "I have to be focused on a spiritual path in this life. It is very easy to get derailed into negative thinking and get in a negative place (mentally, that leads to a physical place of negativity). Staying in a relationship with my higher power keeps me grounded and forward-thinking and never too deep into my ego. It allows for forgiveness and a balance to this complicated world. When I accept that I am not running the show, all I do is focus on the work. The results are up to God, and those are important lessons for humility and positive emotional living."
Fitness is huge in David's life.
He is paramount on being and staying fit. His past time is making sure that he is moving his body. He says, "Depression has a hard time hitting a moving target, so staying active is vital. As an actor, my physical form is my selling tool and my artistic expression, but it is deeper than that. It's about good internal health. So cardio is truly the biggest part of good health. You also can't outwork a bad diet. If you're eating a lot of sugar, heavy meats, and saturated fats, you'll never outwork the bad intake. Happiness is an inside job. Unless you are willing to work from the inside out, you'll never be able to truly achieve outer happiness. The things that we seek should be guided by the internal. Fitness is the same. Focus on cardio and not on muscle-sculpting, so you have good cardiovascular health, not just pretty exteriors."
David is a workaholic.
With a vigorous drive, David is constantly working towards his goals. He says, "I don't know how and when to quit. I cannot sit still. Even when I'm on vacation I like to be very active and on the go; same with work. There is never enough time in the day to get done the constant tasks that need accomplishing. This ethic is the reason for my success because I am relentless when it comes to getting tasks off my desk. There is always someone who might be better, but you can't replace a killer work ethic. Champions work hard. People that are good are average. People that are great are persistent and have an explosive vision and work ethics to achieve what they deserve.
– David Bianchi photo by Greg Perrow