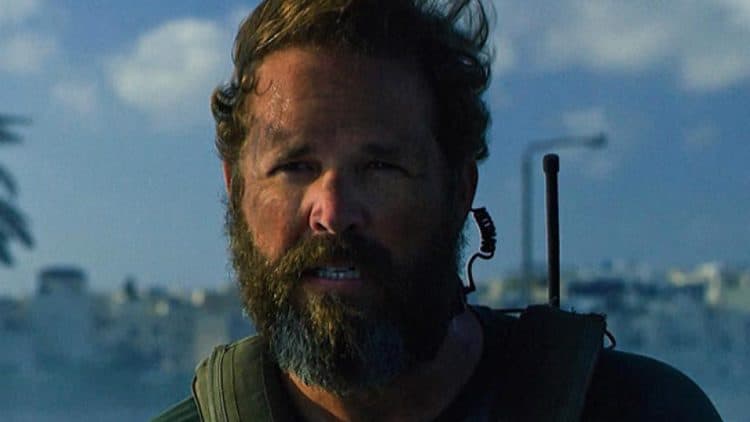 If you're not already familiar with the work of David Denman, you soon will be. Earlier this month, it was announced the actor would be joining Gerald Butler, Roger Dale Floyd, Andrew Bachelor, Scott Glenn and Morena Baccarin in Greenland, the upcoming STX thriller from director Ric Roman Waugh. As reported by Deadline, the film (which revolves around a family's fight for survival following a catastrophic natural disaster) will see Denman take the part of a "compassionate man who resorts to desperate measures to save his wife and himself." Already one of the most eagerly anticipated movies of the year, Denman's addition to Greenland's already stellar line up is sure to add even more buzz to proceedings. To find out more about the talented actor, keep reading.
1. He's a Juilliard graduate
Denman was born in Newport Beach, California, but spent most of his formative years moving from place to place around Southern California. As a result, he ended up attending eight different schools in total, eventually graduating from Fountain Valley High School (where, coincidentally enough, he was a classmate of the director Craig Brewer and the actor Omar Metwally). After high school, Denman pursued his interest in acting by enrolling at Orange Coast College, where he was involved in over 20 productions as both an actor and director. From there, he joined the renowned performing arts conservatory, Juilliard, graduating in 1997 with a BFA degree.
2. His film debut was in The Replacements
After working for several years on TV, Denman made his film debut as a deaf tight-end in the 2000 football comedy, The Replacements. The film, which starred Keanu Reeves and Gene Hackman in lead roles, along with the veteran actor Jack Warden in what would be his last ever film appearance before his death in 2006, received a mixed response from critics, but still managed to gross a respectable $50 million worldwide.
3. He's had multiple recurring TV roles
Denman's TV debut came in 1997 with a part on the long-running series, ER. He's since appeared in numerous productions, occasionally on a one-time basis but frequently as part of the recurring line-up. From 2001-2003, he played the demon Skip on sci-fi series, Angel. In 2005, he joined the cast of The Office as Roy Anderson, a character he'd revisit on multiple occasions all the way through to 2012. Other recurring roles include Ed Brooks on Parenthood, Tony on Drop Dead Diva, and Mike Reilly on the short-lived Fox comedy, Traffic Light.
4. He's an award winner
The Office won all kinds of accolades during its nine-season run, including a Peabody Award, two Screen Actors Guild Awards, a Golden Globe Award, and four Primetime Emmy Awards. As Roy Anderson, Pam Beesly's ex-finance, Denman did his own little bit to add to the show's success, contributing a SAG award to an already impressive list of accolades.
5. He's been married twice
On 13th August 2014, Denman married Swedish actress Mercedes Mason. 4 years later in January 2018, the couple welcomed their first child, a son called Caius. His wedding to Mason wasn't the first time the actor has walked down the aisle: in 2001, he married his then-girlfriend, Nikki Boyer. The couple weathered 9 years of marriage before eventually calling it a day in 2010.
6. He's a Shakespeare addict
Despite becoming a household name through his various film and TV performances, Denman's heart lies with the theatre, or more specifically, with Shakespeare. As IMDB notes, Denman has seen every single one of Shakespeare's plays and has performed in many of them himself. "Most people know me from 'The Office,' where I played a guy who grunted out three or four words an episode and was kind of a knucklehead," he's said. "So I think it's surprising for people to see me do something like this. But Shakespeare is what I grew up wanting to do. It meant so much to me as a kid to see professional theater and hear Shakespeare's words".
7. He can't stop injuring Jim Krasinski
Denman and Krasinski may have had a fraught relationship in The Office, but offset, the two are good buddies…. although you wouldn't always know it. Denman seems in the habit of injuring Krasinski anytime the two film together, sometimes coming within a cat's whisker of some pretty serious consequences. The first incident came on the set of The Office when Denman accidentally elbowed his co-star in the face and caused a nose bleed. The second happened some years later during the filming of 13 Hours. "We were doing training and we were firing all these guns," Denman told The Hollywood Reporter. "He was sitting next to me and the shell comes flying out and they are hot. Sure enough, my shell landed on his neck and burned his neck."
8. He likes flying under the radar
Denman's casting in Greenland and other big productions like 2019's Brightburn might not suggest as much, but the actor prefers to fly under the radar wherever possible, avoiding the kind of roles that would elevate him to a level of celebrity he'd be uncomfortable with. "I always like being under the radar and sort of having a blue-collar acting career, which is what I envisioned and hoped for," he told the Hollywood Reporter. "For 20 years I've been doing this. And luckily-knock on wood-I haven't had to do anything else."
9. He's a millionaire
Given that's he been acting for over 20 years, it'll probably come as no surprise to learn Denman doesn't exactly have to worry about the mortgage payments anymore. According to Celebrity Net Worth, the actor is worth a very respectable $3 million.
10. His career highlight was Puzzle
Given the number of films and TV shows Denman has appeared in over the years, you'd think it would be hard for him to pick a highlight… but that's what he had to do, when The Playlist asked the same question. "I really love this movie I did called "Puzzle" a couple of years ago with Kelly Macdonald," he responded. "I hadn't seen anything like that with a woman, coming-of-age story, and I thought that Kelly was so amazing in it.