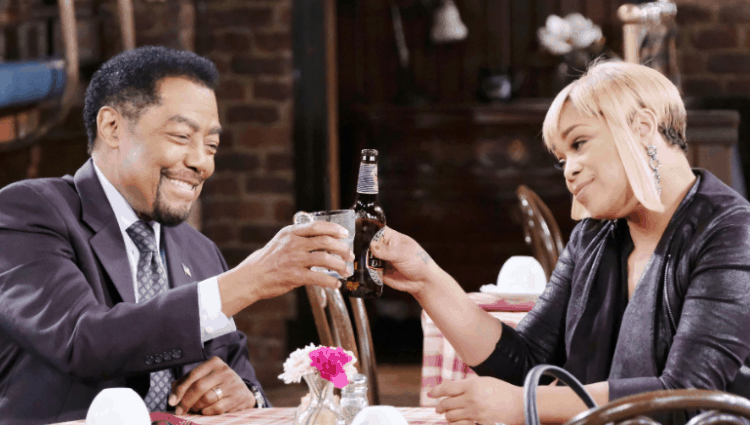 Days of Our Lives fans were all crushed. We knew that as soon as they found out about the accident, it was not good news. When Eric, Hope, and Nicole found out what happened, they ran to the scene to find out that things were hopefully not as bad as they were assumed. But, they were too late. The fan was already in pieces, and no one could have possibly survived what happened in that moment. There is no way that sweet Holly was able to manage to survive that accident, and she's gone. Nicole's grief in that moment is something we cannot even begin to imagine. The horror and the pain and the fear and the horror all wrapped into one are unimaginable. Our hearts hurt for her and with her. Her baby is gone, and she didn't even get to see her baby one time before it happened. Her entire world is crushed, and she's got to blame someone.
The entire situation is beyond our comprehension, and we cannot see anyone making it through this alive. They are so hurt, and we know that Nicole is going to place the blame on Eric for all of this. She will even turn to Brady for some comfort at some point. For now, though, we know that someone has to let Chloe know. She carried that baby for her friend. She fought for that baby when everyone wanted to care for her when Nicole died, and she will not be happy or okay when she finds out this happened. Just when you think that you have the reactions to the baby's death behind you, it's time to tell the woman who is raising this child for her lifelong best friend. It's going to be a crushing week all the way around.
What's Happening on Days of Our Lives
Congratulations to our #DAYS @DaytimeEmmys winners! Salem wouldn't be the same without you. pic.twitter.com/Hj8xmortNS

— Days of our Lives (@nbcdays) May 6, 2019
Congratulations to everyone who was honored.
What's Next on Days of Our Lives
Nicole blames Eric for a tragic event. Watch #DAYS, weekdays on NBC. pic.twitter.com/IyshoSKQ5r

— Days of our Lives (@nbcdays) May 3, 2019
There is bad news to share, and it has to be shared with someone who cannot handle it at the moment. Chloe is dealing with a lot right now. She's been raising this baby girl, Holly, whom she carried for her friend Nicole since her friend was killed last year. She is her mother now, and she's been doing all she can to make sure that this little girl is safe, loved, and cared for. She's also been falling for a man who is not a good man. That man is Stefan, and she is much more into him than he is into her. In fact, he's been having an affair with Gabi behind her back even though he's been telling her that he wants to be with her and that he wants to see where this will go. He was recently caught sneaking Gabi out of the mansion when she was not supposed to be there, and Chloe is unhappy about many things.
Now she will find that Ben and Ciara have arrived to share some news with her. They know where the missing baby girl is, but she's not okay. She's gone. The baby died in the accident, and there is nothing anyone can do about it. Xander took her baby, and because of that, she is dead. And no one is aware – yet – that Ted is right in the middle of this with him. When they find out he's in the middle of this, we can assume that Hope will head the line to have his life in her own hands.
Stay tuned for more Days of Our Lives and be sure to check out TVOvermind daily for the latest Days of Our Lives spoilers, news, and updates.