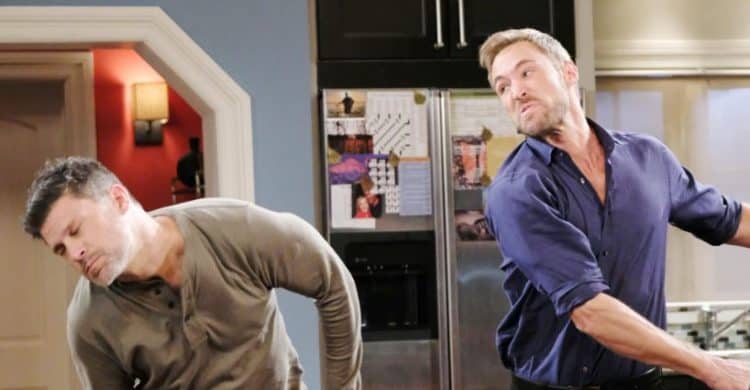 Days of Our Lives fans are not sure how Kristin is going to get out of this. She's killed Ted, she's made some ugly decisions, and she's trying to take over things that just aren't hers to take over. It's not like this is the first time she's come into Salem and tried to change the world as she knows it, but this is a new ballgame even for her. She's awful, and we all know this, but she's made some questionable decisions that are not going to make her life easier. She's also got to figure out how to keep her own secrets, but she's not sure how to do that. Some people already know her face is not her face. She's not really Nicole, but some people still think she is. She's made some big mistakes lately, and she's scrambling.
But, we also saw her get caught trying to hide the evidence that she's been doing all the wrong things for months. She thought she had some problems before, but now she's got some much bigger problems that will only prove she has to make some even bigger changes in her own life. She's not in the mood to make things right, but she's also not in the mood to change the way she's been living. She's happy where she is, and she's got to fix things as they are happening. But, she's been caught, and now she has to find a way out of that. Can she do it, or will she continue to have to figure things out on her own? We aren't so sure, but she's trying to make it right in her own life. She doesn't care about anyone else's life, after all. But, that's not a new thing by any means. She's never cared.
What's Happening on Days of Our Lives
Meet The Stars Of #DAYS! https://t.co/zowjOE8bka @nbcdays

— Soap Opera Digest (@SoapDigest) August 2, 2019
Houston, watch out!
What's Next on Days of Our Lives
Rex's wife left him for his brother, but things are much worse for Ted. Watch #DAYS, weekdays on @NBC. pic.twitter.com/XAGLk3LhRX

— Days of our Lives (@nbcdays) August 2, 2019
Nicole is not herself. In fact, she's actually Kristin. She's a mess and she's not doing anything that will work in her own favor. She just got fake married so she can take over the family business, and now she's working to getting the man she wants to fall for her. She is coming on to Brady like it is her job, and he is finally falling for her advances. We aren't happy about it, to be quite honest. He is not a man who has a lot to offer her, and he is not a man who has a lot going on in their personal lives. He's a man who actually has some issues to go through, and he is a man who is not going to make anyone feel good about anything. He knows that his brother loves Nicole, and he knows not to do this, but he will do this, they will fight, and things will never improve.
Kate is not in a good place just yet. She's been through a lot what with being locked up with Ted and figuring out what she's feeling only to have him leave and be with Hope. Now he's gone, and Kristin is trying to make sure no one finds out what she did. And then there is the fact that she has to focus on herself, but when she sees a familiar face, she's going to faint. She's not expecting to see this person, and it makes us wonder who it is and why they are there. It's not good news, but that's all there is to it.
Stay tuned for more Days of Our Lives and be sure to check out TVOvermind daily for the latest Days of Our Lives spoilers, news, and updates.