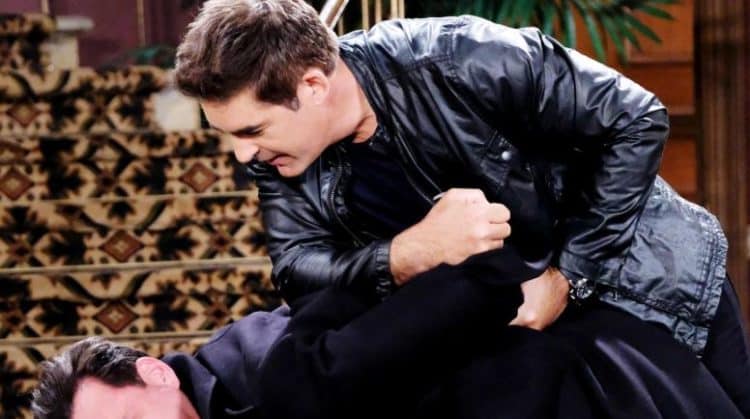 Days of Our Lives fans were not surprised to see that Leo is just as slimy as anyone. He is such a horrible person who forced Sonny to marry him against his will since he wanted to make things work in his own favor – and since he threated to turn him in to the police. And now he's gotten a good look at Xander, and he's smitten. He's forced himself on Sonny to ruin his life and get his own way, and he will not hesitate to see if he can make some moves on Xander and see if they are returned. He is so gross, and we are so not fans of his. He is not the kind of man we want to see this work with, and we will not see him in any way, shape or form as they are looking to get this under control. They are not the kind of people want to see work, but they might just free up Sonny to be with Will.
Julie is doing all she can to make sure that Chad is able to win back his wife. He was so horrible to her, then he kidnapped her, and he didn't think that he could make things work with her, but now that he knows that she is the mother of his second child and his first child, things are different. She's helping him plan a date that might just make her fall back in love with him, too. Though we think she should tread lightly considering how easily he was able to give up on her and how far he was willing to go enlisting Ben to help him knowing that she is terrified more of him than any other person in the world. This may not go well, but we will see.
What's Happening on Days of Our Lives
How are we all celebrating? 💃🎊🕺 https://t.co/u3jvVAZdNQ

— Days of our Lives (@nbcdays) January 8, 2019
That's a long time, and we are excited that they were renewed for yet another year. The show is celebrating this monumental success, and we want to know how you're celebrating, too.
What's Next on Days of Our Lives
Xander and Leo team up to take over, and Haley has a secret. Watch #DAYS, weekdays on NBC. pic.twitter.com/LGks6xugLY

— Days of our Lives (@nbcdays) January 4, 2019
Things have not been going too well for Ben and Ciara, and that has a lot to do with the fact that her mother interrupted their date to warn her daughter that Ben was back to his old ways. Well, not exactly. But he did kidnap Abigail, who is someone he lived to make miserable and tried to kill in her own bed at one point. He might not have murdered anyone, and he may have only done it because Chad asked him to do it and to make it right for Chad and to earn some money so he could take his girlfriend on a date, but that doesn't count. Or does it? Is there even a slim possibility that Ben and Ciara are playing Hope so that she will leave him alone and not go after him for crimes these days?
If she breaks up with Ben, her mother might think she doesn't need to focus on him anymore, and that might change the entire game for Ciara, who might just continue to see the man of her dreams behind her mother's back. Is there a chance that might work? We don't know for certain, but we don't doubt it might be possible for her to make decisions like that. Maybe she can focus on that and not on her mother constantly interrupting her life and trying to get her to make her own choices. There is a slim chance we are just hoping, but we do know that they are breaking up today, and there is nothing anyone can do about it.
Stay tuned for more Days of Our Lives and be sure to check out TVOvermind daily for the latest Days of Our Lives spoilers, news, and updates.