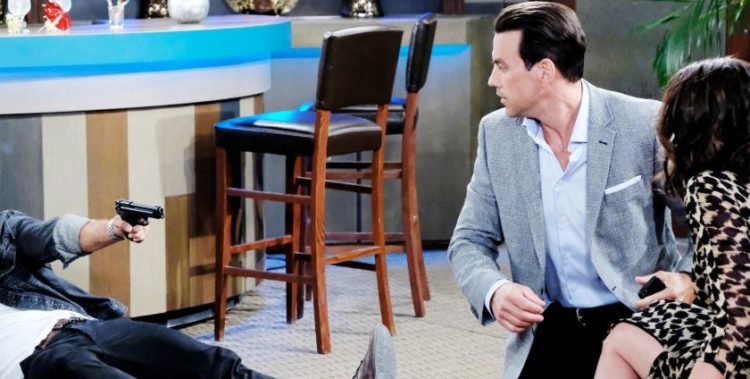 Days of Our Lives fans have a lot of hope for Chad and Abigail, but we also know that they are not coming back. We watched her share her story with Ben's sister about all that happened to her and how it went down, and now we are going to continue to watch as she struggles to face her life. She's just not sure how she can forgive her husband for all the things he assumed of her and all the things he did to her, but she's also not sure how to go on without him and the love she has for him and their kids. So, we know that they are both leaving the show — and it's going to be very soon. And we will miss them, but we really do hope that they leave on a good note with one another to work on their marriage and remove themselves from the toxic situations that are their lives.
And then there is John, who just told Roman that he believes that Leo might be his son based his former relationships with Leo's mother. He's shocked, and he's not sure how to make his family aware of this. If we were John, we might just ignore the entire thing. Leo is not awesome, so we hope that he's able to move past this with some knowledge that he is not the father of this child. However, we are not sure that's the case for him. The good news is that he might be able to work it out in some other way, but we also aren't sure about that, either. Leo will spend some time with his mother discussing the many secrets he is keeping and how those will affect his future. And they might be big — stay tuned for more on that.
What's Happening on Days of Our Lives
She's back! #DAYS

📷: @Chrishell7 pic.twitter.com/N5Wo3D1di4

— Days of our Lives (@nbcdays) January 30, 2019
Who isn't excited to see her back on the show for the time being? We love her!
What's Next on Days of Our Lives
Ciara is taken captive! Watch Days of our Lives, weekdays on NBC. #DAYS pic.twitter.com/ZyuAnYhMH6

— Days of our Lives (@nbcdays) January 25, 2019
Chad is not happy about the kidnaping of his daughter, obviously, and he is going to do whatever it takes to get to the bottom of this. That includes finding Stefan and confronting him about what it is he has to do with this and what he knows. Stefan will, of course, not give him what he wants or do anything that Chad will find helpful. Though, we do suspect that Stefan could hand him the kidnapper on a silver platter with handcuffs and a death penalty sentence and Chad would still find that he didn't do the right thing and it was not enough. There's just too much of that kind of hatred in his heart at the moment.
But, there's so much going on. Rex and Sarah have decided — against our happy opinions — to put the past behind them and focus on their future. This means they are back together, and they are going to get married. They are not a good match, and we know this. And we also know that Eric is crushed and unhappy and upset and not working well with himself. He's not going to find much comfort in this, and that hurts him. He cannot find out how to be happy since he lost Nicole, and this was a crushing blow for him to have to come to terms with. We aren't sure he will be all right, but we aren't sure that Sarah will not eventually change her mind and go running back to Eric, too.
Stay tuned for more Days of Our Lives and be sure to check out TVOvermind daily for the latest Days of Our Lives spoilers, news, and updates.