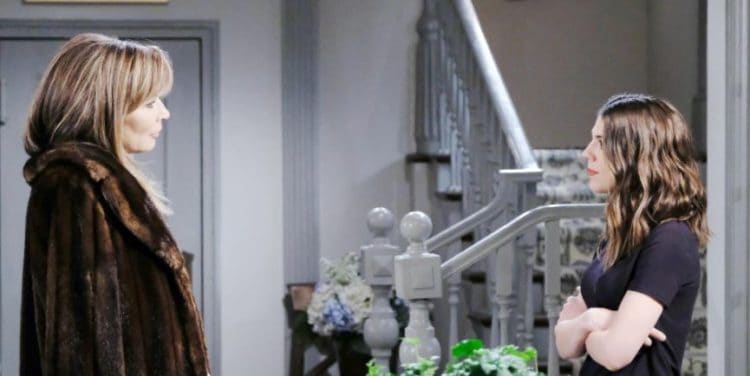 Days of Our Lives fans were just as frustrated as Eli and Lani when they realized that their case is just not going anywhere. They are up against Xander, and all their evidence and their situations are getting worse as the days go on. There is little they can do to make sure that things are working in their favor, and it's frustrating and upsetting for all of them. We want to see them take this man down, and we feel personally invested in this situation as it unfolds. They have very little to feel good about right now, but we have the ability to feel that they will eventually get it. We are just going to hope that they catch a break before much longer, and we are kind of hoping that Leo indirectly helps them make this possible by becoming a huge distraction in Xander's life. It might just work.
Furthermore, we are seeing the demise of Rafe and Hope right before our eyes. They are in the middle of the beginning of the end, if you ask us. He is not happy about all the time she's spending with Ted, and Ted is working very hard to make it appear that they are having an affair. There is so much for them to argue about these days that we just cannot believe they are even capable of making their lives seem better than they are. They're in a bad place, and it's become more than a little obvious to us that this is the case. And we are just sitting back with Gabi and Stefan wondering what on earth they are thinking trying to work together. First, Gabi has zero friends left, and she's crazy to think that Gabi Chic will work, but she's going for it anyway.
What's Happening on Days of Our Lives
Wednesdays are for selfies. #DAYS

📷: @JreynoldsJames pic.twitter.com/kiaJwHsYVo

— Days of our Lives (@nbcdays) January 16, 2019
They don't like one another much in the show, but they do appear to get along just fine when they are not working on their character's lives. We like that. And we like Selfie Thursdays.
What's Next on Days of Our Lives
Relationships are heating up in Salem this winter. Watch #DAYS, weekdays on NBC. pic.twitter.com/ugatVG3VwF

— Days of our Lives (@nbcdays) January 11, 2019
Rex has something he needs to tell Sarah. It's not like it's been a big secret that they've been attempting to work on things, but it seems that they have more to work on than they thought. They've been caught in the middle of a big situation, and he has something to say. And trust us when we say that she is not going to like whatever it is he has to say. She's not a big fan of his admissions in most instances to begin with, but things will take a drastic turn for her as she is getting her life together in other ways, too. She's not a very happy camper right now, but there is a chance she might be able to take what he has to say in stride. Except, we don't think she will. We think that she's going to be stunned.
And we think she's running straight to Eric when he opens his mouth and says what's on his mind. Whatever Rex has to say to her at the moment is going to turn her into a woman who wants to find the kind of help she needs anywhere she can find it. Right now, that's in the arms of another man. But we also think that Eric needs to watch out and guard his own heart. He's been working very hard to keep things to himself for a while since Nicole's death, and we are not sure that a kind-of taken woman is the right woman for him. He should be very careful in this game he's playing.
Stay tuned for more Days of Our Lives and be sure to check out TVOvermind daily for the latest Days of Our Lives spoilers, news, and updates.