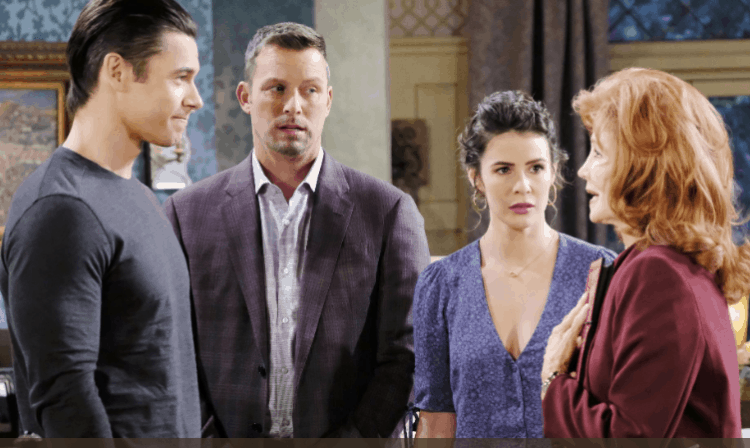 Days of Our Lives fans know that the last week was so interesting for everyone. There was a lot of conflict, but it was all work that needed to be done. Ciara took it upon herself to share the truth about Claire with Tripp. He was not entirely shocked to hear this information from her. He knew that there was something about what she was up to that was not entirely right. He'd already come across some very interesting information about her and her life in her room. He's been thinking she was not on the up and up for a while now, but the hard evidence that Ciara gave to him was just too much for him to ignore. He knows now, without a doubt, that she is a woman who is out to hurt other people because she is hurting. He had to end it with her, and she lost her mind.
That's what makes us worry. She's crazed because of him. She's so in love with him that she cannot imagine her life without him, but he's given her no choice. Now she's lost it, and she's fallen right off the deep end. There is nothing that he can do right now to protect himself and all the people he does care for. On the same note, it seems that the woman masquerading around town as Nicole is done with Ted and his suspicions. She's ordered Xander to get rid of Ted, and that might be something that Hope is going to have to deal with. We all know she has feelings for him that she cannot deny, but this is something she has to figure out. Where is he? She knows he is not all right, but what else can she do other than try and find him before it's too late?
What's Happening on Days of Our Lives
#DAYS star @JreynoldsJames reflects on his time working with the late, great Peggy McCay. https://t.co/lO0SGFfRBM

— TV Insider (@TVInsider) June 20, 2019
We love things like this.
What's Next on Days of Our Lives
Kayla invites you to a wake honoring her late mother, Caroline Brady. Watch #DAYS, weekdays on NBC. pic.twitter.com/dFrIBjH4IS

— Days of our Lives (@nbcdays) June 14, 2019
Sami is not happy with Nicole at the moment. She's been back for five minutes, and she has already noticed that Nicole is being awful to Eric. She does not feel that how she is treating Eric is fair or right, an we have a feeling that Nicole is not going to respond well to this in the moment. You see, she's not Nicole. She's Kristin. And if there is one person who hates Sami more than most everyone, it's certainly Kristin. So, at the moment, we feel that there is a significant disconnect right now, and Sami can expect to see a new side of Nicole she did not know existed in the past. Or, she will be very shocked at how much she seems to act like Kristin, and then things will begin to make sense for her. Is there a small chance this might be how it all unfolds for her?
Then there is Ted and Xander. Xander has to kill him per Nicole/Kristin's orders, but he cannot do it. He has him captive, but he actually likes him. They are friendly with one another, and they seem to get along. He knows he's meant to kill this man, but he cannot bring himself to do it. He cannot make it work for him like that, and he's not sure he's all about it. He's about to make some changes in his life, and we get that. He's not going to sit here and allow anyone else to fool him. He's going to befriend this man and go his own way.
Stay tuned for more Days of Our Lives and be sure to check out TVOvermind daily for the latest Days of Our Lives spoilers, news, and updates.