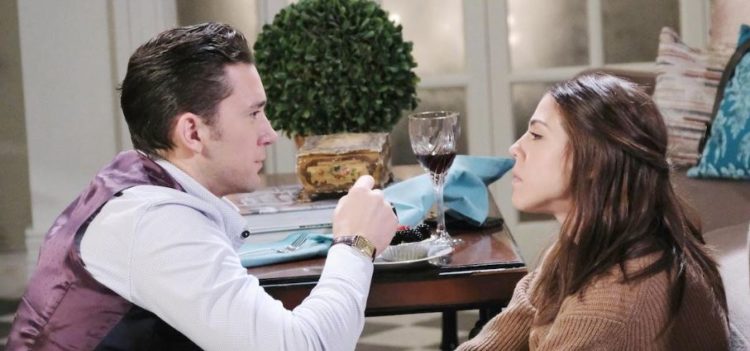 Days of Our Lives fans were not shocked when things fell apart for Eve. She married a man who didn't want to marry her, but he didn't know that he didn't know. He was dead, and then he was not, and then he was brought back to life and he was given none of his original memories. He came back to Salem with no idea who his friends and family really were, what was happening in his life, and what to do with himself. He was a mess, and that was all there was to it. He was not someone who did things on his own accord, and we got that. But, there was more to it than that. He figured things out, he got his life back in order, and now he doesn't want to be married to her. So, that leads us to our lack of surprise that he is going to end up with her on his bad side. She's going to end up regretting so many things, and this is just how his life is going to go.
Meanwhile, we were also not all that surprised to see Eric end things with Sarah. He might care for her a lot, but he will never love her the way he loves and has always loved Nicole. She is his soul mate, and we all know that. But, she's crushed in a way that makes her life even more difficult. She's pregnant with his baby, and we just do not think she will tell him at this point. She doesn't strike us at the type who will go out of her way to make sure he can figure things out on his own, and that's just that. He might not have much else to say about things, and that's where it all goes awry for us.
What's Happening on Days of Our Lives
In the latest #DAYS, Nicole has an explosive confrontation with Kristen.https://t.co/ZsCmioRrzb pic.twitter.com/CNWtXn2M6T

— Days of our Lives (@nbcdays) September 12, 2019
And it was worth it.
What's Next on Days of Our Lives
Revenge never dies between Vivian and Kate – and now Stefan and Gabi are pulled into the fray. Watch #DAYS, weekdays on @NBC. pic.twitter.com/WhU7Y6qU71

— Days of our Lives (@nbcdays) September 6, 2019
There's a lot happening around here that could potentially end very badly, including the fact that Vivian is not done with Kate. She's still alive, isn't she? She's going to go out of her own way to make sure this is not an ongoing problem, so she's going to sneak herself into the hospital and she's going to handle this situation before it becomes a problem for her. She's not going to let Kate live, but we have to assume someone is going to catch her and find her and make it obvious that she's not going to die. Will that happen? Brady is going to find himself in the middle of a tempting situation, and we have a feeling that it will mean he has to make the hard decision to do what is right or to do what he wants. He might not choose the right thing, either.
Then there is the fact that we cannot wait to see how things will unfold with Xander. He knows what is going on with her, and he doesn't like it. He wants it to be his baby if we had to guess, but that will not stop him from wanting to let her know that he knows her secret. Will this be something that they can hide together? Will this potentially be one of those situations in which they decide that they are going to keep this to themselves and maybe pretend it's his baby?
Stay tuned for more Days of Our Lives and be sure to check out TVOvermind daily for the latest Days of Our Lives spoilers, news, and updates.