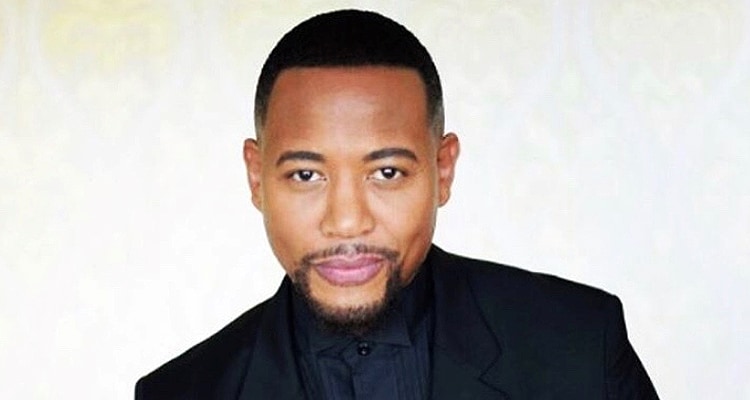 Derrex Brady is a native of Grand Rapids, Michigan. He began his career with a guest-starring role, as Ajoni, on the award-winning Lifetime Television show "Any Day Now" (starring Annie Potts and Lorraine Toussaint). He's most known for his work in "Any Day Now," "S1mone," and "In Plain Sight," where Brady played an addicted gambler.
1. Derrex's mother (Julie Ann Lee) introduced him first to the world of acting through double feature movies on Saturdays.
Derrex Brady states: "I remember my mother packing a few snacks in her purse, and we would stay at the movies for hours watching back-to-back films. Those were some of my favorite times with my mother. Interesting enough, it was more than just entertainment; it was my theater class. It's not a coincidence after consistently spending hours at movie theaters on the weekends; I would grow up with a passion and focus to pursue TV and film."
2. His first acting debut was a SAG commercial for Orange Slice.
At the time, Derrex wasn't a part of the Screen Actor's Union. Still, the signatory producers thought he was perfect for the role as a biology student and booked him through a special union approved process called Taft-Hartly. A bit of trivia, Brady in his career has filmed over 60 national commercials; two major campaigns, Michael Bay's global franchise "Transformers" as well as AT&T's national campaign with Mark Wahlberg, directed by Peter Berg.
3. Derrex's grandfather's name is Governor Manning Lee.
His grandfather was a professional guitarist who owned his own small food mart in Grand Rapids, MI. Brady's mother (Julie) shared stories of how she would take different shifts with her sisters and brothers to open and close the store.
Entrepreneurship must have trickled down from him because although Derrex is a full-time actor, he's also partnered with an actor friend of over 15 years, M.D. Walton, who became his producing partner. The duo produce the award-winning short film "The Championship Rounds," starring Harold Perineau, Jr. (Claws), Rutina Wesley (Queen Sugar), Larry Gilliard (The Wire), and Michael Anthony Spady (The Hammer). The award-winning short resulted in the pair teaming up long term to launch their production arm, Skyscope Pictures.
The team's first phase of projects under the Skyscope Pictures banner includes the feature version of the short, titled "MICHAEL," written by Walton, a series entitled "Roberta Rules," written by Brady, and a collaboration to produce the feature film "Questions," a romantic comedy, which is currently available on VOD.
Two more projects moving forward under the Skyscope Pictures banner, "Young Warrior," a biography film based on the life of Jason Hill; Thrust into the life of a drug-addicted single mother, blond, blue-eyed kid navigates through the projects of Akron, Oh. He learns his purpose, starting a non-profit for fatherless boys, but all stops after tragic events leave him in a coma fighting for his life. Also, "MARCH," a limited TV series based on the true story of three teens who hitchhiked through dangerous territory in 1963, from Alabama to DC, to attend the March On Washington where MLK gave his famed speech "I Have a Dream." Stand By Me meets Selma. Projects are both in heavy development for production in the last quarter of 2021 and 2022.
4. He and his family are passionate about non-profits.
Life is about balance. Along with Derrex's ambitious career dreams, he and his wife, Kelly Brady, are passionate advocates for a couple of non-profits that are really effecting change in the community. One of the non-profits the Brady's are passionate about is Young Warriors, whose focus is on fatherless boys, created by Jason Hill. Aside from their personal donations over the years, Derrex championed the non-profit with Yahoo to secure a grant for the amount of $35,000.00. The Brady's are also passionate about "HOPE Worldwide" through their church, Turning Point LA.
5. Derrex loves to travel.
Throughout his career, Derrex has been blessed to travel and work all over the world. Some of his favorite places are Canada, Japan, Aruba, and France. In one of his first stints in Japan, he was able to bring his wife along for the journey.
6. He worked with Al Pacino.
Early in his career, while filming on the TV show "Any Day Now," Derrex was able to book and work with THE Al Pacino in the movie "S1mone". While he only worked on the film for three days, it was opposite Mr. Pacino and Rachel Wood. He learned acting lessons with Pacino that he literally uses in every acting job to this day.
7. Derrex has many favorite films and TV shows.
His favorite films and TV shows are: "The Godfather" (Coppola), "The Martian" (Ridley Scott), "Training Day" (Fuqua), "The Shawshank Redemption" (Darabont), "Empire Strikes Back" (Lucas), "Green Mile" (Darabont), "Bad Boys for Life" (Adil Bilall), "Enemy of the State" (Scott), "From the Earth to the Moon" (HBO), "House of Cards" (Netflix), "Lovecraft Country" (HBO), and "Game of Thrones" (HBO).
8. He advocates for a healthy life.
Derrex is a strong advocate for health, which leads him to work out six days a week. However, Derrex has created a home gym during the pandemic by acquiring and purchasing a spin bike, elliptical machine, treadmill, dumbbells, and an infrared sauna. The home gym has taken all of his excuses away and helped him stay accountable to no take long extended vacations from his weekly workout regimen.
9. Derrex is very supportive of his children.
He loves to support his sons' activities, including concerts, football games, producing sessions, and playing video games. Another element that he takes great pride in is teaching his sons' to be gentlemen, respecting women, a great work ethic, and a love for God. One of the proudest accomplishments Brady's been able to achieve with his sons is to be a go-to for a listening ear as well as a sounding board for advice.
10. He has many upcoming projects in the industry.
Although Derrex can't go into detail now, he flew to Atlanta in November to begin filming a new TV show for a network as a series regular. Announcements are soon to be released and will be found at the top of 2021 on IMDb.