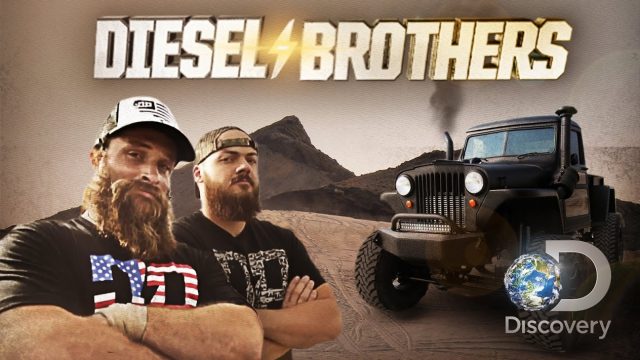 When The Discovery Channel first debuted in 1985, the programming focus was on rather dry, yet educational science documentaries. With so much cable competition, Discovery now just focuses on providing a thrill ride of entertainment while slipping in a little science here and there when it can. One of its latest programming endeavors involves two guys that look like they escaped from A&E's Duck Dynasty set who have a passion for diesel powered trucks.
The show has a two-part focus–they find trucks to rebuild and give them away, but they also run a business. These aren't your average Dodge Ram or Nissan Frontier kind of trucks. These are huge monster machines with roaring engines that would scare a senior driver off the road if they saw it coming up behind them in the rearview mirror. This series became a huge hit for Discovery as it appeals to anyone who is into trucks, mechanics, engineering or just driving a cool truck to pick up attractive ladies. There is a lot to learn about the show and the popular truck restoration business behind it.
Here are 10 things you didn't know about Discovery Channel's "Diesel Brothers".
The Guys Are Not Really Brothers
Although they look somewhat alike, they are only brothers in the "bro" sense of the word. Best buds "Heavy D" Sparks and "Diesel Dave" Kiley started a fix it shop for all types of vehicles and brought in two other guys as shop helpers. Their sibling style banter and endless pranking is a big part of the show's comedy appeal, but no, they are not related. Unlike some reality hits, the stars of "Diesel Brothers" really do get along well in real life. The two Dave's interactions with their ancillary crew of workers that help out at the shop make it clear that the guys are a blast to work for.
They Get Some Crazy Comments (and Some Heartbreaking Requests)
If you flip to the " DieselSellerz Business" page on the Discovery website, you will find some interesting posts in the "comments" section. Several folks are making a case as to why they should get a free truck, or free advice and/or labor to fix their own. Then there are some who just rant at the "brothers" with all sorts of unproven accusations about the labor and parts used by Diesel Sellers. There are also some pleas that tug at the heartstrings, including one poster who asks for a truck as he just needs a vehicle to keep his handyman business going, a wife asking for a truck for her husband who broke his back on the job, and a woman who wants her dad's truck restored for her 15-year-old son.
They Are Being Sued by a Group of Doctors
In their videos, the Diesel Brothers get down and dirty to show what makes an engine tick. Where they went wrong, according to Utah Physicians for a Healthy Environment (UPHE), is that they demonstrated how to bypass a vehicle's emission system. The doctors also claim that the business sells "repair kits" to circumvent emission control, thus fostering pollution. In 2016 The physician's group announced their suit to the public via a news article in the Salt Lake Tribune. Just about every reality show has their controversy sooner or later, so perhaps the "brothers' will get past this early and give us more seasons of action-packed diesel driven fun.
It All Started On Facebook
When "Heavy D" and "Diesel" Dave wanted to get their business rolling, they took advantage of exposure on social media. What started out as "Diesel Trucks for Sale" became a hit as they incorporated skits and pranks in their news feed.
They Really Do Give Away Trucks
Yes, the truck giveaways are not a con or hoax, but you have to enter the official sweepstakes to win. Simply hitting them up on Facebook or Twitter will not help you get the diesel truck of your dreams. It's all done via their website that includes a "how to enter" video. Still, folks constantly contact the producers, the stars and the network hoping to score a win.
What's Redbeard's Story?
Josh Stuart looks young, but by the time he met first Dave and then Heavy D, he was already an experienced businessman. The "brothers" brought him on board to handle their bottom line. Josh is also a family man, with, as he puts it, a "super hot" wife and four kids. Josh also puts the brakes on when the pranks seem to be going off the rails and keeps the crew in line.
They Are Growing Their Brand
If you are a fan of the show, you can get everything at the "Diesel Sellerz" website from "Patriot" brand tires to tee shirts and other accessory swag. If you want to know how Red Beard keeps his facial hair looking so great, you can go online to their merchandise page. You, too, can rock that Utah pirate look with your own Red Beard Bay Rum Beard Care Kit.
Their Viral Following Helped Get them On Leno
The duo appeared on the Jay Leno Tonight Show segment "Prank You Very Much". This helped the "Diesel Brothers" get a shot at their own show.
Although It Looks Like All Fun and Games, The Guys Work Really Hard
In addition to filming the show, the "Deisel Brothers" are running a full-time business, albeit with lots of help as their business has grown since they reached celebrity status. The stars are hands on with the projects both on and off the set, turning wrecks into stunningly powerful diesel machines.
You Can Learn a Lot of Mechanical Science By Watching
Rather than presenting scientific facts in a slow ponderous PBS type documentary style, Diesel Brothers sneaks in the science lessons on the history of diesel engines and what not to do when working on your truck in between the witty banter and funny hijinks. They include enough graphics and diagrams to make it a teachable moment without subjecting the viewers to minutiae overload.