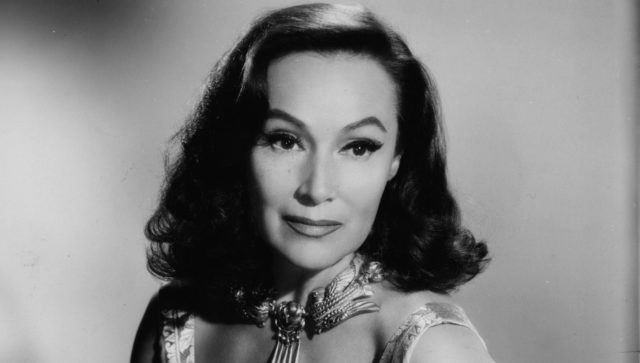 To be credited as the first Mexican movie star that crossed the international barriers is more than an achievement. It's a statement and a true testament to talent and grace. That's exactly what Dolores del Rio had, the 1920's Hollywood actress who hailed from Mexico. Del Rio was the first major Latin American female crossover star. Her career may have spanned only 10 years, but she made quite a number of films that cemented her status for decades to come. Here are the top 5 movies of del Rio's career that solidified her status as the ultimate Hollywood female leading lady.
Flying Down to Rio (1933)
This musical comedy put del Rio up against some already existing Hollywood giants then: Fred Astaire and Ginger Rogers. This was actually Astaire and Rogers' first screen pairing; however, del Rio received top billing ahead of them. Del Rio played an audience member Belinha, whom composer Roger Bond (Gene Raymond) became attracted to upon seeing her from the stage. The story then follows this love cycle between the two in a funny yet romantic kind of way.
Cheyenne Autumn (1964)
Way beyond the peak of her career, del Rio was still making films that were still great. Cheyenne Autumn was a Western featuring Richard Widmar, Carroll Baker, James Stewart, and a few other stars. Although she was only credited as "Spanish Woman," del Rio's performance for this movie was more than impressive. She had the quiet sense of wisdom that only veteran actors could give, no matter how big or small their roles are in films. This performance was a standout for del Rio, ages after her career has peaked.
What Price Glory (1926)
Can you imagine a silent, comedy-drama, and war film? What Price Glory was just that, and it was immaculate. It starred del Rio as Charmaine de la Cognac, the daughter of a local innkeeper during war-torn France. Of course, there were American veterans along the mix, Quirt and Flagg, as played by Edmund Lowe and Victor McLaglen respectively. They both fight for Charmaine's love, and the entire love triangle is just too good to be missed.
Bird of Paradise (1932)
Here's another romantic drama with a touch of adventure that starred del Rio during her prime years. Del Rio played Luana, the chief's daughter. Luana and her family lived in an island in the South Pacific, and she saved the life of a young man who was thrown overboard, Johnny Baker (Joel McCrea). It's a story about two worlds colliding into one, driven by fate and by Mother Nature. It's another love story worth watching, and del Rio was excellent as a life-saving, island dweller.
The Loves of Carmen (1927)
Talk about love stories; Del Rio had so many of them. This 1927 film was just another good one from a long list, The Loves of Carmen. Del Rio played the title role of Carmen. The entire film is based on the novella Carmen by Prosper Mérimée. The Loves of Carmen was a silent romantic drama that also featured Don Alvarado, Victor McLaglen, Mathilde Comont, and a few other favorites from back then.
In addition to her awesome movies, here are a few things you might not have known about Dolores:
10. She was given the nickname of Lolita.
This name was made famous by a novel written and published in 1955, but it's also a nickname for Dolores, which is pretty common and well-known among a great many circles. That it might mean something else is usually left to the perceptions of those that identify the different meaning.
9. Her cause of death was listed as liver failure.
Everyone's got to die of something, but liver failure is said to be kind of painful and not a peaceful process since your liver is the body's poison filter. This means that if it shuts down a great many things can possibly cause all kinds of havoc in the body.
8. Dolores was kind of a smaller woman.
She wasn't super short or diminutive but she was in fact smaller than many. This however could be attributed to the fact that in some regions the propensity for smaller people is far greater. If you notice in some countries people are either taller or shorter on average.
7. She had the distinction of being the first Mexican movie star with international appeal.
Up until this point Hispanic movie stars hadn't gained a whole lot of notoriety and had remained regional talents that didn't see their fame increase across various borders. When she started to get noticed on an international level however you could say that this changed things a bit.
6. A romance with Orson Welles caused her second divorce.
Welles was quite taken by her and admitted that she was one of the most interesting women that he'd ever met, but it didn't help that the two of them were a bit too obvious about their activities since it did cause her and her husband at the time to split.
5. She won the Ariel, which is the Mexican Academy Award, three different times.
Some folks in the US would actually scoff at the idea of another country having anything close to the Academy Awards but in truth they might have more merit than the US does at this point. After all just watch the Academy Awards show in this day and age and you'd see why.
4. In 1957 she was a judge at the Cannes Film Festival.
This was a big deal and it still is for those that are selected for such an honor. Being a judge at the Cannes Film Festival is very much like getting in on the ground floor of what could be a great idea in the history of cinema.
3. Apparently she slept 16 hours a day to maintain her beauty.
This of course was a myth since while she did sleep around 8 to 9 hours she couldn't have gotten anything done had she been asleep for over half the day. The life of an actor is simply too busy to be snoozing away in a trailer or a hotel room, or wherever else. Plus the more you sleep the less energy you tend to have when you wake as it's been seen too often.
2. She grew tired of playing native roles and subsequently did a lot of prep work for a movie that was never made.
A lot of actors don't like to be typecast since they want to be able to appear versatile and capable of taking on multiple roles throughout their career. The only problem with this is that it did kind of ruin her career for a short period of time as the movie she was planning on making after changing up her look never did go anywhere.
1. Diets were never something she believed in.
Dolores never dieted in her life since she was a firm believer that denying oneself food left a person looking haggard and miserable. She practiced moderation instead and managed to remain a very healthy-looking woman.
She was a very classy lady that was made to look a bit vain at times. Whether that was part of her doing or the media is really hard to tell though.