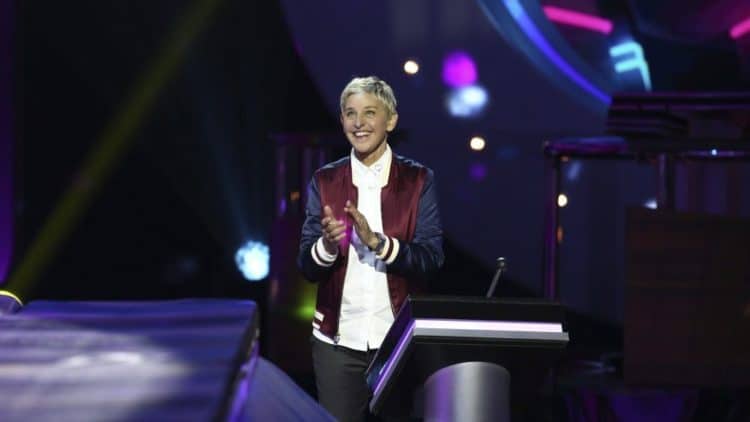 Ellen DeGeneres remains popular after a more than four decade career. She turned her early stand up comedian work into a hit television series, has starred in several films, and since 2003 has hosted her successful syndicated TV talk show, The Ellen DeGeneres Show. One of the best things about The Ellen DeGeneres Show is Ellen's ability to entertain and make her guests and audiences laugh and have a good time. One of the highlights of The Ellen DeGeneres Show is the games that Ellen hosts for her guests and audience members. Last year she turned her fun games into a prime time game show series. Here are 10 things you didn't know about Ellen's Game of Games.
1. Premiere
Ellen's Game of Games premiered on NBC on January 2, 2018. A preview episode aired on December 18, 2017 to get fans excited. The prime time hourlong game show was an instant success. It was picked up for eight episodes. Instantly popular, Ellen's Game of Games was renewed by NBC for a second season. The second season aired a preview show in December 2018 and premiered the regular season January 8, 2019. It is scheduled to air 13 episodes.
2. Who's on the show
Ellen created Ellen's Game of Games, writes for the show, and stars as its host. Her sidekick on the show and the show's announcer is the funny Stephen "tWitch" Boss. The show is written by Ellen, Jason Gelles and Gil Rief. Russel Newman is the director.
3. Premise
Contestants compete on Ellen's Game of Games to win the grand prize of $100,000. Each episode features a mini tournament. Contestants compete with each other to win four preliminary games. These games are drawn from the games played on Ellen's syndicated talk show. If a contestant wins a preliminary game, he or she advances to the next round. The winners go to the next round which is a semi-final round, "Know or Go". The winners of the "Know or Go" round head to the last round "Hot Hands" to compete for the grand prize.
4. Preliminary Games
The first part of Ellen's Game of Games consists of 4 preliminary games. The games are drawn from The Ellen DeGeneres Show. Winners proceed to the next game until there are 4 final contestants. These 4 winners go on to compete in the semi-final round which eliminates all but 1 contestant to go on to the final round and hopefully win the grand prize of $100,000.
5. More Preliminary Games
There are more 12 games used in Ellen's Game of Games' preliminary round. Each game has a fun and quirky aspect. Contestants can get sprayed at in the face, become disoriented before answering a trivia question, pull down water filled umbrellas, hang from bungee cords, or get trapped in the jaws of a prop monster. Games include Master Blaster, Say Whaaaat?, Tuba Toothpaste, You Bet Your Wife, Don't Leave Me Hanging, Dizzy Dash and more.
6. Know or Go
The 4 contestants who survive the four preliminary games will proceed to the semi-final round called "Know or Go". Each remaining contestant stands on a trap door. Ellen presents them with questions. In the first season of the show, an incorrect answer automatically made the trap door drop and that contestant was eliminated. In Season 2, once 2 contestants are eliminated, if one of the final 2 contestants answers a question wrong, the other remaining contestant has the opportunity to answer the question. The remaining contestant gets a chance for the grand prize of $100,000 in the "Hot Hands" round.
7. Hot Hands
The final round of Ellen's Game of Games is the deciding factor if the final contestant gets the grand prize of $100,000. In the final round called "Hot Hands", those who have made it to the final round must identify 10 photos of celebrities. Final round contestants press a button and a celebrity photo appears within a certain category such as "1980's Stars". A contestant can pass but must identify 10 celebrities to win the grand prize.
8. International Versions
With the instant success of Ellen's Game of Games in the United States of America, the game quickly became an international sensation. There are several international versions of the game show. There are currently versions in Germany, Spain and Australia.
9. How to become a contestant
Ellen's Game of Games is always looking for contestants. The main criteria is that contestants be energetic, funny, daring, courageous and not afraid to embarrass yourself. Anyone can apply to become a contestant. Along with completing the online application contestant hopefuls should submit a video. The video should contain your name, age, occupation or school, what makes you unique, your favorite games and why you want to be a contestant. Contestant hopefuls should have fun with this.
10. Studio Audience
Members of the studio audience for Ellen's Game of Games must also apply. Applicants should go to Ellentube, select a date to attend and fill out an application. You'll be notified by email if you are selected. Guests must be 14 years or older.