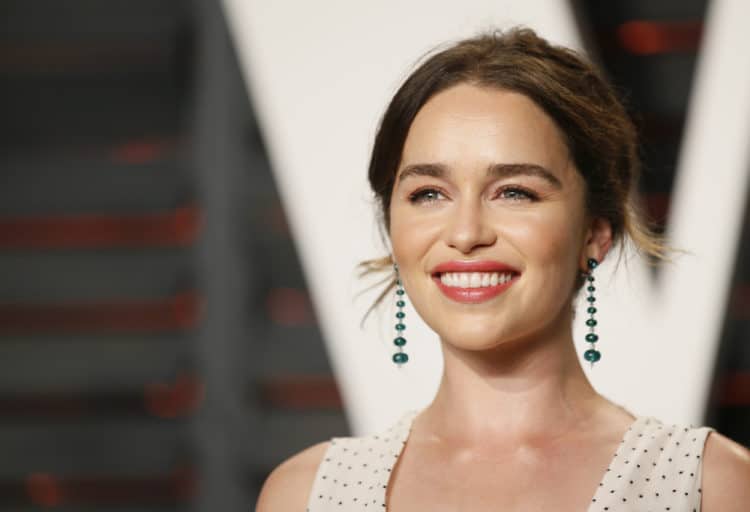 Emilia Clarke is another surprise character that seemed to come out of nowhere and simply mystified people at the same time she was enchanting them. Since her meteoric rise, and it's been just that without a doubt, she's become something of a media icon and someone that you can't help looking at whenever she shows up since she is quite lovely and in some ways very alluring. The roles she's taken on during her career thus far have been quite diverse if you really look at them since in Game of Thrones her character has taken on a startling transition from being a weak young woman to a queen that doesn't accept any nonsense from anyone. But throughout her time in the spotlight at this point she's been overwhelmingly positive in the way she's been seen and the impact she's had on the industry.
Here are a few things you might not have known about Emilia.
10. She actually replaced someone on Game of Thrones.
Tamzin Merchant was another newcomer to the acting industry and while there was no definitive reason given for her departure from what might have been a standout role for any woman, Emilia took the part of Daenerys and ran with it to the delight of many fans of the show.
9. She has very unique-looking eyes if you peer in closely.
She has what is called central heterochromia, meaning that the irises of both eyes are a different color on their rims and have another color within them, creating a ring-like effect that is hard to see from a distance but can be seen up close if one looks. Of course you might want to ask her permission to get that close otherwise it might seem kind of weird.
8. Emilia has stated that if she hadn't become an actress she would be in a very different profession at this time.
If not for acting she might have been an architect, a singer, or a graphic designer. It'd be hard thinking of anyone else filling for her right now since she's been a mainstay of GoT and other films for long enough that her presence would be missed.
7. Her love for acting came at a very young age.
Emilia knew she wanted to be a part of the scene when she was just 3 years old. From that moment on she never gave up the dream of being in movies or on TV and started studying the moment she as able to become an actress.
6. She's not the only actress from Game of Thrones to take on the role of Sarah Connor in the Terminator franchise.
Her costar and character rival in GoT, Lena Headey, actually took on the role of Sarah Connor in the TV version, the Terminator: The Sarah Connor Chronicles. Unfortunately the show didn't last that long but it did try to establish what happened between T2 and T3.
5. Emilia likes to stay active and has a very wide range of activities she enjoys.
She's not the type of person to just sit around and do nothing in her free time as she enjoys going out and being a part of the landscape she's in while engaging in very engaging hobbies and activities that get her blood pumping.
4. You might not believe it but it's hard to recognize her without the platinum-blonde hair that marks her as Daenerys Targaryen.
If you're a dedicated fan then you probably know what she looks like without the hair but some people have actually not recognized her without the long, platinum locks that define the character so well. It's kind of hard to believe but it's true.
3. She worked six regular jobs before being cast for Game of Thrones.
Emilia is not the type to sit back and expect things to be handed to her as she was a hard-working individual before she was finally cast as Daenerys Targaryen in GoT. This could be why her character seems a little extra driven in the show, she has a will that doesn't allow her to back down so easily.
2. Emilia did audition for a role in Captain America: The Winter Soldier.
Obviously she didn't get it but she was angling for the role of Sharon Carter, which might have been interesting but also might not have been the right role for her since if she was going to show up in the MCU it seems as though she'd better suited for something else.
1. She's admittedly been a big Terminator fan and starring in the movie with Arnold was a huge moment in her career.
Arnold was visibly impressed with Emilia's work ethic and the time she took to receive the training that was necessary for the picture. For Emilia it felt as though she was overreaching at the time, but she was given a lot of support by her costars.
She seems like a woman that is genuinely glad to be where she's at in life.