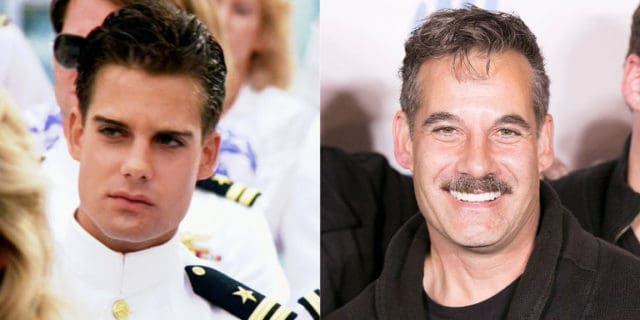 When people hear the name Adrian Pasdar, they may not always be familiar with it, but they're certainly always familiar with at least a few of the projects that he's been involved with. The truth is, if you spend any time whatsoever watching shows like Agents of SHIELD or Heroes, you're probably intimately familiar with his work. He's had a long and storied career that dates back to the late 1980s. During that time, he's worked in a variety of different projects involving movies and television. Below are just some of the high notes in his career, complete with clips of each one.
Streets of Gold (1986)
Many people credit this as being his first movie role, although it depends on who you talk to concerning whether this one or the role in Top Gun actually came first. All debate aside, Streets of Gold is thought of by many to be where he got his start, so it's listed first here. In the movie, he plays the character Timmy Boyle. Even back then, it was obvious that he had a tremendous amount of acting ability that allowed him to take things to the next level, something that relatively few people can do with any level of consistency. Obviously, he was doing something right because he got the attention of other people involved in much larger projects. He would come to be involved in these projects later on down the road.
Top Gun (1986)
This movie came out at almost exactly the same time as Streets of Gold. He doesn't have a big role in the movie, playing the character Chipper. In fact, his role is so small that if you look away for any length of time whatsoever, you're in danger of missing it. With that being said, it's important to remember that even though the role was small, this was still an enormous break for somebody that was just getting their start as an actor. Top Gun was a major motion picture and was easily considered to be that year's summer blockbuster. Merely being mentioned in the movie was enough to get his name out there, and he took that opportunity and did great things with it. He went on to star in a wide variety of movies both large and small, as well as working in television films and a variety of different TV series. Throughout the rest of the 1980s and into the 1990s, he was almost constantly working on one project or another. However, it wasn't until he started to get involved with a television series called Heroes that he truly became a household name.
Heroes (2006-2010)
In this series that became tremendously popular at the time, he starred as Nathan Petrelli. He had a major role in the series, appearing in a total of 61 episodes. He had always done a great job in every role he had been involved with and by all accounts, had been working consistently almost since day one. However, this marks the first time that he was so heavily involved in a television series, not to mention the first time that he became widely known to audiences in such a widespread manner. There's no doubt that he realize the type of opportunity that he had been given. He definitely made a mark for himself in the series, thereby stamping future opportunities in television.
Agents of SHIELD (2014-2018)
Today, he is a regular on Agents of SHIELD, starring as Glenn Talbot. So far, he's been in 24 episodes. Although this is a far cry from the 61 episodes of Heroes he performed in, it's important to know that this particular project is ongoing. As is usually the case, he has created a place for himself in this series, something that has allowed him to explore his acting ability to the fullest extent possible. Over the years, he's done a lot of projects involving superheroes, especially since he was involved with Heroes. Therefore, it only makes sense that he would also become involved with Agents of SHIELD. There's no telling what project he'll be involved with next, but they're sure to be exciting and there's no doubt that he'll do an outstanding job on those, just as he always has in the past.