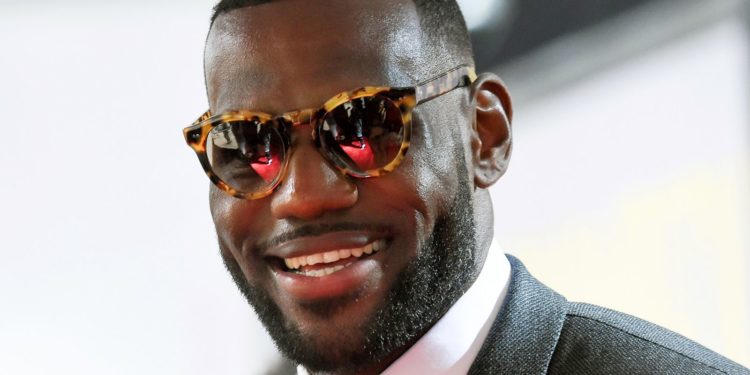 LeBron James has made it clear that he didn't make his way to LA just be closer to Hollywood, but he's certainly not going to shy away from it either. Being a part of the LA Lakers has no doubt been a humongous boon since he's now that much closer to the limelight that he's been taking advantage of for a little while and as a result he's able to negotiate deals with a lot more ease than ever before. The fact that he wants to start inundating Hollywood with his image isn't too surprising since it means more money and something to fall back on should his days in the NBA ever draw to a close. So far his influence in Hollywood is on the rise and doesn't appear to be going anywhere since he's proven to be a rather personable character and has interacted with several notable celebrities in a way that makes it evident that he's not just a force to be reckoned with on the court, but is also someone that can go on screen and hang with the adults. Whether or not he's going to be fully accepted isn't really in question since to be honest he's been around long enough at this point that it should be evident that his 'make or break' moments have already happened and he's still around.
Take a look at just a few things that might indicate that he's going to be here for a while to come, even if he stays in the NBA for a while yet.
The fact that he's had a speaking role in a movie with stars like Amy Shumer and Bill Hader is enough to think that he's going to be sticking around for a while. A lot of pro athletes have made their way into Hollywood and a lot of them have even had speaking roles but the one thing that LeBron seems to have over a lot of them is that he's not satisfied with just one role, he's been pitching ideas for other films as of late and whether it's real or not there's still an idea out there that Space Jam 2 could happen. Our generation had Michael Jordan in Space Jam after all, and the torch was passed some time ago so it seems only right that it be renewed in some way. All in all though he's not a bad actor, though it could take some time before he's really accepted fully and in more than just a 'he's a pro athlete so of course he's famous' kind of way. After all, greats like Larry Bird, Michael Jordan, and many others have made their way into film and been widely accepted. But unlike those that have come before he wants to be someone that will be recognized as a Hollywood star as well as an NBA star.
There have been quite a few pro athletes that have hosted SNL so this isn't really something that's all that eye-raising, but it's still something that is taking him in the right direction since it's progress towards an acting career. He's been widely accepted on the show and has displayed a great amount of skill and talent during the sketches so it's not too hard to think that he could possibly be someone that could take to the big or small screen without any real trouble. He's going to have critics and he's going to have detractors, that's a given of anyone that decides to get up on stage and flaunt what they've got to the masses. But enough people have been impressed thus far with what LeBron is selling that he's gained the kind of confidence he needs going forward.
When he started doing commercials a lot of people didn't really think it would go any further since like SNL, a lot of athletes have performed in commercials and done just fine so long as they didn't get the idea that a commercial is the same as a feature film or TV show. But LeBron has bigger aspirations and obviously meant to air them out as much as possible since he's been doing commercials now for a while and hasn't shown any sign of slowing down or stopping. But the natural transition from commercials to TV to film is something that he's been seen to take in stride as he's come up with one idea after another concerning how to push his brand and make himself a star.
How far he goes is going to be up to his level of desire, but however he decides to proceed it would seem that LeBron is already on the right track to become even more famous than he already is. Whether he decides to continue his acting career after his time in the NBA is done will be interesting to see.