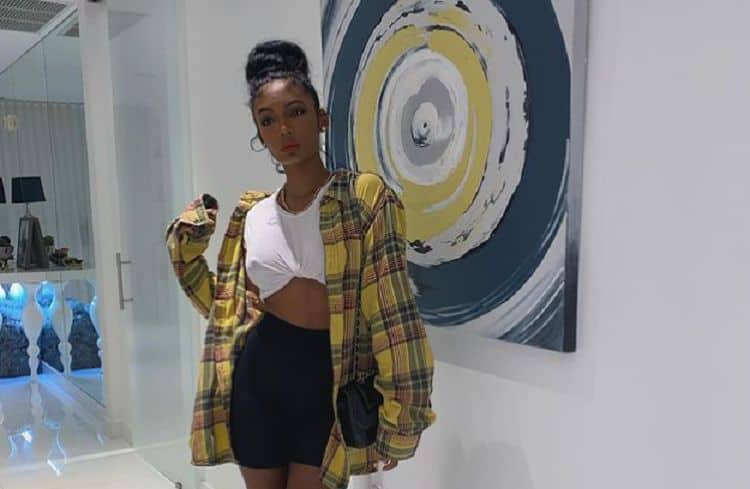 Falynn Guobadia is the type of person who seems like she has it all. She's beautiful, rich, and married to the love of her life. Of course, all of those things also make her a great candidate for a reality TV show. Needless to say, she right in when she appeared in an episode of The Real Housewives of Atlanta during season 13. While it doesn't appear that she is an official main cast member, viewers are still hoping to see more of her throughout the season. With the show in somewhat of a transition period, there's a very good chance that Falynn could stick around. Continue reading to learn 10 things you didn't know about Falynn Guobadia.
1. She Was Supposed To Get A Peach On RHOA
After NeNe Leakes announced that she wouldn't be returning to the show, people immediately began wondering who would replace her. It didn't take long for Falynn's name to start getting brought up in conversation. Many sources reported that she would be joining the show as a main cast member. Although she did film for season 13, she isn't an official cast member on the show and so far there's nothing to suggest that she will be added next season.
2. She Is A Proud Mom
Family is Falynn's top priority and she loves spending time with her husband and children. She is happily married to film producer, Simon Guobadi. The couple has three children together and Simon also has five other children from a previous relationship. She is very proud of her blended family and considers herself to be a mother of eight.
3. She Is Originally From Florida
Falynn has called Atlanta home for most of her life, but she was actually born in Florida. Being in Atlanta has given Falynn lots of opportunities and access to the entertainment industry and it's the place she will always consider home. Her husband is originally from Nigeria.
4. She Loves Giving Back To Others
Although no one knows exactly what Falynn's net worth is, but word on the street is that she certainly isn't hurting for money. She has made it a point to use her platform to help others as much as she can. She is especially passionate about causes young women and supporting survivors of abuse.
5. She Loves To Travel
Time and money are two things Falynn has no shortage of, and she loves to use both of those things to travel. She enjoys going on adventures and having new experiences. Over the years, she has been able to visit lots of places both in and outside of the United States.
6. She Comes From A Large Family
Sometimes people can have a hard time adjusting to being part of a blended family, but for Falynn the adjustment was actually pretty smooth. Even before getting married and having her own children, she came from a very large family. According to her website, she has nine siblings and is the second oldest.
7. She Is Scared Of Snakes
Everybody has at least one thing they're deathly afraid of and for Falynn, that thing is snakes. She hasn't gone into detail about why she doesn't like snakes, but I thin most of us could probably make a couple of guesses. Fortunately for her, it's fairly easy to avoid.
8. She Wanted To Be A Singer
In some ways, it looks like Falynn was always destined to have a career in the entertainment industry. Although she never dreamed of becoming a reality TV star, she did grow up with a dream to become a singer. As far as we can tell, however, she never released any music. Maybe one day she will decide to give music a try.
9. She Is All About Her Business
If there's one thing people will learn about Falynn during her time on The Real Housewives of Atlanta, it's that she is very serious when it comes to her business. Although it's unclear whether or not she owns a business of her own, she is very serious about her personal brand and doing what she can to connect with as many people as possible.
10. She Is A Model
Falynn may not be a professional model who has worked with countless big brands, but she's definitely a natural in front of the camera. Her Instagram is full of stunning model shots that that show just how photogenic she is. Who knows, being on RHOA might be just what she needs to gain exposure for big opportunities in the modeling industry.