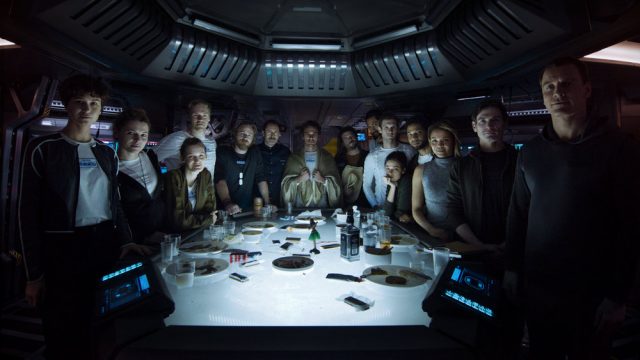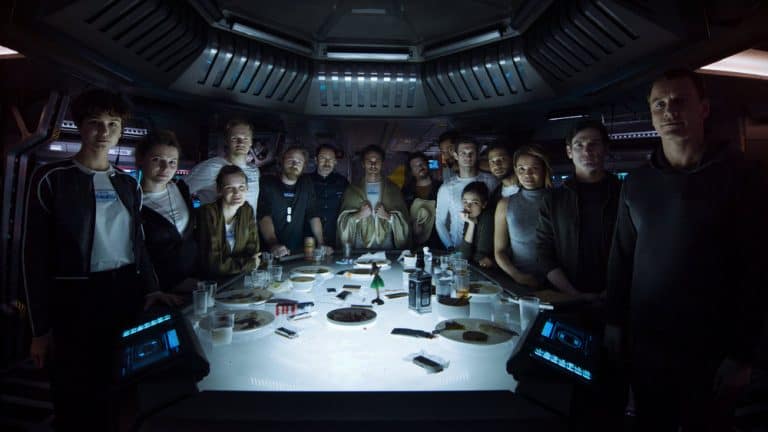 I expressed serious concerns about Ridley Scott not too long ago in a personal plea for him not to direct The Batman.   While we're not 100% sure of the status of this film or who will be directing it, at least we can focus on some Ridley Scott news that's kind of awesome.  The main news for today involves Alien: Covenant and the fact that James Franco will be in the movie.
This is the first photo from Ridley Scott's Alien: Covenant that features the entire main cast of the film. That includes our first look at James Franco as a character named Branson, who is the captain of the Covenant and husband of Katherine Waterson's Daniels.
The photo also includes the rest of the cast including Michael Fassbender, Billy Crudup, Danny McBride, Demián Bichir, Carmen Ejogo, Amy Seimetz, Jussie Smollett, Callie Hernandez, Nathaniel Dean, Alexander England, and Benjamin Rigby.
Here's a little teaser description of the film:
Ridley Scott returns to the universe he created, with ALIEN: COVENANT, a new chapter in his groundbreaking ALIEN franchise. The crew of the colony ship Covenant, bound for a remote planet on the far side of the galaxy, discovers what they think is an uncharted paradise, but is actually a dark, dangerous world. When they uncover a threat beyond their imagination, they must attempt a harrowing escape.
The movie will be released on May 19th.  I think it's safe to say everyone's expectations are pretty high.  I know mine are.
Via Geektyrant