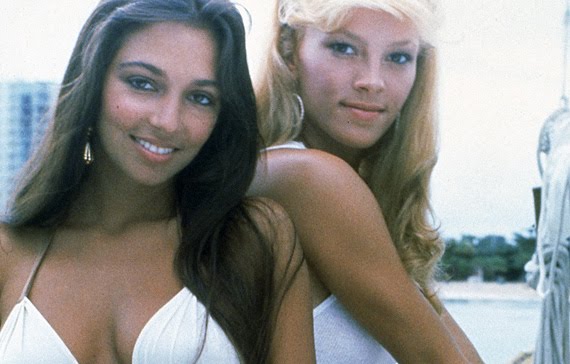 A lot goes into producing a Hollywood blockbuster. Outstanding writing, casting the right actors and hiring the right director, which is one of the biggest pieces to the puzzle. The right director brings the vision to life, paints the picture the writer intended, creates a compelling film that critics and moviegoers will revere just the same. So it's no wonder that if the budget permits, most movie studios try to hire elite directors. Names like James Cameron, Francis Ford Coppola, Steven Spielberg. Just attaching these directors names to a movie gives it a golden glow. But even that doesn't always ensure the film will be critically acclaimed. In fact, that doesn't even guarantee that the movie will be good. There have been some terrible films directed by some of the film industries most notable directors. Don't believe me?
Well, tell me if you recognize any of the movies and famous names on this list…
5. "Deadly Friend" – Wes Craven
No one can question Wes Craven's legendary status as a director. The man has been in the director's chair in over 20 films including classics such as "The Hills Have Eyes" "A Nightmare on Elm Street" and "Scream." But even someone as revered as Wes Craven is sure to throw a stinker every once in awhile, and that's exactly what he did with "Deadly Friend." Released in 1986 the Sci-Fi Horror film bombed at the box office. The plot was bad; the story didn't flow naturally, it was just an overall bad movie. Warner Bros claims that was partly due to re-shoots and re-editing in post-production.
4. "A Good Year"-  Ridley Scott
Ridley Scott has been nominated for four Oscars and has been renowned as a directorial genius for his work on films such as Alien, Black Hawk Down, and American Gangster. But that didn't stop him from directing this God awful movie. A Good year is a romantic comedy starring Russell Crowe as a British investor that falls in love. The film was a definite change of pace for Ridley Scott… Looking back, maybe he stepped a little bit too far out of his comfort zone with this one.
3. "Jack" – Francis Ford Coppola
This movie paired comedy genius Robin Williams with the Oscar-winning director of The Godfather Francis Ford Coppola. What could go wrong? Turns out everything. Variety Magazine's Todd McCarthy called the movie a "tedious, uneventful fantasy that wastes the talents of filmmakers." I second that motion.
2. "Piranha II: The Spawning" – James Cameron
Terminator, Titanic, and Avatar. Besides being some of the highest grossing films of all time they all have something else in common. They were directed by James Cameron. All three films captivated audiences, garnered outstanding reviews, and broke box office records. It's a shame we can't say the same thing about "Piranha II: The Spawning." The directing is amateurish, the acting is horrible, and the special effects are cheesy. However, it is the first film ever directed by James Cameron, so we'll give him a pass lol.
1. "1941" – Steven Spielberg
Many would make the argument that Steven Spielberg is the greatest director of all time. One thing is for certain; he's the highest grossing director of all time with his catalog of films bringing in nearly 10 billion dollars at the box office. Financially "1941" was a success. It raked in $100 million on a $35 million budget, but reviews were critical, and filmgoers were less than impressed. Regarded as Spielberg's first ever flop, the film was an odd attempt to mix comedy and World War II starring Jim Belushi and Dan Aykroyd. Let's hope no one ever tries that again…
Conclusion
Having a few flops under their belts takes nothing away from these legendary directors credentials. In fact, most of the film's they've directed are nothing short of brilliant. But I think they would even have to admit that the movies on this list were pretty bad. If you're looking for a way to bore yourself into a coma or punish unruly children, you can purchase these films online at steep discounts.