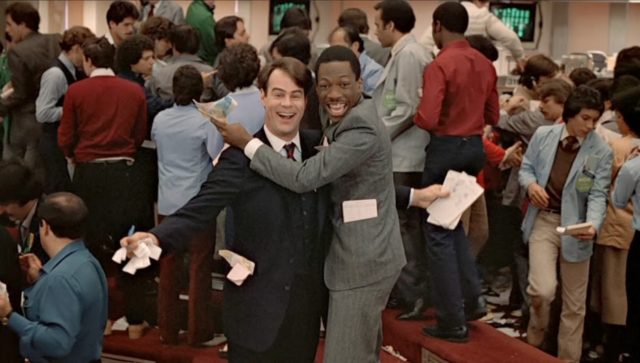 There is one thing for certain, the stock market is not for everyone. Just the sight of it no matter what setting it is given tends to give some people mild anxiety attacks, as though the very look of a market floor has the ability to incite feelings of inadequacy and fear. Such a thing is not for the faint of heart or those that seem to have any hint of weakness when it comes to dealing with numbers that rise and fall within the blink of an eye. And then you realize these numbers have virtually everything to do with the commodities and luxuries that people all over the world use and need. Then the real uneasy feelings begin.
Here are a few movies that took full advantage of this chaos.
5. The Dark Knight Rises
You can't rob the stock exchange, it's not a piggy bank since it has absolutely no money in it other than what rests in the pockets of those that take place in this madhouse. But Bane wasn't about to start robbing people, he wanted something far more diabolical and a great deal more damaging to the world economy. Plus, the way he got in and out of the exchange was simply too much to be believed.
4. 25 Hours
This is the kind of thing that can make a person absolutely manic. People seem to be constantly at each other's throats, they're always on edge when they're in the office and it's a wonder more people don't have nervous breakdowns and go on a shooting spree. Kidding, really, but it is a wonder that more people aren't just going crazy doing this kind of thing.
3. Limitless
This is your brain on a drug that you know nothing about and don't care because it's doing things for you that you never even dreamed were possible. Writing a book in a matter of days, remembering obscure pieces of information from years before, and yes, somehow becoming a stock exchange whiz kid overnight. And from there the sky is the limit, right?
2. What Happens in Vegas
The stock market has a lot of nicknames but a snake pit is definitely one of the more accurate ones. It seems that people are continually trying to get one over on each other and find a way to really screw up someone's game. Anywhere else in life that might be frowned upon but in this venue it seems to be the norm. Anyone that doesn't abide by it is either that good or just waiting to be put out of their misery.
1. Trading Places
The ultimate film when it comes to the stock exchange even if it's allowed to stretch the truth just a little. Trading Places was a great film and still was up to and including this scene. But when the numbers start popping up a lot of people just sat back and enjoyed the feel of victory that the stars were leaning towards. Seriously, the numbers just confused a lot of folks for the most part.
To those that don't know, the stock market can be a strange and terrifying place.
Save