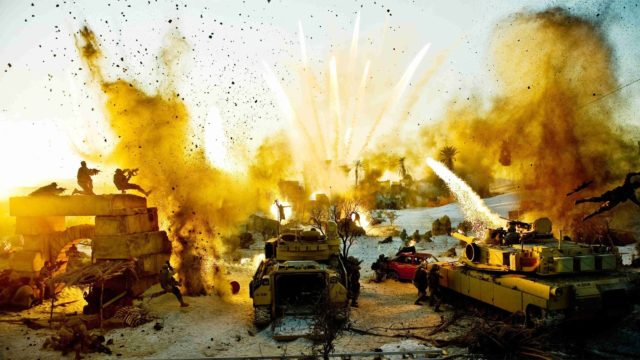 Deaths in movies are often quick and depending on the film extremely gory or simply final. The problem with this is that they are not entirely realistic. Now violence is never truly a good thing, but many fans want to see some type of realism in their entertainment, which would seem fairly morbid but let's move on. The various ways to die in a film are so often glamorized and overdone that the effect eventually becomes accepted as truth or is so horrifically done that the movie loses all credibility. Now it might seem creepy to know just what will and what will not kill another human being, but in truth the more accurate the death, the better the movie.
Here's just a few ways that Hollywood goes off the rails in their death scenes.
5. Decapitation is not an easy feat
If you're a skilled swordsman and have a target that's willing to stand still then yes, some blades can in fact part a person's head from their body. But in many films you'll see the head simply pop off as though the individual was a walking, talking mannequin the whole time. Or you'll see decapitations come from such things as rolling wheels, wires, or various other objects.
This doesn't work for one simple reason. There are muscles, connective tissues, and bone to shear through to remove one's head. As far as the sword method? You'd best hope your opponent doesn't do something intelligent like move.
4. Ripping a heart out is easier to do emotionally than physically.
https://www.youtube.com/watch?v=mk2E1CoGe98
The guy looks like his chest is made of warm pudding, which facilitates the ease of removal. But wait, you mean you can just rip a heart out from behind a rib cage, while disconnecting it from its surrounding tissues, and not make a mess? Um, yeah, no.
Even if this were humanly possible, which it's not, the mess you'd create burrowing into someone's chest in this manner would be tremendous. And, unless you're Superman, you're not cracking through a ribcage or tearing out someone's heart with ONE HAND.
3. The laser slice and dice.
So yes, the effect is way cool and you can almost sympathize with the final guy when he gets diced into cubes. But lasers like these are still in development and aren't anywhere near powerful enough to slice through human flesh like butter.
Considering that the most powerful laser developed can burn the hell out of you, it still isn't strong enough to dice bone into such neat cross-sections. Ah, that brings us to the next death.
2. The cross-section.
If a laser can't do this then a pair of glass doors aren't nearly enough to get the job done. Admittedly it's a cool death, especially since the lawyer deserves it. But the force needed to slice through the guys body would be enough to shatter or at least crack the doors when they finally met.
Did you see any razors lining the doors? I didn't. And there certainly weren't any hidden lasers ready to cut their way through him. His bones might have cracked and broken but there would have been plenty for the Angry Princess to have fun with.
1. The old favorite, the neck snap.
https://www.youtube.com/watch?v=iLzz-k5MOrE
Now there are ways to snap a neck, but Hollywood has been pulling our chain for a long time. The pressure and the amount of torque needed are possible, but only if your target is willing to stand still and let you possibly paralyze them.
This isn't a guaranteed kill largely because a person would have to know just where and how to snap the neck of their enemy to make it work. You can just imagine how many angry quadriplegic villains Arnold has left in his wake.
It's entertaining to watch the bad guys get taken out in so many different ways, but Hollywood needs to step up their game if they want the films to contain a hint of realism.
Save