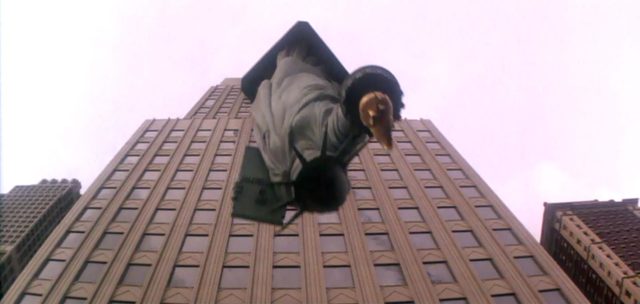 The Statue of Liberty has been front and center as the main character in a few scenes when it comes to movies in the past. Our lady of liberty has been through a lot when it comes to the movies and through it all she's always been restored in some way or left to her own devices as the film wills it. Through it all she's remained the same stoic symbol of hope and freedom for everyone that looks upon her countenance upon arriving at Ellis Island and eventually New York. The history of the massive symbol that America stands by so readily is something that, sadly, many people are starting to forget. They know well enough what the statue is, but have begun to forget what she stands for and why. The Statue of Liberty has made a few appearances in movies so it's not entirely excusable.
Maybe it's time to start reviving the history lessons a bit in film as well as in schools.
5. Superman 4
https://www.youtube.com/watch?v=jdfR9JRYZWQ
The film itself was hard to really get into since the main villain was named Nuclear Man and in many ways as strong as Superman and just as tough to beat. But his beef with the Statue of Liberty seems to be almost an after-thought as he so casually rips her from her moorings and starts flying through the city with her in tow as though he's looking for a great place to just let her drop.
4. Splash
We can't show this clip due to nudity but you should remember the scene
Normally if a naked woman shows up on Ellis Island it'd be a good time to call the cops since something's obviously happened that's not entirely aboveboard. But if she shows up in the buff and doesn't seem to be under any sort of duress then what are people supposed to do? In a city like New York it seems like anything could happen, but somehow she makes her way into the city and finds the guy she's looking for without much more fanfare than any other celebrity.
3. Titanic
https://www.youtube.com/watch?v=D7_SqyWiPOg
After surviving a wreck like the Titanic a person might be grateful just to be alive, but seeing a symbol like the Statue of Liberty might actually give people a good feeling as though they've finally reached a safe port that won't break down on them at any point in the near future. The symbol that Lady Liberty gives to those arriving even now is something that grips the heart and is said to warm the soul.
2. The Day After Tomorrow
https://www.youtube.com/watch?v=NbezOPSl-b8
In some disaster films she doesn't survive the storms and tidal waves that are unleashed upon her, while in others she stands strong but must still be subjected to the degradation of nature. In this clip it's shown that she's still standing, but that the ice storm that rolled through New York has turned into a sad, foreboding caricature of her former self.
1. Ghostbusters 2
https://www.youtube.com/watch?v=dAE0FybL5qo
This is by far one of the goofiest and yet most pleasing clips that you knew had to be coming. In order to combat the greatest evil that the Ghostbusters had ever come across, and is this after fighting Gozer mind you, the boys had to find the one symbol in the entire city that could unite New Yorkers wide and far and remind them of what it really meant to be a part of their great city.
For all that she has to go through her reputation is still untarnished.