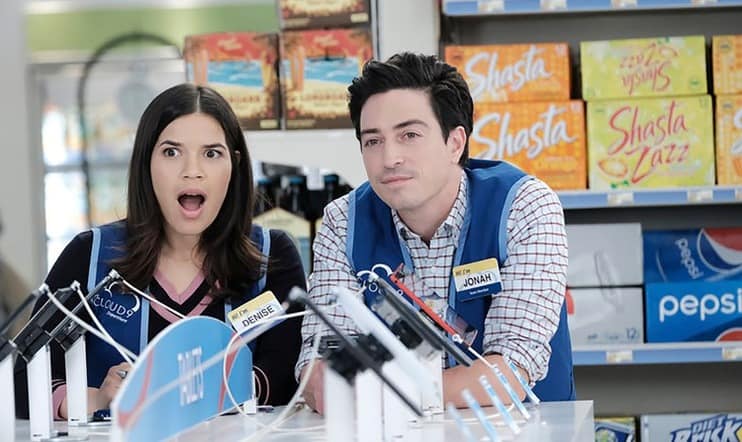 Attention shoppers, this is an important announcement. Hit NBC show 'Superstore' has just been renewed for a fifth season. Fans of the sitcom know it's been a tense wait to find out whether Cloud 9 and employees would be returning to our screens. After season four saw ratings decline, a lot of people thought the writing was on the wall. Fear not; the wittiest show on NBC will definitely be back in late fall or early winter 2019. It certainly won't be for a while yet as season four is only half finished. This makes it tricky to predict what might happen or what kind of storylines the next will center on. However, we've got a few ideas on what we'd like to see (and we bet you do too).
Here's our wild, silly and downright dreamy predictions for Superstore season five.
1. Amy and Glenn Stage a 'Cloud 9 Moms' Protest
Early in season four, we saw Dinah and Amy go into labor at the same time. (It could happen only on a sitcom, right). Both babies were born happy and healthy. The same couldn't be said for Amy, however, when she found out Cloud 9 would not be giving her maternity leave. In the end, the beleaguered shop worker received just two days off work with her newborn son. So, we'd like to see her team up with Glenn and take on the store's unfair policies. Glenn, of course, is now father to Dina's baby. Together with his wife Jerusha, he made a deal to adopt the child after Dina gave birth as their surrogate. Now, we want to see him stage a protest for better maternity rights at Cloud 9 – he's got that can do attitude, after all.
2. The Couple of the Moment Breaks Up
Wait, we can explain. We know Amy and Jonah have only just made their relationship public but wouldn't it be cool if they were to go through something as totally relatable and normal as an itty bitty breakup? We're talking one episode only. Just to remind us viewers at home that even soul mates have tough moments. To be honest, this prediction isn't all that unlikely. Don't forget Amy has a child with her ex-husband; that's an awkward moment or three waiting to happen. Not only that but Adam doesn't know Jonah and Amy are dating yet. Okay, so a breakup (even a little one) could be emotional viewing. However, there's potential for our lovebirds to come out even stronger.
3. Another Awesome 'Celebrity' Cameo
Cloud 9 has played host to a number of celebrity cameos over the years, including Howie Mandel, Brian Howe, Marlene Forte, Felipe Esparza and Tony Plana (who actually played America Ferrera's dad in Ugly Betty). Howie Mandel is the only one to appear as himself though. And we'd like to see more famous faces pop in to the supermarket. In fact, how about we just go all out and create a weird sitcom multiverse? Let us explain. Imagine if Detective Jake Peralta of 'Brooklyn Nine-Nine' were to pop in for stakeout snacks. Or what if Jessica Huang from 'Fresh off the Boat' dropped by with Grandma Jenny? So, it's a pretty ambitious plan. What can we say, we dream big.
4. Sandra and Jerry Become the New Ross and Rachel
Again, this is cheating a little because we all know Sandra and Jerry are just about there already. In season five though, we want to see more awkward moments, more flip flopping and definitely more questionable decisions. Everybody loves a 'will they, won't they' story, especially if they do, then they don't, then they do again (you get the picture). Besides, Cloud 9 can't have too many mushy, soppy couple moments. We've already got Amy and Jonah, even if their couples 'introduction' to the world was anything but romantic. Like Ross and Rachel from Friends, Sandra and Jerry have got a lot to learn about themselves before they can flourish as a twosome.
5. Mateo Finally Becomes a US Citizen
In season four, we've seen illegal immigrant Mateo Fernando Aquino Liwanag confront some rather big challenges. Manager Glenn now knows about his undocumented status. He's agreed to keep it quiet and protect Mateo but how long until trouble comes knocking? In season five, we want to see the fabulous Cloud 9 assistant get his papers and settle down in the United States for good. Not only would it be great for the character, it would send a positive message to anybody watching who has struggled with their own immigration challenges. One of the things that makes Superstore so different (and so wonderful) is its diverse cast of characters; friends, foes, lovers, families, coworkers, partners in crime from all walks of life.