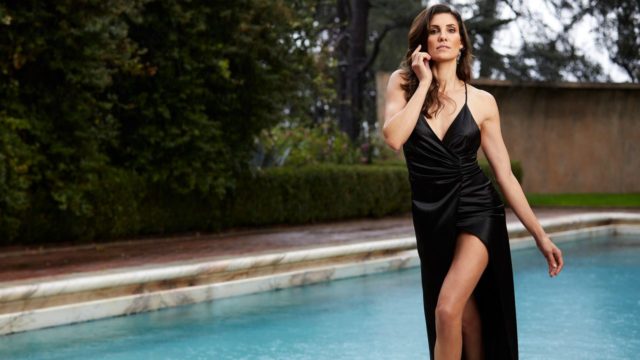 Daniela Ruah is quite stunning and not quite the type of lady you'd expect to see playing the government agent unless you're talking about NCIS of course, which means she's perfect. Her character however is anything but overly feminine and is about as tough as nails since she has to keep up with the men and show them that she's every bit as tough as they are and more. Really she's one of the toughest of the bunch and has no trouble showing it whenever the occasion arises.
She's definitely one of the strong women on TV that's needed.
5. She didn't start having kids until her 30's. 
That seems to be the thing at this time, though it doesn't seem to be a problem since women are focusing on their career first and then a family right after or at least close on the heels of becoming successful. That seems to be the way to do it in the modern era since the cost of living seems to be going up and up without a real ceiling in sight. Taking care of one's family takes precedent after all and it's nice to know you've got the finances to do it.
4. In three different shows she plays the same character.
Her character of Kensie Bly has shown up on NCIS, NCIS: Los Angeles, and Hawaii Five-O. You might think it would have made more sense to change up her character for the last show but obviously someone up in the office had other plans since they wanted the character to stick around and carry some form of continuity. It's not too often that you get to see this with characters.
3. There is a noticeable blemish in her right eye.
It's called Nevus of Ota and it is a kind of blemish on her eye that doesn't seem to limit how much she can do or see, but is still something that seems bound to be troublesome in the future. Whether she will or has gotten it removed is hard to know without really delving into her life, but there are options that could be used that are relatively safe.
2. Her first acting role came at the age of 16.
She's been around for a while it seems and is no stranger to being in front of the camera. That being said her ability to be noticed has only really seemed to come across once she joined the NCIS roster, where she's become one of the favored characters. She could eventually break into movies and start a new and exciting run at a different level but it could also be that she's happy where she's at.
1. She won the Portuguese version of Dancing With The Stars in 2006.
The show is titled Danca Comigo and seems to be every bit as serious and as much fun as the American DWTS. This is a big achievement since it means that she's proven that she does belong in the public eye for her talent alone, and that she has no trouble showing what she can do. It seems like Daniela might be bound for a level of fame that will keep her name around for some time to come.
For now, NCIS: Los Angeles is lucky to have her.