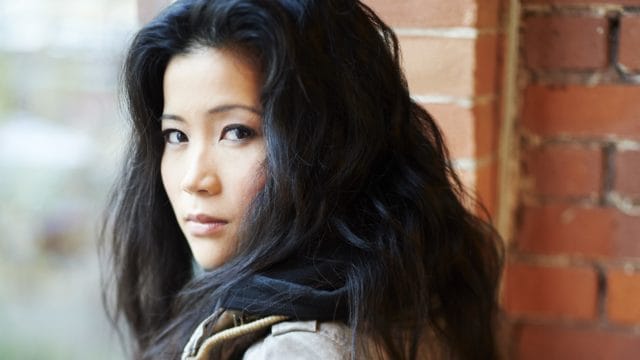 Jadyn Wong is a Canadian actress who was born in Medicine Hat, Alberta, Canada. This is where she grew up and attended high school. Her parents are immigrants from Hong Kong. Although she has appeared in many television series and films, she is probably currently best-known for her role in 'Scorpion'. This action drama series airs on CBS and was first launched in 2014. Wong plays the role of Happy Quinn. Although she is now a recognized talent on television, there are many things that people do not know about this talented actress. Here are five things you probably don't know about Jadyn Wong.
1. She Made Her Debut in Broken Trail
Wong's first television role was in 'Broken Trail'. This was a mini-series of Wester miniseries in which Wong played the role of Ghee Moon. She auditioned for this 2006 series in Cantonese but had to learn Mandarin for the role. To take on this role in this series, she had to defer her studies at the University of Calgary. 'Broken Trail' was written by Alan Geoffrion and directed by Walter Hill. It starred Robert Duvall and Thomas Haden.
2. She Has Appeared in Six Films
Although she is best-known for her work in television series, Jadyn Wong has had roles in six films to date. The first was in the 2009 movie 'Space Buddies' in which she played a small role of a Chinese reporter. In 2010, she played April Jung in the short film, 'The Letters'. She then played a Money Channel Interviewer in the 2012 movie 'Cosmopolis' followed by 'Debug' in 2014 when she played the character Diondra. In the same year, she appeared in the TV film 'Client Seduction' as Molly. Her most recent movie role was in 2016 when she played Altagracia in 'You're Killing Me Susana'. This movie was directed by Roberto Sneider and starred Gael Garcia Bernal and Veronica Echegui.
3. She is a Black Belt in Karate
In addition to being a talented actress, Jadyn Yong has excelled in the field of martial arts. She began training in karate as a hobby at a young age and this has allowed her to earn a black belt in this martial art. Karate something she continues to enjoy in her spare time and is a talent she can add to her acting resume.
4. She Studied at the University of Calgary
Before becoming an actress, Wong concentrated on her studies. After leaving Medicine Hat High School, she won a place at the University of Calgary where she was studying for a Bachelor's degree in commerce. However, she decided instead to pursue a career in acting and left university for her first role in television.
5. She is a Talented Musician
As if her academic acumen, her acting talents, and her skills in the martial arts are not enough; Jadyn Wong is also an excellent musician. In fact, she has trained as a classical pianist and this is another string she can add to her bow. Is there no end to Jadyn Wong's talents?
Save