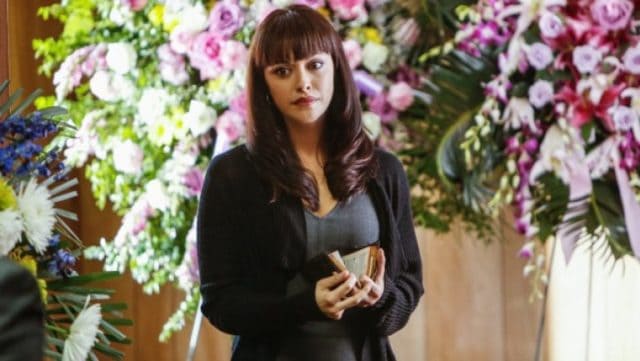 Marisa Ramirez is an American actress who was born in Los Angeles on September 15, 1977. She began her career in 1998 when she appeared in an episode of 'USA High'. She continued to appear on television playing many different roles. Her film debut came in 2000 when she played Alicia in 'All Souls Day'. However, she is best-known for her work on television, especially in the soap opera genre. Since 2013, she has played the role of Detective Maria Baez in 'Blue Bloods'. Here are five more things that you didn't know about Marisa Ramirez.
1. 'General Hospital' Was Her Big Break
Although she had already had small roles in television, it was landing the role of supermodel Gia Campbell on 'General Hospital' that was her big break. She appeared on the show for 108 episodes in 2002 before she left to join the cast of 'Miracles', an ABC drama. Unfortunately, this series was not renewed when the first season finished.
2. She Has Played Two Different Roles in 'The Young and the Restless'
Marisa Ramirez has starred in the television series 'The Young and the Restless' in two different roles. She played the recurring role of Carmen Mesta, a public relations consultant, for five months in 2006. Her character was then killed off. However, this did not stop Ramirez from returning to the series in 2007 in a different role. This time, she played the role of Ines Vargas, Carmen's cousin.
3. She Was a Successful Model
Prior to becoming an actress, Marisa Ramirez was a successful model. She was first discovered when a polaroid picture of her fell into the hands of a modeling agency when she was just 13. After leaving school, she was predominantly a model for commercials and print. She became successful and in demand. This led to her traveling around the world to work. She worked in many countries, including Hong Kong, Australia, Singapore, Italy, and South Africa.
4. She Overcame Shyness with Acting Classes
Marisa Ramirez suffered badly from shyness and this was holding her back from pursuing her dreams to work in the entertainment industry. Even modeling had not helped her to overcome this issue. However, when she took acting classes, it improved her self-confidence and she overcame her shyness. This allowed her to follow her dreams.
5. She Was a Series Regular in 'Mental' and 'Against the Wall'
Two of the series in which Marisa Ramirez has had a role as a series regular are 'Mental' and 'Against the Wall'. She appeared in 'Mental' in 2009 playing the main role of Dr. Chloe Artis for 13 episodes. 'Mental' aired for just one season on Fox before it was canceled. Others who starred in this series included Chris Vance, Jacqueline McKenzie, Annabella Sciorra, Nicholas Gonzalez, and Edwin Hope. In 2011, she played Lina Flores in 'Against the Wall'. Again, she appeared in 13 episodes of the series. This television series also ran for just one series and was aired on Lifetime. Other cast members of this series included Annie Brunner, Mark Israel Laurence Walsh, Terry Gould, and Paul M. Leonard.