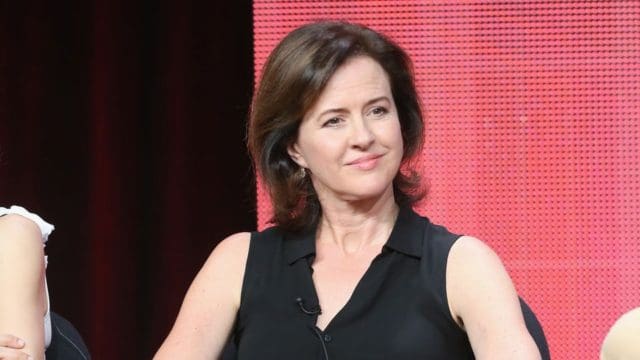 Actors are, naturally, crucial for creating quality television shows. Directors are also essential. However, the single most important people in the industry may be writers. The writers who create stories and dialogue are ultimately the people who supply the substance for TV shows. For this reason, networks are constantly looking to hire the most talented and experienced writers available.
Luckily for FX, Michelle Ashford has recently signed an overall writing deal with the production company. She has risen to prominence thanks to her work on Masters of Sex and The Pacific. If her career continues in the direction it has been moving in recent years, she will undoubtedly make a big impact. For those who want to know more about the mind behind Masters of Sex, here are five of the most interesting facts about Michelle Ashford.
5. She had to work at terrible jobs to get a foot in the door
Just about everyone knows how hard it is to become an actor. Few people appreciate that there is just as much competition for writers in Hollywood. Thanks to the competitive nature of the industry, even talented writers like Ashford are forced to work menial jobs to get into the game. She worked as a page, a receptionist, and a personal assistant before starting her career as a writer. While these were not jobs she enjoyed, they did provide great connections which allowed her to move into writing.
4. She mixes work and romance
Many people will caution others to keep their work life and their romantic life separate. Ashford, however, has had the opposite experience. She has stated that she typically meets all of her close friends and partners at work. In fact, she and her husband Greg Walker met while Ashford was his boss. Even more interesting is the fact that Ashford had a previous husband, who she also met at work.
3. She did not always know she would become a writer
Given the fact that Ashford is now an Emmy nominee and has created some of the most beloved shows in recent years, it might be a bit of a surprise to learn that writing was not always her dream. She studied economics in university, and only had a faint idea of what she wanted to do with her life. It was not until she took a television class as an elective that she decided to pursue writing.
2. She is not just a writer
While Ashford is best known as one of the most gifted writers in Hollywood, she actually does much more than just write. In fact, on both Masters of Sex and The Pacific, she also served as a producer. She has produced numerous other shows as well. Ashford may be known mainly for her writing abilities, but fans of her shows should also keep in mind that she does just as much work as a producer.
1. She feels that talent drives equality
There are few issues more important in Hollywood than equality. While Ashford has been praised for the fact that her shows routinely employ high numbers of women, she simply feels that this is natural if people are hired based on their abilities. She has stated that she never sets out with the goal of hiring a certain number of women. However, when she seeks out the best possible talent, she often finds that she has many women as well as men.
Television writers are often not given the credit they deserve for crafting our favorite shows. Individuals like Michelle Ashford have been directly responsible for the quality of shows like Masters of Sex. As such, it is no surprise that she has been hired by FX Productions to help create more incredible entertainment. Along with her talent, Ashford's stock will certainly continue to rise thanks to her work ethic and commitment to quality.