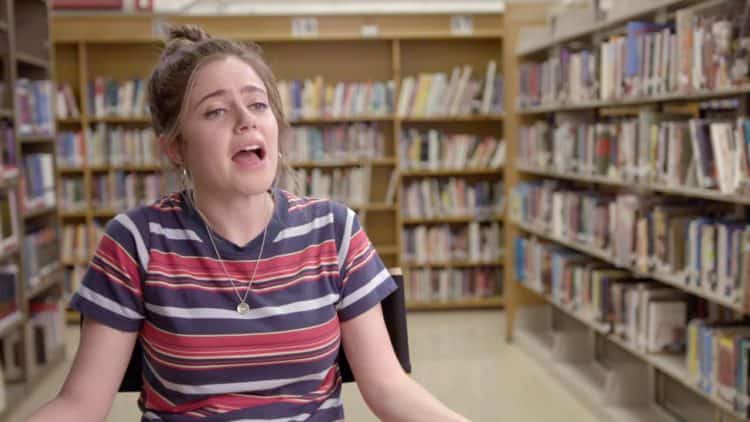 When two people working in the entertainment industry get married and have a child, there are often expectations that the child will become a successful entertainer. However, simply because one's parents thrive in such a competitive and high-pressure industry does not mean the child will. One example of a child who did grow up to become an incredible entertainer is the talented Molly Gordon.
Gordon is a young actress who has appeared in several high profile productions, including Love the Coopers and I Am Sam. She can now be seen performing in the widely celebrated Animal Kingdom. While fans may know her only as a gifted actor, her background and personality are interesting as well. Here are five of the most interesting facts about Molly Gordon.
5. She started acting quite young
Although Gordon is still in her early twenties, she has many years of professional acting experience. In fact, her first major appearance in a professional production was in 2001 with I Am Sam. She was only 6 years of age when she landed the role on this film. While she can look forward to a long career, she also has quite a few years of experience to fall back on when needed.
4. She looks up to a co-star on Animal Kingdom 
Despite starting her career at a young age, Gordon is still only beginning to achieve stardom. As such, it is no surprise that she looks to the actors around her for inspiration. In particular, she admires the poise and ability of Ellen Barkin, the star of Animal Kingdom.
Gordon is a fan of Barkin and has even gone to watch her perform on Broadway. She has stated that Barkin's experience and kindness makes working on the show a pleasure. With role models like Barkin, Gordon will surely develop into a confident and compassionate leader in future productions.
3. She does not take her experiences for granted 
While working in Hollywood and being surrounded by stars has been the downfall of many young performers, Gordon stays grounded and appreciative of her environment. She understands that very few people have the chance to enjoy the life she lives. Further, she is aware of how much she can learn from her experienced co-stars. She stated that she will always treasure the experience of working and socializing with huge stars like John Goodman, Diane Keaton, and Anthony Mackie.
2. Her parents work in the entertainment industry 
Although they are not actors, Gordon's parents certainly understand the pressures of their daughter's career. This is because they are both highly successful in Hollywood themselves. Gordon's father is Bryan Gordon and her mother is Jessie Nelson, two of the most talented producers, directors, and writers working today. She has even worked on her parents' productions.
1. She enjoys working with her mom
Many people would shy away from performing in a show or film that is being directed by their parent. Gordon, on the other hand, truly enjoys the experience of working with her parents. She has stated that working on Love the Coopers, a film directed by her mother, was a fantastic experience. Not only do the two find it easy to work together because they are so close, but it also allowed them to spend time together.
Final Thoughts
Very few industries are as competitive and stressful as the entertainment industry. For this reason, having parents who work in the industry is often not enough to make it. For Gordon, however, the experience and guidance of her parents has allowed her to forge a highly successful career as an actor. Her talent and hard work have established her as a rising star, set to break out with her role on Animal Kingdom.