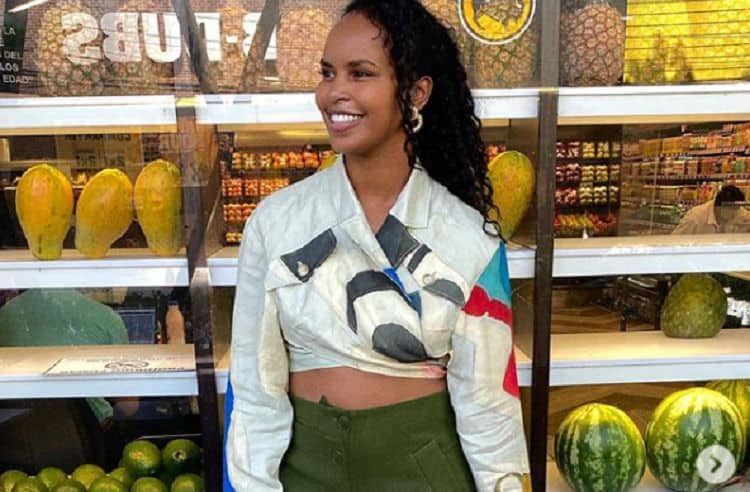 For those of you wondering who Sabrina Dhowre is, she is the woman who has officially taken Idris Elba off the market. Last month Elba created what some may refer to as chaos when he took to the red carpet with his beautiful and mysterious new woman on his arm. The actor has been known to keep his private life just that, private and personal, but he deterred from his normal routine to publicly ask Dhowre to be his wife during a screening of his latest film just five days before Valentine's Day. It seems the debonair hunk popped the question at a screening of his latest film, Yardie. Elba got down on one knee, asking for Dhowre's hand in marriage and officially taking him (and her) off the market. Some are wondering who this stunning, but mysterious woman is, so here's five things you didn't know about Sabrina Dhowre.
1. She's a model and beauty queen.
She won the Miss Vancouver pageant in 2014. The twenty-nine year old is a stunning brunette who left judges in awe when she modeled a slate gray plunging neckline evening dress. Not only is she a model and actress, but it seems the runway would also be a great choice for her considering her amazing fashion sense.
2. She's not British. (Elba is.)
According to information, Sabrina Dhowre, who is of Somali descent, was actually born in the United States. However, it seems she spends most of her time in Vancouver, Canada, where she met Elba.
3. She's just as private as Elba.
Dhowre's new husband-to-be is quite notoriously private, liking to keep his private life private and laying low whenever possible. It seems his model/actress wife-to-be is of the same mind. She's not on any social media like Facebook or Twitter. However, she does seem to have an active Snapchat account with sporadic posts. Staying away from social media has probably turned out to be a godsend since there are surely many broken hearts of Elba's adoring fans.
4. She's younger than her Prince Charming.
Elba is forty-five, while Dhowre's is only twenty-nine. Nonetheless, the sixteen-year age difference doesn't seem to be an issue for the elated couple. Elba proudly introduced her to the press during a short interview and he certainly proudly exhibits his soon-to-be wife at all his important functions. Despite the age difference, this happy couple certainly seem to be in love.
5. Dhowre met Elba in Canada.
The two of them actually met in Canada while Elba was shooting a love story, The Mountain Between Us, also starring Kate Winslet. There's something to be said about falling in love while filming a movie about falling in love. Perhaps the movie just got Elba by the feelings, opening his heart to new love. Or perhaps, Dhowre just swept into his life, clearly changing his mind on marriage.
The couple have been dating for about seven months now and it has quickly become very serious. Elba, who was one of Hollywood's most eligible bachelors is not off the market. As well, Dhowre, the East African beauty, has also been removed from the market as well. It was quite a shock to some when Elba introduced the beauty queen on the red carpet the press, but the couple are definitely smitten with each other and proud to show the other off. Considering how private the both of them are, it remains to be seen if the couple will share details of their upcoming nuptials. Either way, best of luck to the lovely couple!