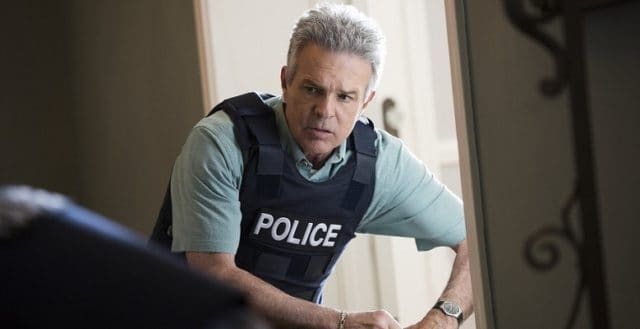 Actor Tony Denison is known for his role as Detective Andy Flynn in "The Closer." He's won his share of awards and quickly became a favorite of fans in the top rated TNT drama. He made the transition over to the show's spin off "Major Crimes" with no difficulty. His popularity soared in the new series. He's also made guest appearances on a number of popular series including "Castle," "Prison Break" and "Sons of Anarchy" in their final season. We all know that he makes significant contributions to any series he appears in, but here are five things that you didn't know about the actor.
1. He has a passion for cooking
The guy has talent, good looks and he can also cook. He definitely knows his way around the kitchen. He starred in "Trattoria," which was a favorite at film festivals, and showed off his culinary mastery. If you want to find out how to make a delightful Eggplant Parmesan or French Toast Italia Style with Ricotta Cheese, pick up a copy of the DVD. He'll show you how its' done. He's also made several guest appearances on variety of cooking shows to lend his expertise.
2. His real name isn't Denison
This is common for anyone in the entertainment business. His birth name is Anthony John Sarrero. He was born on September 20, 1949. The city of his birth is Harlem, New York. This is the place that his Sicilian parents raised him. He is the oldest of three children. As he was just starting out in acting, a very good friend named Jan Denison (also his godmother) gave him the support that he needed to become and actor and this is where he got the surname.
3. He sold insurance before fame
Most actors need to support themselves by taking on other jobs before they achieve recognition and start getting calls to work in the industry. Tony was no different. He became an agent with the John Hancock Insurance company in Poughkeepsie, New York in 1977. He sold life insurance. At the same time, he devoted the time he had left to appear in stage plays in New York. He kept his dream alive and worked hard to achieve his dreams.
4. He has blue collar values
Hollywood is the place where ordinary people become mega stars. Amidst the glitz and glamour, the money also follows. Tony isn't the kind of guy that would allow his true values to go by the wayside. He knows what it is to work in a blue collar industry and this is a part of who he is. He's maintained a strong sense of where he came from and who is he is today.
5. He has a heart for the less fortunate
Sure, we can all be touched by the plight of those who are less fortunate, but Tony actually does something about it. He loves to help people and although he has a busy schedule, he makes time to be involved with a variety of charity organizations. One of his favorites is The Sushine Kids Foundation. The organization helps chronically ill youth as well as those who are physically challenged in other ways. It is set up to assist them in realizing their dreams and he donates time and funds to the cause. In addition, he has shown up for poker tournaments that also support worthy causes with their proceeds. If we didn't mention it before, he loves to play poker.