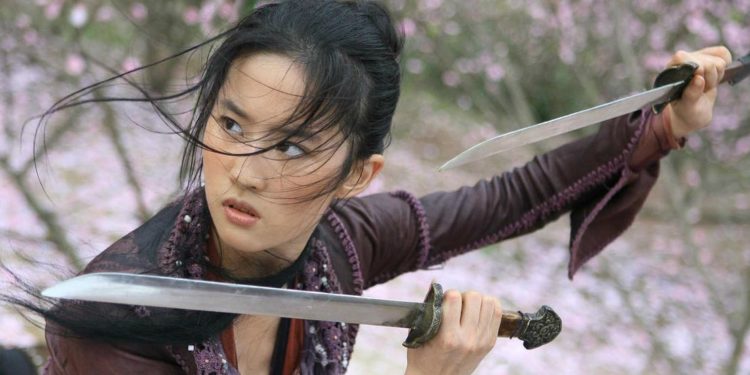 Disney is definitely on a roll. Sure, it's made a lot of live-action films before. But after coming out with Beauty and the Beastin 2017, Disney has been releasing movie favorites one after another. We've just seen the successful releases of Dumbo and Aladdin at the beginning of the year. We're also eagerly awaiting the release of The Lion King, Maleficent: Mistress of Evil, and Lady and the Trampduring the rest of 2019. But we were treated to a wonderful surprise during the 2019 FIFA Women's World Cup Championship that just happened a few days ago. During the break, a teaser trailer was showed for Disney's upcoming live-action feature: Mulan. Here are five things we learned from that trailer that got us even more excited for this movie.
1. Mulan actress
Disney's been doing all right with casting in recent years. We knew that they were on the right path when they announced that Mulanwould cast actors of Chinese origin—it is a Chinese story after all. Actress Lui Yifei got the coveted title role of Mulan, and we can't help but be excited about it. She's a Hollywood newbie, and that could either be a good or a bad thing. From the looks of the teaser trailer, Lui Yifei seems like the right choice. She's not new to acting, as she's done many Chinese martial arts films in the past. She's even worked in previous films with a couple of her current Mulanco-stars. Lui Yifei had roles in Ip Man 3, Forbidden Kingdom, The Assassins, and many more. Casting required that whoever plays Mulan has to be of Chinese ethnicity, has decent martial arts skills, and also speak English at the same time. Lui Yifei landed the role out of at least a thousand others that auditioned. She's certainly got many talents, and we're pretty sure she's going to get big after Mulan is released.
2. Supporting cast
The movie went all out with casting, and signed on some of the biggest names in the martial arts film genre. First off, we've got Donnie Yen playing the role of Commander Tung. The Commander is a new character for the film; he wasn't in the animated film at all. Commander Tung will serve as a mentor and teacher to Mulan during the time when she joined the army disguised as a man. Donnie Yen is most notable for his Ip Man movies and for his role in Rogue One: A Star Wars Story.He looks remarkably different with his costume on, so you might not even recognize him in the trailer. Secondly, there's the famous Jet Li who will be taking on the role of Emperor of China. Jet Li has actually turned this role down before reportedly because of the script, but his daughters convinced him to do it. We might not see a lot of fighting from the Emperor, but we're glad he's in the movie either way. Lastly, Mulan cast Jason Scott Lee to play the movie's ultimate villain, Bori Khan. It's definitely a good fit, and we're excited to see him go head to head with Lui Yifei. Jason Scott Lee is probably best known for portraying Bruce Lee in the 1993 film Dragon: The Bruce Lee Story.
3. No music
It might come as a surprise to some, but this live-action feature from Disney will not be a musical. There will absolutely be no character singing on this one. While it may be a bit unusual, it isn't the first time Disney's done a live-action remake without a musical number. It actually seems fitting seeing that Mulan is full of riveting action—and martial arts at that. Logistically, it might be difficult to do a song while doing kung fu. But also, any singing might take away from the epic battle scenes that have been planned for the movie. We can't tell you just yet if we're going to miss a rendition of "Reflections" or not. But there are rumors that we might get instrumental tracks of the songs as background music. We'll just have to see.
4. No Mushu
Mushu was probably one of Mulan's most favorite characters. The little red dragon was voice by Eddie Murphy in the animated film, but it's not going to make an appearance in the live-action movie. Without the singing and without Mushu, we're thinking that the film might be taking a more grounded approach—less magic, more realism. Since we're going to have one Commander Tung serve as Mulan's mentor, there really isn't any need for a Mushu character any more. It'll be odd to see how the story of Mulan plays out without Mushu, but we have to remember that Mulan is actually a historical figure. Perhaps this version of Mulan will stick closer to the story in history books.
5. Director
As much as the cast slots have been filled with actors of Chinese ethnicity, the director of the show actually hails from New Zealand. Niki Caro has done a Disney film before—2015's McFarland, USA—and she's also got an impressive resume with movies such as Whale Rider and The Zookeeper's Wife.However, many people have expressed disappointment that the job didn't go to an Asian or Asian-American director. Niki Caro has promised that she's working closely with a team in China and a team of Chinese cultural consultants. It's a thin line to walk on, but some of the films Caro have done before also had ethnic backstories. We're putting our trust in Disney to do this film right, and we're looking forward to watching the film in March 2020.