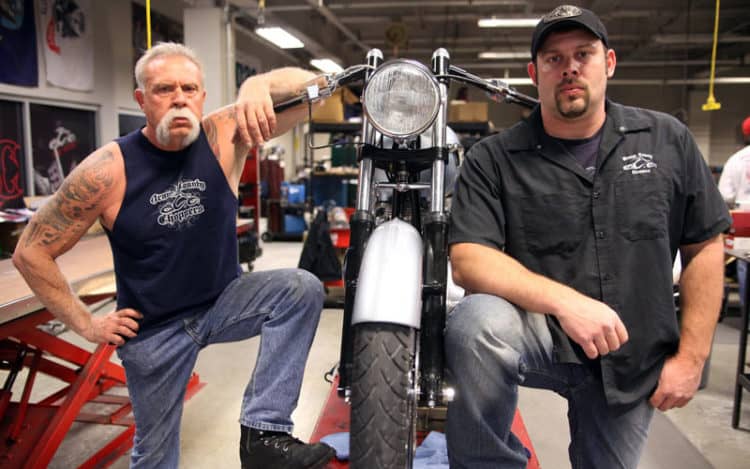 It wasn't so long ago that there was virtually nothing to watch if gears and bikes were your 'thing,' but those days are gone. If you're a fan of shows like American Chopper, the diversity and availability of good programming is a welcome change. There is a whole genre of shows built around riding motorcycles, and another for building machines whether you like 'em all or prefer bikes and cars specifically. Regardless, if you want to watch the building process, the customizing and details, the real world/real people aspect or if you just enjoy seeing bikes and bikers included in programs that are more fantasy and plot based, there's plenty out there for you. After checking out Tastedive and checking out all of the reality TV shows we decided to come up with a little list that might make sense.  Here are five shows you'll like if you like American Chopper.
1. Sacred Steel Bikes
Though it only ran for one season back in 2016 you can still get the episodes of Sacred Steel Bikes. It's worth a watch for any fan of custom bike building. The motley crew of not-so-typical motorcycle enthusiasts probably deserved a much longer run than Discovery gave them. The unusual personalities and gorgeous builds were gone too quickly. The masterpieces they built deserve their own museum. It's well worth the time to hunt up the half dozen episodes that aired shortly after the Harley and the Davidsons miniseries had such success.
2. Fast N' Loud
If you haven't seen the antics of the Gas Monkey Garage crew then you've managed to miss out on some great programming. The guys on this show typically hunt for and restore some absolutely breathtaking classic cars, but they're diverse. There was a crossover competition involving Jesse James, Orange County Choppers, Paul Jr. Designs, and the Gas Monkey Guys. They made a fair showing and came in second place overall. Not too bad for car guys. This show, like American Chopper, was successful enough to have a spinoff called Misfit Garage, which is worthy of its own mention. Sadly, with so many great titles available, we can only include a few on this top five list, and the original wins the spot because they did the crossover.
Now for something a little different. Some folks watch for the gears and tools, but others love the bikes and culture more. Sons of Anarchy is a well-written dynamic action drama that revolves around a biker gang. The series ran an impressive seven seasons, ending in 2014, so you're going to have to live with knowing there's no more coming when you finally sit down for the grand finale. However, if you like bikes and enjoy a good drama, you'll probably enjoy the story of Jax as he struggles with his family and his gang. The show was massively popular with 96% viewer approval, and in the world of televised dramas, that's pretty impressive.  If you haven't seen this show, now's the time.
4. Monster Garage
Since we mentioned the controversial Jessie James, we had to include his show on the list. Part of the fun of watching Monster Garage was the roughly 1/10 failure to complete rate. Whenever James destroyed a failed project it was an impressive and unique display of controlled violence that kept fans of the show coming back for more. The time-sensitive nature of the builds always added a sense of urgency to the show.
5. Ride With Norman Reedus
Even if you aren't a fan of The Walking Dead, it won't matter. Norman Reedus is an amazing and under-used talent who should have had his own show years ago. Ride With Norman Reedus features him and his favorite bikes touring the country in search of bike culture. He checks out various venues with a host of friends and guests and the result is always just a blast to watch.
Final Thoughts
For those who are fans of American Chopper because they love the cast, there's plenty to love in the series revival, and you can always check out the older episodes as well. For true American Chopper fans, Orange County Choppers and American Chopper: Senior vs. Junior are, naturally, an integral part of that series rather than the technically separate shows they became. Whether you watch for the real world family drama or the big shiny machines that rumble, there's no shortage of both with the Teutul's. The biggest question for any bike lover isn't when the next episode airs, but rather when will we be able to afford one of these custom beast-machines for ourselves.