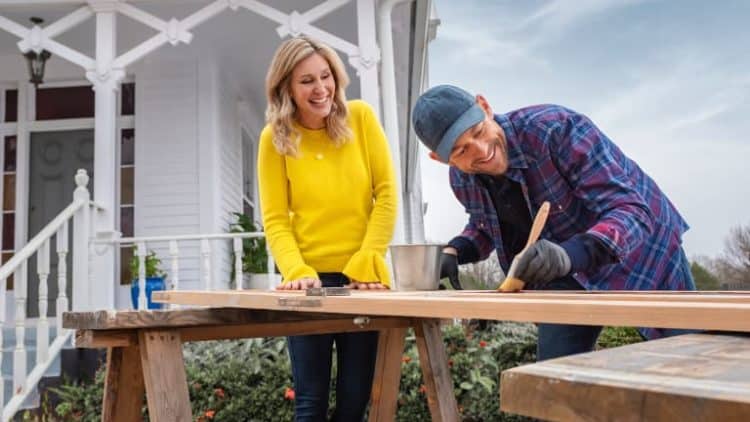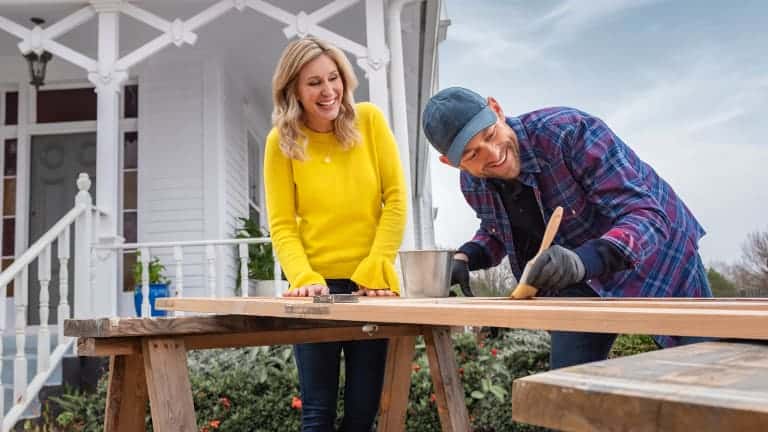 "Fixer to Fabulous" is HGTV's latest home rehab realty show and hopes to fill the void left by the departure of Chip and Joanna Gaines popular "Fixer Upper". "Fixer to Fabulous" follows Dave and Jenny Marrs and their family as they take worn out and often historic homes ready for demolition and create amazing updates personalized for the home's new owners in Northwest Arkansas. While Dave handles the construction end of things, Jenny delves into the design. Along the way, we'll get to know the Marrs family and the causes they support. Here are 10 things you didn't know about "Fixer to Fabulous".
1. It premiered October 22, 2019 on HGTV
"Fixer to Fabulous" premiered October 22 on HGTV. The latest home rehab realty show airs Tuesday nights at 8 pm and will stream on HGTV.com. Since the popular 'Fixer Upper" with Chip and Joanna Gaines ended in April 2018, fans are craving a new similar series. "Fixer to Fabulous" may be just what fans needed since the absence of the Gaines family.
2. What's it about?
"Fixer to Fabulous" follows husband and wife team, Dave and Jenny Marrs as they rehab rundown homes in their native northwest Arkansas, including their own hometown of Bentonville. The Marrs family includes five young children, and they live on a farm that includes their uniquely and personally rehabbed home. The Marrs family also own and operate a blueberry farm and tend to many farm animals. "Fixer to Fabulous" follows the Marrs family as they give loving care to worn out homes, bringing new life to the homes and creating a home that fits its new family.
3. Who are Dave and Jenny Marrs?
Dave and Jenny Marrs grew up separately in Florida and Colorado, met and moved to Bentonville, Arkansas and grew to love the hometown Midwestern area of northwestern Arkansas. They started Marrs Development in 2004, bought a farm and started a family. Dave's construction skills combined with Jenny's design skills created a great team. The couple started rehabbing deteriorating, historic homes in downtown Bentonville. Their caring, professional work earned them a good reputation and the city began asking the company to help save several homes from demolition.
4. The Marrs Family Farm
As their work and reputation increased, Dave and Jenny Marrs were able to purchase a farm in Bentonville where they restored the farmhouse to its original charm and updated its personality to fit their family. The Marrs' farm includes plenty of action for the family of seven. Along with crops including blueberries, potatoes, cucumbers and greenbeans, the family tends to plenty of livestock. This includes cows, sheep, goats, llamas, and chickens which the children enjoy collecting eggs from.
5. Not their first realty show
Following the announcement of the last season of "Fixer Upper", HGTV hoped to fill the void of a down home farm family rennovating homes in rural America. "Almost Home" starring Dave and Jenny Marrs hoped to fill the void. The new family home renovation realty series premiered in November 2017 (almost home). Fans may not have been ready to watch the end of of a favorite and the beginning of a new, similar show. However, "Almost Home" was revamped into "Fixer to Fabulous".
6. The Berry Farm
Dave and Jenny Marrs have strong faith and values. Their own journey through adoption led them to promote and help with several causes to help feed hungry children and to provide education and opportunities. They started with a "Feed their Tummies" campaign and expanded their charitable efforts. The Marrs family decided to use their own blueberry farm to support a cause that they truly believed in. The Berry Farm provides an opportunity for the Marrs family's berry's to support a cause close to their hearts. The Berry Farm is a "U-Pick" farm where anyone can pick blueberries. It is also a venue for weddings, corporate, birthday parties and other events. All profits support The Gatehouse Project.
7. The Gatehouse Project
The Gatehouse Project is a non-profit organization dedicated to the support of orphans and at risk children in Zimbawbe, Africa. Dave and Jenny Marrs' The Berry Farm gives all profits to support The Gatehouse Project. They discovered the organization through their own efforts to adopt an orphaned child. The Marrs feel that their blueberry crops are a perfect representation of the organization's goal. Blueberry crops are long lasting, sustainable and continue to give. The Greenhouse Project was founded by John Chinyowa and his team in Musha We Vana Village, Zimbabwe. Their goal is to train and mentor orphaned and at risk children and teenagers to work in agriculture, livestock, wood and metal works, textiles, business management, technology and cooking.
8. Episodes
The first episodes of "Fixer to Fabulous" seem to be just what fans of "Fixer Upper" need to fill the void. Dave and Jenny Marrs promise to deliver episodes filled with heart, family and amazing renovations of historic homes into personalized family homes. In the premier episode, Dave and Jenny Marrs work with their team to turn a twentieth century Craftsman home into a Creole cottage. The home has New Orleans style including grand archways, antique doors, gas lanterns and a grand front porch. Another project taken on by Dave and Jenny Marrs in "Fixer to Fabulous" is the makeover of a 1970's home into a unique farmhouse style home.
9. Fan Interaction
HGTV.com always offers ways for its fans and fans of its innovative series to interact with its stars. HGTV.com will offer streaming of episodes of "Fixer to Fabulous" episodes as well as behind the scenes sequences. The site will offer a variety of DIY projects and question and answer sessions with the series' stars who are always willing to share their advice on construction, design, decor and the rehabilitation of homes that deserve a second life.
10. Jenny's Blog
In addition to helping to run her family's home rehab business and farm, Jenny Marrs writes a regular blog. Her blog offers great home design advise as well as thoughts on raising her family and their farm. Jenny's blog offered a tribute to her family's journey through adoption. They adopted their daughter Sylvia in the Democratic Republic of Congo. Jenny blogs about her family's faith, her favorite authors and literature, her family's travels around the world and of course their children's activities.