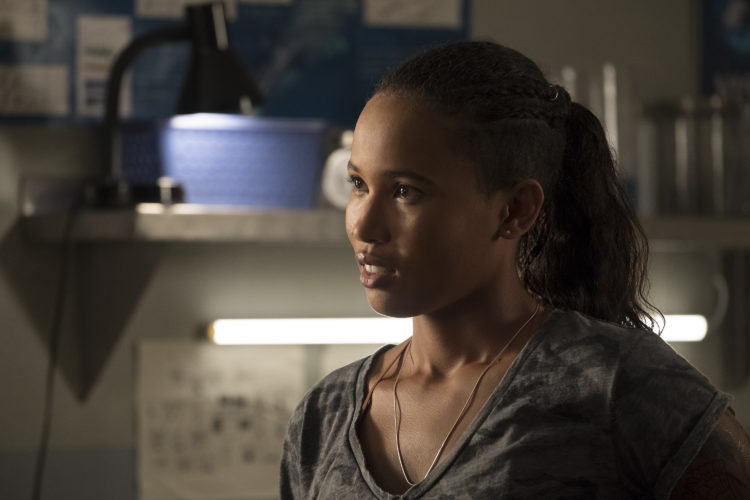 Born and raised in London, Fola Evans-Akingbola is on her way to becoming one of the most talked about young stars on TV. Her career began in 2014. By 2016 she had been cast in the popular HBO series, Game of Thrones. Although the GOT opportunity was definitely a career changer, Fola was still hoping for the chance to land a starring role. In 2018, opportunity came knocking on her door with a main role in the Freeform series, Sirens. Now getting into its third season, Sirens has become one of the network's stand out shows and Fola Evans-Akingbola is a big part of the reason why. Although Maddie doesn't play a siren on the show, she has definitely gotten viewers hooked on her talents. Keep reading for 10 things you didn't know about Fola Evans-Akingbola.
1. She Comes From A Family Of Entertainers
Fola Evans-Akingbola isn't the only person in her family who has a passion for entertaining people. Her father, Sola Akingbola, is a world-renowned percussionist who plays with the band Jamiroquai. Her uncle, Jimmy Akingbola, is a successful actor who has appeared in shows like Arrow, NCIS, and Scorpion.
2. She Studied At National Youth Theatre Of Great Britain
Fola began acting simply because her mother told her she needed a hobby. Although it started out as something she was just doing for fun, she quickly developed a passion for performing. She auditioned for a spot at National Youth Theatre of Great Britain in 2014 and was accepted. She says that her time at the National Youth Theater really helped to develop her confidence and help her realize that she could have a future in acting.
3. She Started A Charitable Movement With Her Mother
Fola Evans-Akingbola believes in giving back to those around her and feels that it's important to donate to causes she is passionate about. To take things a step further, she worked with her mother to start a campaign to help the UK's Windrush Generation. In an interview, Fola explained the reason behind the movement, "In the UK there was an immigration scandal surrounding what we call the Wind Rush Generation. They were people who were invited by the British government to the UK mainly from the Caribbean. Fast forward to 2018 a lot of these people who have been paying taxes, who have kids and are British citizens. Are being affected by immigration policies. They have lost their jobs, access to health care, some people have been deported. " Her campaign, We Are All Windrush, sells t-shirts and donates all of the proceeds to the Wind Rush Justice Fund.
4. She Is Of Nigerian Descent
Fola Evans-Akingbola comes from a mixed ethnic  and racial background. Her mother is a white England native and her father is a black man who was born in Lagos, Nigeria. Fola's father is part of the Yoruba ethnic group which is one of the largest ethnic groups on the entire continent.
5. She Used To Be A Model
Some people just have a knack for being in front of the camera, and Fola Evans-Akingbola is one of them. Before deciding to fully commit to acting, Fola was pursuing a career in modeling. It's unclear how far Fola got with modeling, but it looks like she's completely given it up in order to focus on acting.
6. She Went To School To Study Philosophy
Before auditioning for the National Youth Theatre of Great Britain, Fola was a typically college student. She had gone to university to study philosophy and hoped to have a career in the field. However, she eventually decided to leave school and "explore other things." Fola explains, "I have always been fascinated by the human condition and I learnt I could examine what it means to be human through the embodied self, and performance with others, rather than simply the abstract intellectual pursuit I would have had at university studying philosophy."
7. She's A J. Cole Fan
In 2018, Fola landed a role in the British film VS. The movie was set in the UK battle rap seen and many deemed the film to be the British version of the iconic movie, 8 Mile. Although Fola's character in the movie wasn't a rapper, Fola herself is a fan of rap. She says that J. Cole is one of her favorite rappers. She told Terrior Mag that she has enjoyed watching Cole's growth through his albums and that she appreciates the authenticity he brings to each song.
8. She Does A Lot Of Research On Her Roles
There are lots of different approaches actors can take when preparing for a role. Fola Evans-Akingbola prefers to take the well-researched approach. She believes that "preparation is key" and feels anxious if she feels she hasn't done enough research. For her role as Maddie on Sirens, she researched marine biology and Haida culture to get a better understanding of the character.
9. She Considers Herself To Be A Feminist
Fola is all about empowering herself and other women and has referred to herself as a feminist. She has said that she could talk about feminism "for hours". But talking isn't all she plans to do. She believes that if you are truly passionate about something you should take action. She hopes to become involved in the feminist movement in London.
10. She Has Worked For The BBC
Getting a chance to work with The BBC is something that a lot of actors (even Americans) hope for. Luckily for Fola, she got the opportunity to work with the network very early on in her career. In fact, her first professional job was an acting role in The BBC show, Holby City.