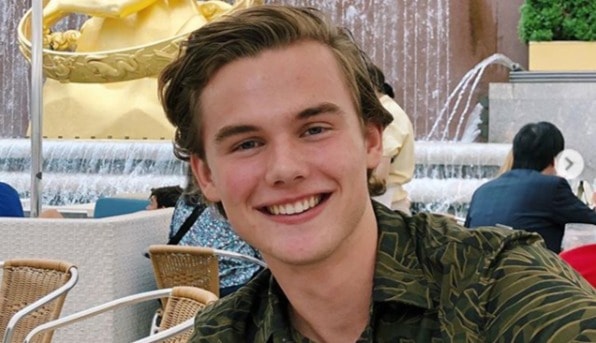 Garrett Wareing is an actor who gained attention for the role he played in the 2014 film "Boychair," as Stetson Tate. He's a young actor who began his career at the age of 12 in 2013, in the short films "The Origami Master," and "Sweet Dreams." He's been in the film industry for just six short years and Garrett already has a huge base of fans who are interested in learning more about the young actor who seems to keep his personal life private, so here are 10 things that you probably didn't know about him.
1. He was most recently in "Independence Day: Resurgence
The popular 2016 sequel to the film "Independence Day" wasn't quite as big of a hit as the original, but it found a good audience and did well enough at the box office. Garrett Wareing played the role of Bobby in the film. He was privileged to appear with superstar actors Jeff Goldblum and Liam Hemsworth.
2. Wareing is a trained model
Prior to gaining fame as a film actor, Garrett enrolled at the International Modeling and Talent Association in 2013. Many of his fans are not aware of the fact that he is also a male model. He even won the Pre-Teen Male Model of the Year award. It wasn't long until he decided that he wanted to pursue a career as a full-time actor, so he moved to Los Angeles, California where he found a great deal of success.
3. He is a very tough and dedicated actor
We were extremely impressed to learn that just a few days before Garrett was due on the set for the filming of "Boychoir," he had broken his arm. It was a serious injury in which his arm was broken in three places, but it didn't stop him from fulfilling his role. He used splints that were colored to match the wardrobe required for filming, and he didn't miss a beat. He didn't get a cast on the broken arm until after filming was completed.
4. He's a native Texan
Garrett Wareing was born in College Station, Texas. His birthday is August 31st of 2001. This is the city that he considers to be his hometown. He moved from College Station to Los Angeles, where he now resides. The move was necessary to put him in close proximity to his work in order to pursue his new career as an actor full-time.
5. He was homeschooled
Garrett's decision to go into acting full-time at such a young age, made it difficult for him to attend regular school. He didn't drop out of school, however. Instead, he was enrolled in the OPIS home school program. In addition to this, he took classes in acting at the International Modeling and Talent Association. He also received one on one attention at the CM Acting Studio from his acting coach Max Decker.
6. Garrett has a natural instinct for bringing his characters to life
When asked what he liked the most about acting, Wareing's reply was direct and to the point. He shared that he likes the fact that he can take a character written in a script, and bring them to life. He commented that he can "bring them to life," and from the evidence we've seen in his film work, he does just that and he makes it look effortless.
7. His influences helped to shape his acting
Garrett began pursuing his acting career while he was still just in middle school. As a pre-adolescent, he was extremely creative and also impressionable and he was taken with the acting of a few certain actors who have been successful in the business. He was influenced by some of the bigger stars in Hollywood. The actors who have had the greatest impression upon him have been Bryan Singer, Nicolas Hoult, Johnny Depp and Leonardo DiCaprio.
8. He's on his way to becoming rich and famous
Garett Wareing is doing very well financially. He hasn't yet joined the millionaire club but he's more than halfway there. We checked on his current financial status and we discovered that Wareing has an estimated net worth of $600,000. This is quite an accomplishment for the short amount of time that he has been a professional actor. if Garrett continues on his current trajectory he will no doubt amass a fortune of a million dollars or perhaps even much more.
9. He has a sister and a brother
For those of you who don't already know, Garett Wareing also has two siblings. His brother's name is Mason and his sister is Mackenzie. His father is named Rooter. They are a close family who enjoys doing a variety of family things with one another. Although Garrett is currently the most well-known actor in teh family, he isn't the only one. His father and his sister are also professional actors.
10. He's acted in the same film with his sister and dad
Garrett Wareing is a very fortunate young man. When he appeared in the film "Boychoir," he did so with a couple of family members. His father was cast in the role of the priest. His birth sister actually plays his half-sister in the film as well. It isn't often that young actors get to act in the same films as their family members but Garrett drew the lucky straw so to speak. With both his dad and his sister in the acting business, it's not difficult to see that talent runs in the Wareing family.