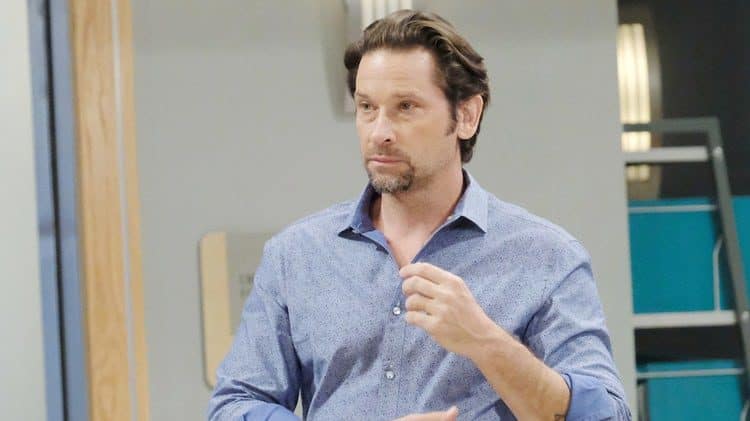 General Hospital fans love to love their favorites, but we cannot help but feel very exclusive at times. There are times when we want to welcome some new people into the mix, and there are times when we are nothing short of downright mad when someone comes into Port Charles and they are not amazing. They aren't always going to be amazing, and we get that, but some characters are just impossible to like. We don't get them. We can't figure them out, and we find ourselves confused and not really sure how to handle things that go like this. There are some bad ones now, but there were always going to be a short list of people who made it onto our 'worst people and least favorite characters list' and this is who we feel right now. What do you think? Do you agree with this, or is there someone else you feel is less likeable?
Kristina Davis
Let's get real here. She's a constant cause of issues for her family. She is spoiled. She is entitled. She's got parents who would and do do anything for her, and she's a brat. She's always been entitled. She's always put herself first, and she's always making poor decisions that put her at risk, and that puts her family at risk when they are forced to come to her rescue. She never stops to think about how her actions are making other people feel or how she's doing things that might put others in danger. And, let's be honest, she's never grateful or thankful to anyone for their help. She was in a mess with the DOD and instead of being thankful for her sister for doing all she could to put herself in the middle of things, to spend time without her kids and to put herself in a situation that puts her entire family in danger, she decided to be a brat about it. She's just not someone we care for, and we liked it better when she was away.
Brad Cooper
We don't get Brad. He came into Port Charles to make a home for himself, but all he did was make a mess of things. He came into the city with issues that make him feel like he is someone who is not going to get it right. He causes issues where there don't need to be issues. He causes problems where there don't need to be problems. He causes situations that make everyone feel as if he is not going to get it together. He's a mess, and he always has been a mess. He's going to find himself in a situation in which he has to make some decisions in some capacity, but he always fails to do it in a timely fashion that works for anyone else in his life. He's not that likable. We get it.
Franco
It's not that we don't like Franco, it's just that we struggle so hard to like him most days. He's a man who doesn't make that must sense to us at the end of the day. He seems like the kind of man who wants to help the world and do the right thing and be the good guy, but he also seems like someone who doesn't always make the best choices. He is constantly stuck in the past, even though he's never learned anything about his past that has been a positive impact on his future. Okay, to be totally honest and completely frank with you, we almost find him to be a bit boring. He brings very little to the table in terms of what we want to see from him and what we think is going to work for him, and he's never someone who goes out of his way to do things that are just so amazing that we cannot get enough of him. He's not working for us, and we struggle. Yet we kind of like him. But he has no chemistry with Liz, and we don't like him. He falls into this list of least faves because we just don't know where else to put him.