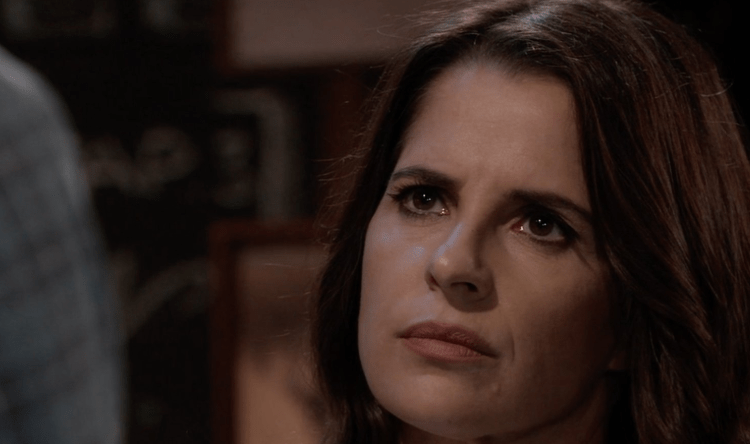 General Hospital fans aren't sure what is going on right now, but we know that Maxie is not looking to make any plans with Peter. She's got some stuff on her mind, and she's just not sure how she is feeling about things. We know they are both into one another, but she's living a hard life right now, and she's not sure what to do. She's lost her husband, she's been through so much, she's going through so much in her everyday life, and she's trying to avoid him. There are many factors involved in this personal choice she is making, but we cannot help but feel that some of those things are a bit more obvious to us than others. She is making moves in her own world, but they are not the kind of moves that change her life in a way that makes her better.
Meanwhile, Kristina is worried. She doesn't want Shiloh's blood on her hands, but she's not sure how to make things right. He's learned that Willow had a little boy, and he is currently more interested than ever in finding the child and seeing what he can do to make her miserable. It's not a good situation, and we cannot believe Harmony is all about it. It's not good, but this is going to change the lives of so many for so long. Michael, for instance, might just find out at some point that this baby is his baby and that this is not something he can change. Brad and Lucas might even share that news because they cannot bear the thought of this man trying to take their baby — even if that means going to prison or losing their own son. Michael is a far better person to lose to than Shiloh.
What's Happening on General Hospital
#GeneralHospital's 10 Best Characters of All Time – Ranked https://t.co/DRbNbQtlon @GeneralHospital pic.twitter.com/QEdAmLqRYt

— TVLine.com (@TVLine) June 11, 2019
Agree or disagree?
What's Next on General Hospital
"But Shiloh, I can kill. And you're right, I don't wanna wait. I don't wanna plan it. I just want to do it and get it done!" #GH pic.twitter.com/WXF4C4yTxa

— General Hospital (@GeneralHospital) June 10, 2019
Harmony is Willow's mother, and she's putting her grandson in danger. She's told Shiloh he has a son, even though Willow made it clear to her that she wanted to keep this to herself and not share the news with him. She worked hard to make sure her baby could have a life with some loving parents and some people that would take care of him. She has no idea her baby died and that one of his new fathers traded him with Nelle for her baby so that he could have a baby and Michael could go on with the hurt in his life. It's an awful situation, but Harmony is making it worse for everyone. Harmony is actually making it difficult on all of us to focus on anything happy, and there is nothing that she will not do. She's hopeful that Shiloh will save her from the problems she is creating.
We have to wonder if she has a few feelings for him that are not entirely healthy. He did sleep with her daughter after all, and that's more than a little bit creepy. Then there is Julian, who knows Brad's secret and wants him to remain as calm as possible. That might be a little easier said than done, but there is nothing else that will make this situation seem better. For now, though, there is a lot happening that we are impatiently waiting to see unfold, and we only hope it turns into something we want to see more of. We only hope, right?
Stay tuned for more General Hospital and be sure to check out TVOvermind daily for the latest General Hospital spoilers, news, and updates.