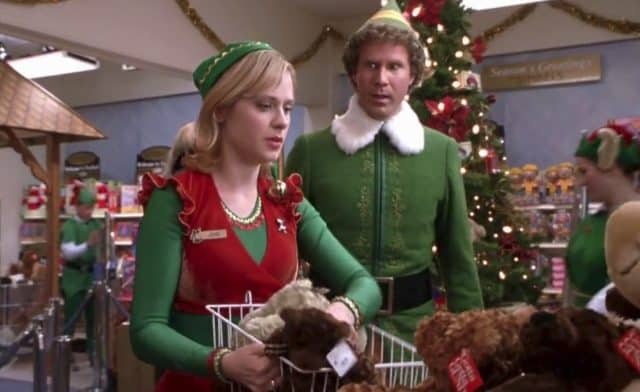 This 1944 song by Frank Loesser has been recorded many times by some of the greatest recording artists in history. It's been a top holiday hit for decades, and has turned up in concerts, films, TV commercials, singles and in many albums. It's a duet about two people flirting over the idea of spending the night together after a date. The printed score identifies the female voice as "mouse" and the male voice as "wolf". During the duet, the wolf repeatedly encourages the mouse to stay at his house. The mouse wants to stay but is worried about what people will think if she does. The song is a peak into the social expectations of Loesser's time, as society did not permit women to spend the night with men. Loesser and his wife, Lynn Garland, premiered the duet together in New York at the housewarming party for their Navarro Hotel. The song became instantly popular, and the two performed it regularly for house parties. Loesser eventually sold the rights to the song to MGM in 1948.
Here's a recording of Loesser and his wife in an early recording. It's easy to hear why the two were invited everywhere to perform their song:
https://www.youtube.com/watch?v=0pfvZo2gmm8
1.Ricardo Montalbán and Esther Williams
https://www.youtube.com/watch?v=7MFJ7ie_yGU
Most of today's sci-fi fans know Ricardo Montalbán for his role as Kahn in Star Trek. Fans will also remember him from Fantasy Island. But he was easy on the eyes for years in film and TV roles, and he's a fabulous singer. The suave Ricardo Montalbán and seductive Esther Williams debuted the original in the 1949 MGM musical Neptune's Daughter, along with comedic genius Red Skelton and Betty Garrett in a humorous couple counterpoint. Montalbán and Williams sing the roles of "wolf" and "mouse" as Loesser wrote them. Skelton and Garrett sing the roles reversed, with Skelton and "mouse" and Garrett as "wolf".
2. Lady Gaga and Joseph Gordon-Levitt
https://www.youtube.com/watch?v=ZtoW4aV-CIc
Gorgeous Lady Gaga, dressed in red and tattoos, is stunning. She's capable of performing in any genre, and selling it. Her talent is undeniable. She pairs with Joseph Gordon-Levitt, singing the classic role reversal version. She takes on the role of "wolf" and he sings the role of "mouse". It's a sophisticated, fun performance. You gotta love Gaga's sparkly high heels, too. Just watch as she flashes them for Gordon-Levitt; and everyone else in the audience. The two sang the duet for Lady Gaga and the Muppets Holiday Spectacular in 2013.
Another version with Lady Gaga and Tony Bennett was recorded for a Barnes & Noble Commercial in 2015. It's so fabulous that fans and critics alike declared that it should have been recorded in its entirety on an album. Gaga and Bennett are jazz perfection in this arrangement:
https://www.youtube.com/watch?v=gK2x_bnzwZU
3. Will Ferrell and Zooey Deschanel
https://www.youtube.com/watch?v=U7RMy7Vg0LU
It's not the entire song, and the two don't sing next to each other in a classic duet sort of way, but this bit is classic fun. The film is ranked one of the best, ever, for Christmas, and this moment is sooooo Elf! Of course, he's singing along at the wrong time and place. What better way for these two to get to know each other!
When director Jon Fabreau discovered that Zooey Deschanel was a wonderful singer, he added her singing, even though it wasn't in the script. Legendary musician Leon Redbone sang the song with Deschanel over the film's closing credits.
4. Louis Armstrong and Velma Middleton
https://www.youtube.com/watch?v=0ZBFk-Y-4Jo&list=RD0ZBFk-Y-4Jo
Raspy, mature Armstrong vocal style and Middleton sass— this is a slightly naughty, we're in a nightclub, adults only version. But, oh is it great… just listen to the improv jazz accompaniment, and the highly improvised lyrics!
5. Dolly Parton and Rod Stewart
https://www.youtube.com/watch?v=Rgss7q-nOpc
Take the one-of-a-kind country voice of Dolly Parton and blend it with the throaty richness of Rod Stewart, and you get an amazing take on this classic tune. This unlikely pair is musical magic-completely unexpected interpretation! It's featured on Stewart's album "Stardust: The Great American Songbook", and it reached No. 2 in 2004 on the Adult Contemporary U.S. chart.
6. Willie Nelson and Norah Jones
https://www.youtube.com/watch?v=0DDaG6ayJPg
The two recorded the duet for Nelson's album American Classics. Jones' silky, throaty, voice contrasts well with Nelson's slight twang. The jazz combo is cool… with its country-style harmonica solo, perfect piano chord stylings, nice brushes on the snare drum, superb bass line and slightly country guitar solo. The two add their own take on the lyrics, and the tempo is feel good- just right.
7.  Ella Fitzgerald and Louis Jordan
https://www.youtube.com/watch?v=NoEvRUlH6VU
Pure and clear, Fitzgerald's wonderful voice paired with Louis Jordan and The Tympany Five. It's no surprise that this was a 1949 hit.