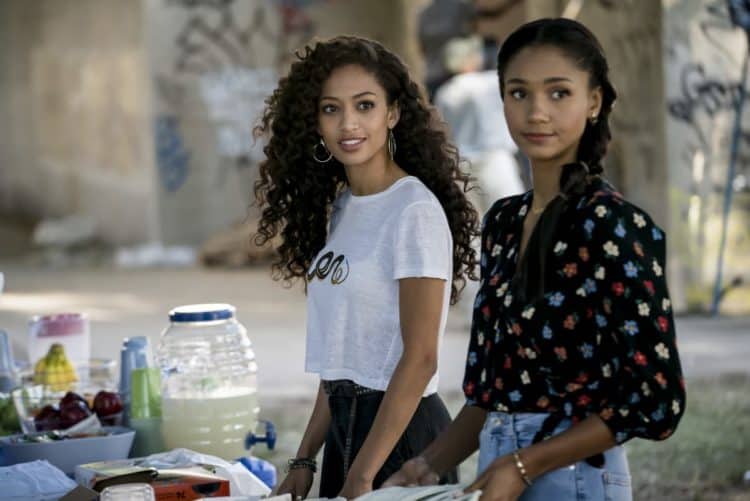 Greta Onieogou is an actress who is best known for her role in the television series "All American" where she plays the part of Layla Keating. She is a popular actress but fans would like to know a little bit about her. She is in the process of building an impressive acting portfolio and although it's a work in progress, we think that she's an emerging talent to keep your eye on. To better acquaint you with her, here are 10 things you probably didn't know about Greta.
1. Greta Onieogou is a native of Russia
Greta was born in Saint Petersburg, Russia. Her birthday is March 14, 1991, and she turned 28 years old in the Spring of 2019. Her parents named her Greta Adah Onieogou, and she kept her given name instead of opting for a stage name. She is of Russian Nigerian ancestry and she is fluent in speaking both English and Russian.
2. She began her acting career in 2005
The first professional acting job that Greta landed was in the film "Fever Pitch." She played a minor role in the film as a character named Tammy. The project was released in 2005, and this was her formal introduction to the acting profession. It would be another year before things began to pick up for her. In 2006, she was cast in a few more minor roles in the television series "Degrassi: The Next Generation," and in "Naturally, Sadie." It's always a good thing for an actor to be cast in any role in "Degrassi" because of the high viewership and exposure to the audience.
3. There was a gap in her acting gigs
We didn't see anything from Greta from 2006 until 2009 when things picked up a little bit for her. She was cast in a few minor parts in a guest appearance as Vanessa in the television series "Overruled!" in 2009, and in the film "Victoria Day" as Sara. She also lent her voice in "Moe" in 2011 so work was trickling in and helping her to keep her foot in the door in the business.
4. Things began to pick up in 2011
Greta got her first real break when she landed a recurring role as Soraya Duval in the television series "Heartland." She appeared in several episodes from 2011 through 2015. She appeared in the role of Aly in the television miniseries "Heroes Reborn: Dark Matters" in 2015, followed by a part in "Miss Sloane" in 2016. Work became more regular as she established a reputation for delivering quality performances. She was also cast in several other minor roles in "Schitt's Creek," "Ransom" "Murdoch Mysteries," "Frankie Drake Mysteries," and in "Undercover Grampa" in 2017 which was a busy year for her.
5. The gigs keep rolling in for Greta
In 2018, Greta made several more guest appearances in popular television series as she continues to build her portfolio of acting credits. She had minor roles in "Workin' Moms," "Imposters," and in "Anne" for the year. 2018 was a year that led to yet greater success for her professionally as she landed the role of Layla Keating on the television series "All American." Greta will appear on the show in the role throughout 2020, so if you're a dyed in the wool fan then you won't want to miss an episode.
6. Greta is a versatile actress
With 18 acting jobs in her list of credits, Greta is on her way to even greater things in the near future. She has worked with some powerful actors such as Jimmy Fallon and Drew Barrymore from work in the film "Fever Pitch" in 2005. This is a valuable experience and it is helpful to have your name associated with successful professionals in the business as you move along. What makes Greta so marketable is that she is beautiful and intelligent. She is of mixed race and this opens up a variety of roles for her. The fact that she is fluent in both English and Russian expands her potential yet further.
7. Greta blew her first audition for "Heartland"
We learned that Greta totally missed out on the first audition that she had scheduled for the television series "Heartland." She acknowledged that he got the times mixed up and when she showed up she was an hour too late. There was nobody there and everything was locked up. Although this could have meant missing out on the role, her agent pulled some strings to get another audition scheduled and she nailed the role of Soraya.
8. She lived in Russia until she was 5 years old
Greta was born in St.Petersburg, Russia and she lived there until her family relocated. When she was just five years old, her parents moved to Toronto, Canada and this is where she grew up. She shared that she loves living in Canada, but she still has a lot of family living back in Russia and she thinks that it is a wonderful country as well.
9. She likes shopping in Calgary
Greta goes shopping on her days off. She shared that she prefers shopping in Alberta because the taxes are nearly ten percent less than in Ontario. She's savings conscious when it comes to shopping and whenever she gets the chance she takes the time for shopping at the places she can save money.
10. Greta Onieogou is an emerging star
Greta has been involved in acting since 2005 and she's spent the last 14 years of her life building her resume. This is approximately half of her life, but it's something that she is passionate about and she also has a natural talent as an actor. Her versatility and wonderful attitude make her an asset on any film or television series set and we believe that she has a bright future in the entertainment business in the years to come. She's one to keep your eye on.